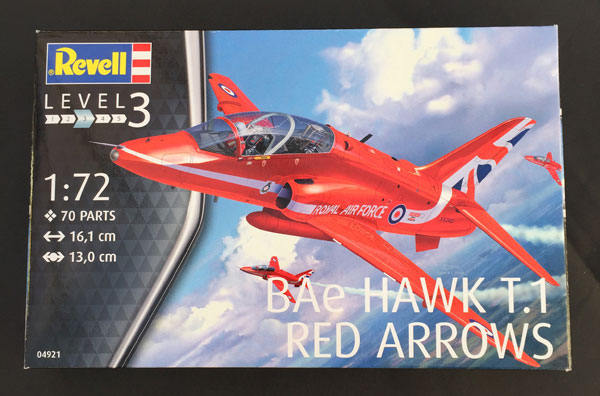 Ref: 04921
Review by Geoff Coughlin (November 2015)
Price around: £7.99 GBP
Our thanks to Revell for supplying our review sample. Revell model kits are available from all good toy and model retailers. For details visit www.revell.de/en
The BAE Systems Hawk is a British single-engine, jet-powered advanced trainer aircraft. It was first flown at Dunsfold, Surrey, in 1974 as the Hawker Siddeley Hawk, and subsequently produced by its successor companies, British Aerospace and BAE Systems, respectively. It has been used in a training capacity and as a low-cost combat aircraft.
Operators of the Hawk include the Royal Air Force (notably the Red Arrows display team) and a considerable number of foreign military operators. The Hawk is still in production in the UK and under licence in India by Hindustan Aeronautics Limited (HAL) with over 900 Hawks sold to 18 operators around the world.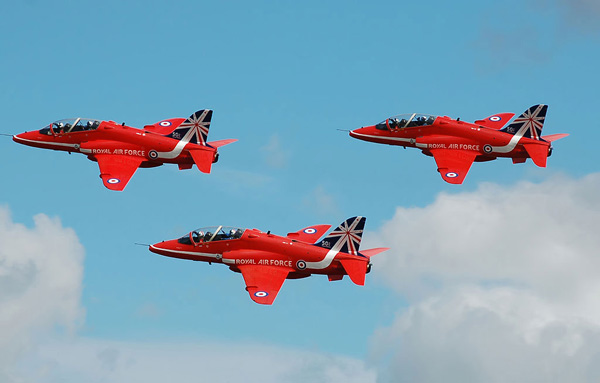 The Red Arrows, officially known as the Royal Air Force Aerobatic Team, is the aerobatics display team of the Royal Air Force based at RAF Scampton, Lincolnshire UK. The team was formed in late 1964 as an all-RAF team, replacing a number of unofficial teams that had been sponsored by RAF commands.
The Red Arrows badge shows the aircraft in their trademark diamond nine formation, with the motto Éclat, a French word meaning "brilliance" or "excellence".
Initially, they were equipped with seven Folland Gnat trainers inherited from the RAF Yel-lowjacks display team. This aircraft was chosen because it was less expensive to operate than front-line fighters. In their first season, they flew at 65 shows across Europe. In 1966, the team was increased to nine members, enabling them to develop their Diamond Nine formation. In late 1979, they switched to the BAE Hawk trainer. The Red Arrows have per-formed over 4,700 displays in 56 countries worldwide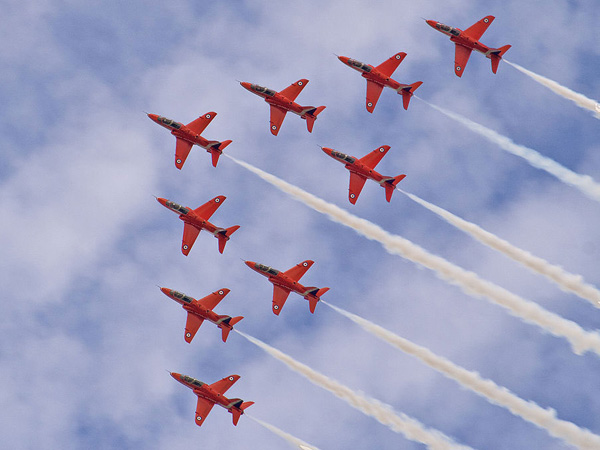 The Revell Kit
Nice to see an all-new-tool model of the famous BAe Hawk T.Mk.1A in 1:72 scale. The Italeri release some years back was ok, but the nose profile attracted some criticism. Airfix has also produced a new-tool version of the type that is better and now we have yet another one from Revell – Christmas must be coming early!
Box and contents
The Revell box artwork is usually impressive enough and that's the case here – an image of a Red Arrows display Hawk doing its stuff. That's the featured aircraft in this release, just the Red Arrows aircraft are covered, although you can model any of the team's current aircraft from the decals included.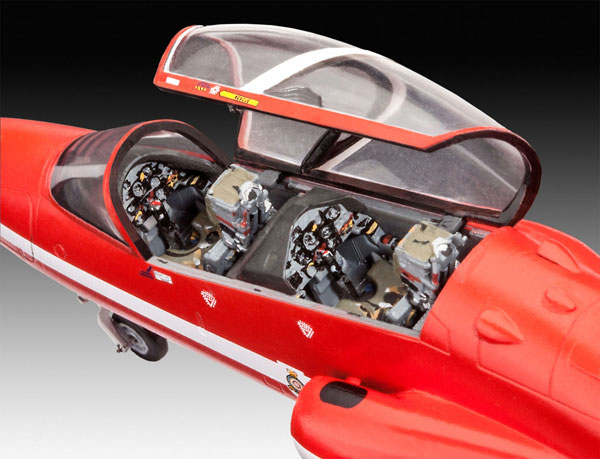 Manufacturer's model…
Taking a look at the manufacturer's model here you can see that this model is clearly a cut above what you might normally expect in this scale from one of the 'big' kit manufacturers. The model makes up very nicely into a good replica of a BAe Hawk operated by the Royal Air Force display team The Red Arrows and includes decals for the new scheme – more on these later.
Let's go inside
Perhaps inevitably you get red plastic sprues – a bit toy-like to be honest and not easy to see your cleaning up but they are packaged well and no damage is apparent. Taking the main components first, they are well tooled, fine recessed panel line detail and good levels of de-tail across the board. No distortion on the main parts is apparent and a dry fit of the main fuselage promises a decent fit; the initial impression is one of detail parts that will go to make up a nice representative model in 1:72 scale. There is some excess flash on many of the parts which is a little odd given that this is a new-tool kit although this can easily be cleaned up.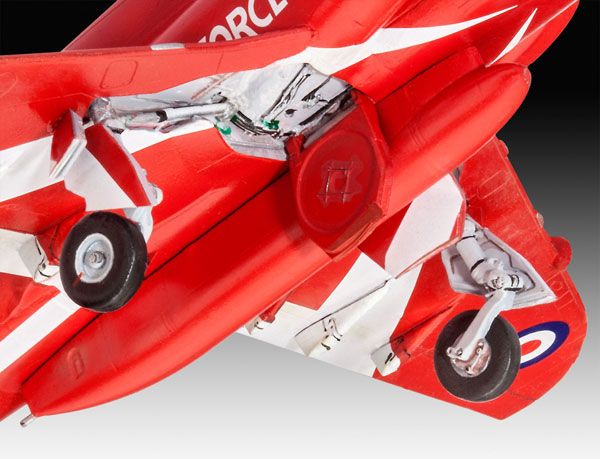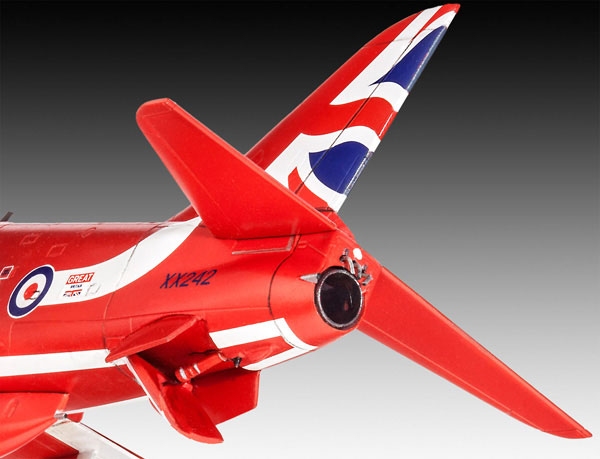 Cockpit and interior
Raised detail on the cockpit panels is provided as well as decals; check out that manufactur-er photo above as the cockpit looks pretty reasonable from the box. The other internals like the control columns are well detailed too as you can see from the attached photos and will add a fair bit to the eventual look.
Jet pipe and intakes
You get a tube for the exhaust jet pipe that's perfectly adequate in 1:72 scale.
The intakes are in the usual 'Hawk-kit breakdown' style with separate fronts that will need careful attaching and cleaning up; Hawk kits always need work in this area and this release promises more of the same. Shape looks ok on an initial inspection.
Other observations
undercarriage units are well detailed although we'll need to build this one to check the 'sit' of the final aircraft and hopefully it will look ok – the Revell made up model looks ok in the pics so this is promising
fins, fences and strakes – these look pretty over-scale and can easily be replaced with thin-ner pieces of plasticard – especially the wing fences
wheel wells are a bit shallow but better than on some other kits and so will be acceptable to most modellers I feel
the triple coloured 'smoke' pipes are included that sit just above the jet pipe
the smoke generation pod modified from the Aden gun pods used on real Hawks also in-cluded for a Red Arrows Hawk
no 'dropped-flaps' option – flaps are moulded closed.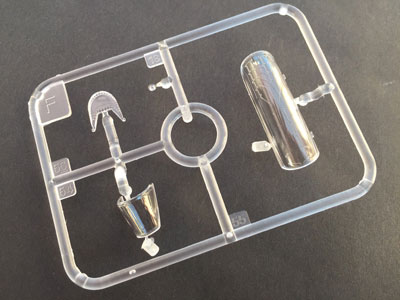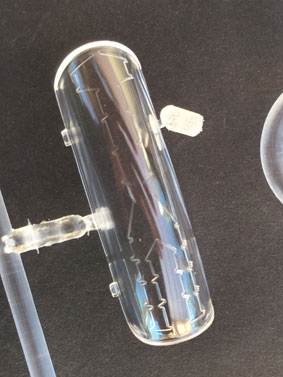 Clear parts
The clear parts look clear and defect-free. Looking at the completed manufacturer's model the canopy fit looks ok and the MDC in the canopy is refined and in keeping with the scale – a big plus for the model in my view as this is often overdone in other kits. It's nice to be able to display your model with canopy open – the blast screen between the crew members is well moulded too.
Instructions
The Revell instructions look rather different this time – colour would you believe! Location of parts is clear but colour paint coding is for Revell paints only. You'll have to match your own choice of paints if you go elsewhere for your choice of colour. The build sequence is pretty standard and logical but many modellers will part company with the stated order to suit their experience.
The back of the box has additional colour and painting guidance and all in all the instructions are definitely a step forward for Revell over their pretty basic instructions included so far.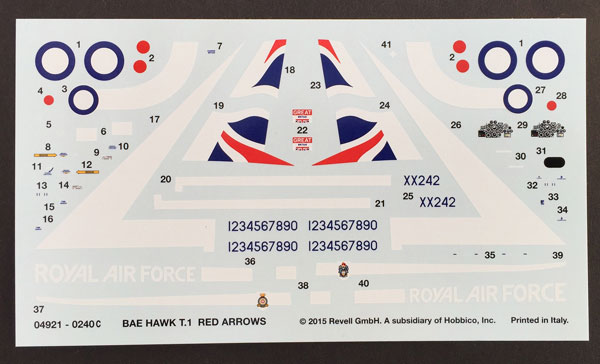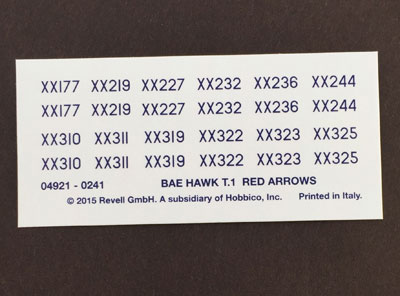 Decals
Options for all RAF Red Arrows aircraft is included.
Looking at the manufacturer's completed model (above) the decals will look good when carefully applied and what I especially like is that the white looks solid and should generate that 'painted-on' look, unlike just about all other Red Arrows decal sheets in alternative kits that just aren't opaque enough.
Conclusion
This is a great subject and it's great to have another all-new model. This model will provide all military fans, especially those with an interest in The Reds or aerobatic teams generally with a great new addition to their collection.
The model itself looks to be well engineered from the dry/test-fit. Moulding is good and the recessed panel detail very good in my opinion especially for the scale. Detail generally, especially those seats and cockpit tub detail impressive.
Geoff C.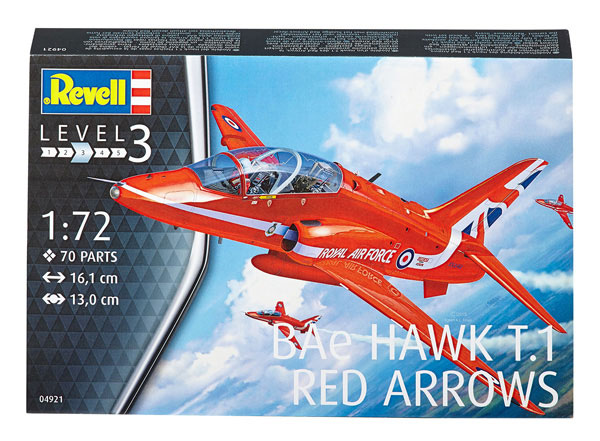 SMN Quick summary Star rating out of 5
| FEATURE | STAR RATING (out of five) |
| --- | --- |
| Quality of moulding | **** |
| Level of detail | *** |
| Accuracy | **** |
| Instructions | *** |
| Decals | **** |
| Subject choice | **** |
| Overall | *** |