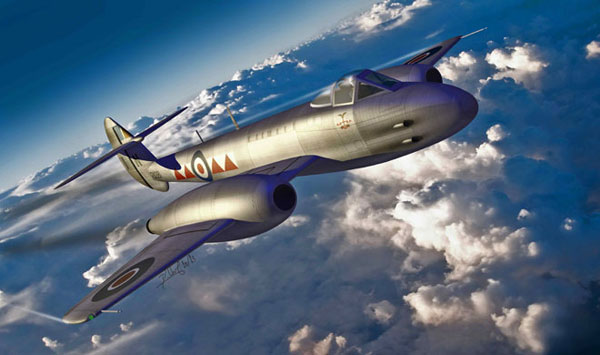 Price around £79.95 GBP
Review by Geoff Coughlin (March 2014)
Introduction
I first caught sight of this model in the flesh at the IPMS UK Scale Model World Show at Telford, UK in November 2013 and I have to say that it impressed me then, less so now when looking carefully at what's on offer in the production kit. OK, let's also get this off my chest too – it's not an F8 ☹ From my chats with other modellers that would have been the model of choice, but, as is so often the case the 'less-popular' model is released first for commercial reasons – such is life!
The model cost me around £80.00 and my first observation is that the model is certainly overpriced in the UK for what you get, especially when looking at the poor quality decal sheet, but more of this later.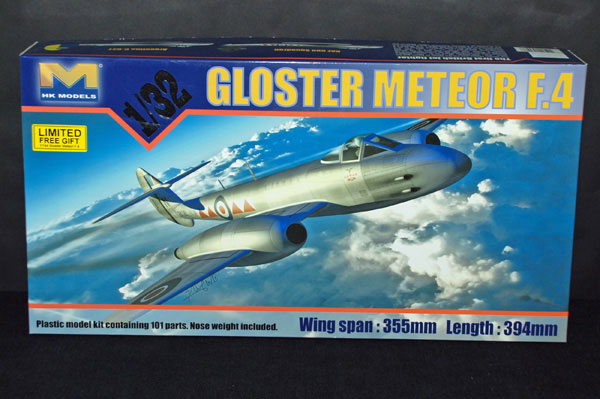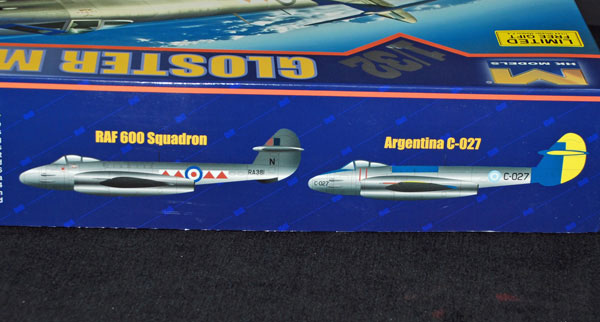 So what do you get?
Not too much to be honest, but, remember that the Gloster Meteor, especially an early version like the F4 is a simple aircraft, especially in terms of cockpit detail and wheel bay layout.
Fuselage and wings
Let's start by looking at the main components and overall shape? Well, take a look at the attached photos and then at the large fuselage halves included in the kit and I think the shape is good, visually it looks pretty accurate and sorry, I'm not in the rivet-counting business and so the fuselage passes muster on profile. So too does the large wing section – personally I love the large elongated engine nacelles (enclosing Derwent engines) fitted to the F4 and later models. In the box the engine nacelles look fine to me, although I see that aftermarket replacements already seem to be appearing. Well, to me, as far as this first build for SMN is concerned, it will be largely from the box.
There are some ejector pin marks on the detailed inner faces of the flaps and you'll need to be careful when removing them.
On the plus side, the surface detail is superb, very fine recessed panel lines and rivets that should look superb under silver paint!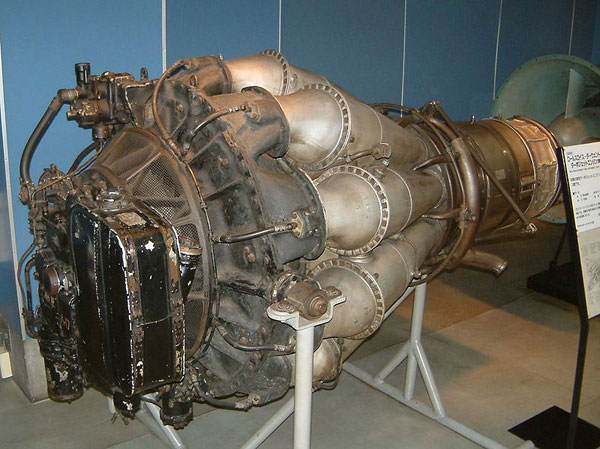 Derwent engines
Well, you don't actually get any! What you do get is an engine face that sits behind the horizontal splitter-plate in the engine air intake. At the aft end there is a simple jet pipe. I've got to say that I'm not really a fan of detail that's hidden – what's the point? So maybe a cost saving here could have meant a little more detail in the cockpit, or, a good quality decal sheet – either way you may want to consider adding more detail just behind the splitter-plate to add a bit more depth and realism to this area. So I suppose it also begs the question, who adds removable upper engine cowls? Pointless and depending on the fit that we'll discover later, may just involve some unnecessary filling and sanding, but I hope not.