Review by: Geoff Coughlin (February 2012)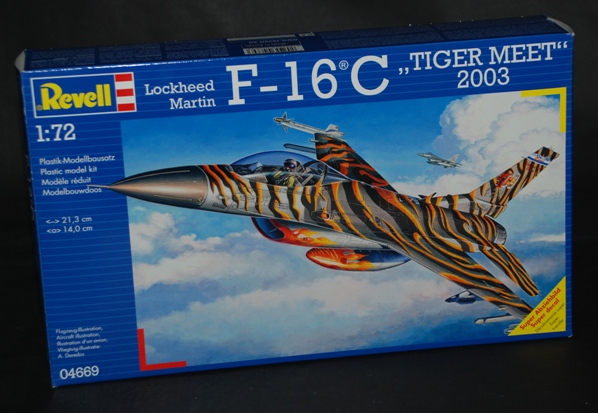 Our thanks to Revell for supplying our review sample. 

Some F-16 Tigers at work…
The Revell Kit
The F-16C is rapidly becoming an iconic aircraft, having been used by multiple Air Arms around the globe it is truly one of the military success stories of the century.
The type features in various forms in SMN, with doubtless more to follow over the months. And now we have a new boxing of the "Viper", "Fighting Falcon"…or whatever you like to call it.
This time the kit comes with a serious "Tiger" scheme dating back to the "Tiger Meet of the Americas 2003", featuring an aircraft from 140th Fighter Squadron Colorado ANG, Cold Lake 2003.
The tooling for this kit dates back to Revell 2000.
Box and Contents
Revell persist with rather flimsy boxes that are doubtless cheap to produce, yet somehow manage to protect the contents but prove less useful during construction.
Having said that, the artwork is again impressive; an image of an F-16C resplendent on Tiger markings. Great stuff.
So what's inside…?
Click on Thumbnails to enlarge images.
The grey sprues are packaged well and no damage is apparent.
Taking the main components first, they are well tooled, recessed panel line detail and having a quality feel, if a little brittle – much like the Tamiya F-16C. No distortion was apparent and a dry fit of the complex, yet typical F-16 kit, breakdown of fuselage-to-wing join looks like it's going to offer a decent fit.
The cockpit looks busy enough, with reasonable ACES II seat and decals provided on the decal sheet for the main instrument panels.
The moulded raised detail is pretty good and I would be tempted to paint the panels and go that route looking at what's available, but we must remember this is only 1:72 scale.
Weapons and Stores
You can see for yourself that Revell has included plenty of stores options, and it's good to see that these haven't been deleted because you can build plenty of other subjects by combining this kit with an after-market decal sheet.
Building the 2003 Tiger scheme will mean that you can add most of the stores to your spares box and use on another project, as the aircraft usually was flown clean. The AIM-9Ls and LGBs are well tooled and the complete range on offer can easily be seen in the images within this review.
It's good to see three under-fuselage drop tanks, although, again, only the centreline tank is likely to be needed for the Tiger fit.
Undercarriage Sprues
The wheels bays and main gear units are central features of any F-16 kit, so it's good to see that they are well detailed here.
Clear Parts
These look clear and the canopy rear portion is provided in two parts, so you can pose the canopy open or closed. The parts are clear and no defects apparent.
Instructions and Decals
The Revell instructions follow their usual exploded stages format. Location of parts is clear, but colour paint coding is for Revell paints only. However, the FS colour references are provided, which will help you to match your own choice of paints.
The build sequence is pretty standard and logical, but many modellers will part company with the stated order to suit their experience.
The decals look to be good quality; it's certainly good subject choice, you won't be able to miss your F-16C "Tiger Meet" model on a display table!
Stencil detail is also provided and is almost always well worth adding, even in 1:72 scale to add additional interest to your completed model. All the colours are in register and colour density looks impressive and carrier film limited, so I wouldn't expect any problems with application.
Conclusion
This is a great subject that should sell well and be popular with modellers, especially with those that have an interest in all things "Tiger".
The inclusion of great colour schemes on Revell's decal sheet is a real bonus and of course the model itself looks to be well engineered at first glance and from the dry/test-fit. Moulding is good and the panel detail is perfectly reasonable for current 1:72 scale kits.
| FEATURE | STAR RATING (out of five) |
| --- | --- |
| Quality of moulding | **** |
| Accuracy | **** |
| Instructions | *** |
| Decals | **** |
| Subject choice | **** |
| Overall | **** |
Recommended for all scale modellers.
Geoff C.