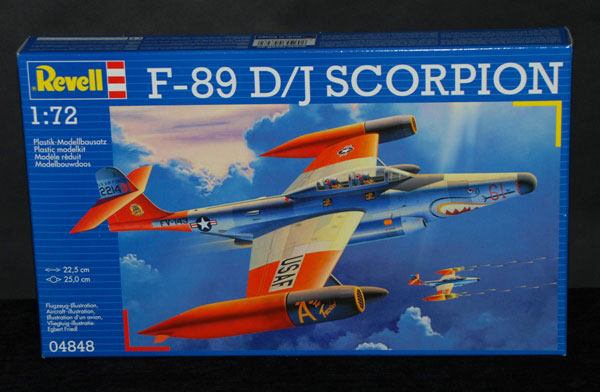 Price: around £12.99 GBP (Apr 2013)
Review by Geoff Coughlin
Our thanks to Revell for supplying our review sample. Revell model kits are available from all good toy and model retailers. For further information visit www.revell.eu or email ukbranch@revell.de
A little bit of inspiration here (from 50-seconds in)…

A little bit of background
The Northrop F-89 Scorpion was an early American jet-powered fighter aircraft designed from the outset as an all-weather interceptor. Though its straight wings limited its performance, it was among the first USAF jet fighters with guided missiles, and notably the first combat aircraft armed with air-to-air nuclear weapons (the unguided Genie rocket).
The Revell Kit
This isn't a new-tool F-89D/J Scorpion but that doesn't matter! What you get is a well-tooled model that's current in terms of approach and breakdown. Revell has re-released a model first released in 1991 and is moulded in silver-grey plastic – much like their 1:48 P-47D Thunderbolt I built back then. Read on to find out more about what's actually included…

Box and contents
Revell persist with rather flimsy boxes that are doubtless cheap to produce yet somehow manage to protect the contents although prove less useful during construction (as I have found out when their second He 111 arrived at the same time as this kit!). Having said that, the artwork is usually impressive enough and the one here loosing-off all those rockets this time looks pretty impressive.
So what's inside…?
The silver-grey sprues are packaged well and no damage is apparent. Taking the main components first, they are well tooled, recessed panel line detail and having a quality feel, if a little brittle – much like Hasegawa kits seem to have. No distortion was apparent and a dry fit of the main fuselage sections offers a reasonable fit although some re-scribing will be almost inevitable given all the detailed panel lines around the joins.
You'll need to watch that swirling in the plastic; while smooth it will show if you paint silver over the top so be sure to sand/buff the surface and lay down some fine undercoat to avoid the problem.
The cockpit looks busy enough with reasonable seats for the scale and decals provided on the decal sheet for the main instrument panels.
You can see the manufacturer's photos of their completed model in the Gallery Grids included with my review and I for one think this model looks every bit an F89 Scorpion.
Weapons and stores
You can see for yourself that Revell has included plenty of stores options (missiles and those huge wing-tip rocket pods). The stores are well tooled and the complete range on offer can easily be seen in the accompanying images.
Undercarriage sprues
The wheels bays and main gear units are features of any Scorpion kit and so, it's good to see that they are well detailed here.
Clear parts
The clear parts look clear and the canopy rear portion is provided in two parts, so you can pose the canopy open or closed. The parts are clear and no defects apparent.
Instructions and decals
The Revell instructions follow their usual exploded stages format. Location of parts is clear but colour paint coding is for Revell paints only. However, the FS colour references are provided and this will help you to match your own choice of paints. The build sequence is pretty standard and logical but many modellers will part company with the stated order to suit their experience.
The decals look to be good quality – certainly good subject choice, you won't be able to miss your F-89D/J model on a display table! Stencil detail is also provided and is almost always well worth adding, even in 1:72 scale to add additional interest to your completed model, but I suspect you'll have your own views on this. All the colours are in register and colour density looks impressive and carrier film limited, so I wouldn't expect any problems with application.
Conclusion
This is a great subject should sell well and be popular with modellers, especially with those that have an interest in all things modern and US. The inclusion of great colour schemes on Revell's decal sheet is great and of course the model itself looks to be well engineered at first glance and from the dry/test-fit. Moulding is good and the panel detail perfectly reasonable for current 1:72 scale kits.

Recommended for all scale modellers
Geoff C.
SMN Quick summary Star rating out of 5
| FEATURE | STAR RATING (out of five) |
| --- | --- |
| Quality of moulding | **** |
| Accuracy | **** |
| Instructions | *** |
| Decals | ***** |
| Subject choice | **** |
| Overall | **** |