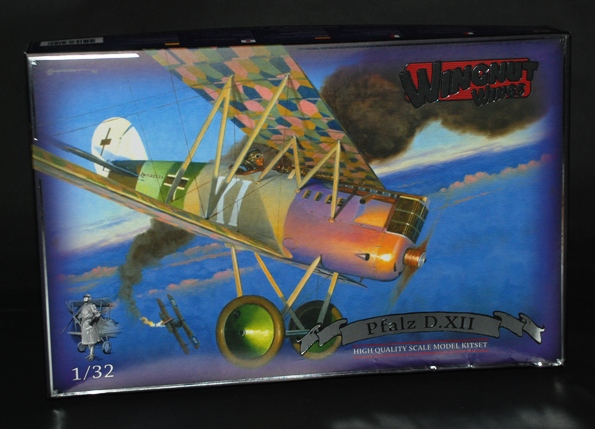 Kit Reference: 32019
Price: £40.00 approx
Review by: Geoff Coughlin (Oct 2011)
Our thanks to Wingnut Wings for supplying our review sample.
We have multiple builds of Wingnut Wings kits… just check out your Wingnut Wings Finished Now area in SMN.
A little bit of extra reference for you…
The Pfalz D.XII appeared just after the middle of 1918 and was distinctive in having its square radiator and square-tipped wings.
This led to confusion by Allied personnel with the Fokker D.VII. The Pfalz was essentially a re-worked D.III/IIIa, with Spad inspired low-drag wings replacing its Nieuport-inspired sesquiplane wings and a nose-mounted Teves and Braun radiator in place of the wing-mounted version.
Production began in March 1918 but the Pfalz D.XII only began entering service in July that year, after delays caused by overheating problems associated with the new radiator.
Reaching service after the highly successful Fokker D.VII, the Pfalz D.XII was never going to be as popular with the Jasta pilots. The Pfalz D.XII was as fast as the D.VII in level flight and in the dive, but unable to climb well above 3,000 metres, nor was it as manoeuvrable in combat.
In mid 1918 the Pfalz D.XII 1387/18 was fitted with the BMW IIIa engine for the 2nd Fighter Competition and performed comparably with a similarly powered D.VII, although in the event very few Pfalz D.XII were flown in service by Jasta pilots.
In the end the Fokker D.VII, fitted with the BMW IIIa engine, was the mount Jasta pilots longed to fly.
Instructions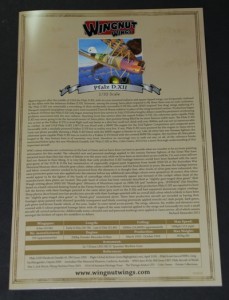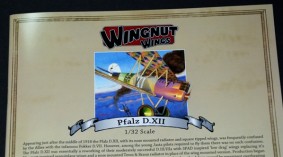 The Wingnut Wings (WW) instruction booklet is always one of the big highlights with any WW kit and this one is no exception – quite superb.
Full colour illustration and diagrams give very clear instructions as to where everything goes. Good use is made of different colours to make identification and placement of all parts – and rigging later in the book. Straightforward.
Click on the Thumbnails below to enlarge the images and see what you think.

There are also several period images in black and white and these give a very clear steer to weathering possibilities later in the project. Add to that the all-colour walkaround images covering all aspects of the airframe and you have a five-star guide to completing your WW Pfalz D.XII.
The Kit
I would recommend that you look at the previous Here Now and Finished Now reviews available in your SMN – you'll see what an amazing job WW is consistently doing with each new release and this one is easily up there with its forerunners.
I built this manufacturer's F.2b Bristol Fighter and found it the most challenging and rewarding scale model project I have ever undertaken. The Pfalz D.XII has a more straightforward design and consequently should be easier to construct. At least the lower wing is directly attached to the underside of the fuselage, unlike the F.2b!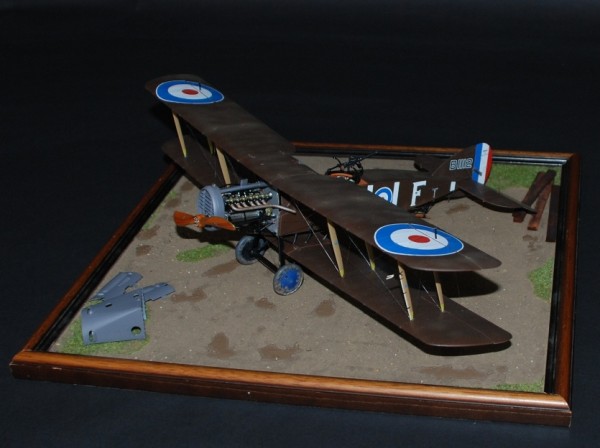 Looking at the breakdown of the parts-assembly, it all looks logical and if you've completed any WW kit you'll recognise the whole approach.
Levels of detail are superb and highly appropriate for 1:32 scale. The open cockpit will allow all that wood in the cockpit to be seen and admired. The engine and that metallic, square radiator will look superb when painted and weathered.
The wooden fuselage has a smooth finish and this is, of course, accurate for the type – none of the rippled fabric option appropriate to the SE.5.
The wings have excellent ribbed detail moulded in and if you check out Les' builds you'll see just how well this can be painted and weathered to create a realistic effect.
Decals
There are 5 well known 'Jasta' options on the decal sheet, all of which are excellent, as are the decals – if a little thick. Colour density looks good, as does accuracy with some fantastically colourful markings for each option, leaving you no choice but to create a stunner that will stand out on any club or competition table.
Summary
There is no doubt that Eduard are pioneering some superb WWI models in 1:48 scale, Revell has some perhaps surprisingly good ones in 1:72, but when it comes to 1:32, Wingnut Wings takes the prize.
The whole package is available post-free from WW at a staggering US$ 65.00 (around £40.00), which is amazing value for money.
| | |
| --- | --- |
| Quick summary | Star rating out of 5 |
| Quality of moulding | ***** |
| Accuracy | ***** |
| Instructions | ***** |
| Decals | **** |
| Subject choice | **** |
| Overall | ***** |
Geoff C.