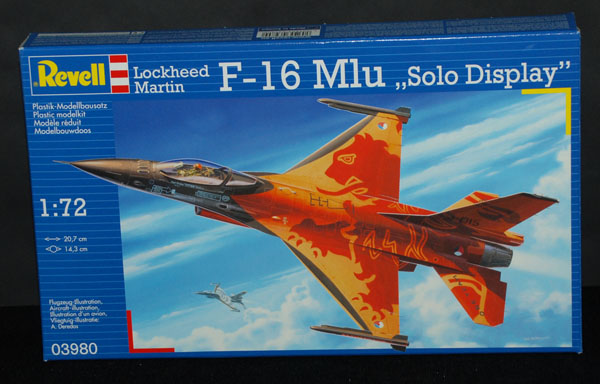 Kit Ref: 03980
Price around £12.99 GBP (March 2014)
Review by Geoff Coughlin
Our thanks to Revell for supplying our review sample: Revell model kits are available from all good toy and model retailers. For details visit www.revell.de/en, @RevellGermany or facebook.com/Revell   
A little bit of inspiration here – F-16 MLU:

(you have to see this!)
(and this!)  
Here are some great photos of the subject by James Vaitkevicius and Adam Brown – thanks guys!
A little bit of background…
In 1989 a two-year study began regarding possible mid-life upgrades for the USAF's and European Partner Air Forces' (EPAF's) F-16A/Bs. The resulting F-16 Mid-Life Update (MLU) package was designed to upgrade the cockpit and avionics to the equivalent of that on the F-16C/D Block 50/52; add the ability to employ radar-guided air-to-air missiles; and to generally enhance the operational performance and improve the reliability, supportability and maintainability of the aircraft. Aircraft receiving this set of updates are designated F-16AM or F-16BM.
Development began in May 1991 and continued until 1997; however, the USAF withdrew from the MLU program in 1992, although it did procure the modular mission computer for its Block 50/52 aircraft. The first of five prototype conversions flew on 28 April 1995, and installation of production kits began in January 1997. The original plans called for the production of 553 kits (110 for Belgium, 63 for Denmark, 172 for the Netherlands, 57 for Norway, and 130 for the USAF), however, final orders amounted to only 325 kits (72 for Belgium, 61 for Denmark, 136 for the Netherlands, and 56 for Norway). The EPAFs re-designated the F-16A/B aircraft receiving the MLU as F-16AM/BM, respectively. Portugal later joined the program and the first of 20 aircraft was redelivered on 26 June 2003, with another 20 going through the update in-country at this time. In recent years, Chile, Jordan, and Pakistan have purchased surplus Dutch and Belgian F-16AM/BM for their air forces. Development of new software and hardware modifications continues under the MLU program.
The M3 software tape was installed in parallel with the Falcon STAR structural upgrade to bring the F-16AM/BM up to the standards of the USAF's Common Configuration Implementation Program (CCIP). A total of 296 M3 kits (72 for Belgium, 59 for Denmark, 57 for Norway, and 108 for the Netherlands) were ordered for delivery from 2002–2007; installation is anticipated to be completed in 2010. A M4 tape has also been developed that adds the ability to use additional weapons and the Pantera targeting pod; Norway began conducting flying combat operations in Afghanistan with these upgraded aircraft in 2008. A M5 tape is in development that will enable employment of a wider array of the latest smart weapons, and the first aircraft upgraded with it are due to be delivered in 2009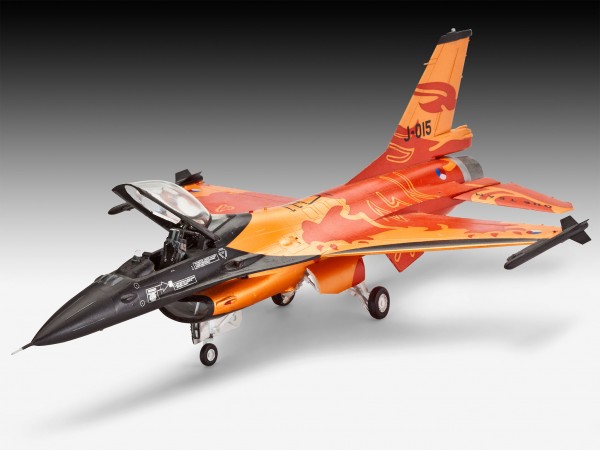 The Revell Kit
The F-16 is rapidly becoming an iconic aircraft, used by multiple Air Arms around the globe; it is truly one of the military success stories of the century. The type features in various forms in SMN with doubtless more to follow over the months and now we have a new boxing of the "Viper"; "Fighting Falcon" – whatever you like to call it. This time the kit comes with a serious "Solo Display" RNAF 2012 demo scheme. The tooling for this kit dates back to Revell 2000 and it's a nice kit – check out the photos of the manufacturer's model.
Box and contents
Revell persist with rather flimsy boxes that are doubtless cheap to produce yet somehow manage to protect the contents although prove less useful during construction. Having said that, the artwork is usually impressive enough and that's the case here – an image of an F-16MLU resplendent in RNAF solo dispplay markings – great stuff.
So what's inside…?
The grey sprues are packaged well and no damage is apparent. Taking the main components first, they are well tooled, recessed panel line detail and having a quality feel, if a little brittle – much like the Tamiya F-16C. No distortion was apparent and a dry fit of the complex, yet typical F-16 kit breakdown of fuselage-to-wing join looks like it's going to offer a decent fit – we'll see. The cockpit looks busy enough with reasonable ACES II seat and decals provided on the decal sheet for the main instrument panels. The moulded raised detail is pretty good and I would be tempted to paint the panels and go that route looking at what's available, but remember, this is only 1:72 scale.
Weapons and stores
You can see for yourself that Revell has included plenty of stores options, and it's good to see that these haven't been deleted because you can build plenty of other subjects by combining this kit with an aftermarket decal sheet. Building the 2012 Solo Display scheme will mean that you can add most of the stores to your spares box and use on another project as the aircraft usually was flown clean. The AIM-9Ls and other AAMs all well tooled and the complete range on offer can easily be seen in the accompanying images. It's good to see 3 under-fuselage drop tanks, although none of these is needed for the display scheme.
Undercarriage sprues
The wheels bays and main gear units are central features of any F-16 kit and so, it's good to see that they are well detailed here.
Clear parts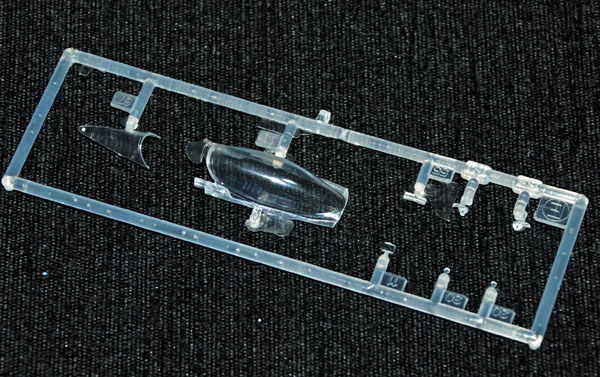 The clear parts look clear and the canopy rear portion is provided in two parts, so you can pose the canopy open or closed. The parts are clear and no defects apparent.
Instructions and decals
The Revell instructions follow their usual exploded stages format. Location of parts is clear but colour paint coding is for Revell paints only. However, the FS colour references are provided and this will help you to match your own choice of paints. The build sequence is pretty standard and logical but many modellers will part company with the stated order to suit their experience. The decals look to be good quality – certainly good subject choice, you won't be able to miss your F-16MLU "Solo Display" aircraft model on a display table! Stencil detail is also provided and is almost always well worth adding, even in 1:72 scale to add additional interest to your completed model, but I suspect you'll have your own views on this. All the colours are in register and colour density looks impressive and carrier film limited, so I wouldn't expect any problems with application.
Conclusion
This is a great subject should sell well and be popular with modellers, especially with those that have an interest in all things "Display". The inclusion of great colour schemes on Revell's decal sheet is a real bonus and of course the model itself looks to be well engineered at first glance and from the dry/test-fit. Moulding is good and the panel detail perfectly reasonable for current 1:72 scale kits.
Recommended for all scale modellers.
Geoff C.