Price: £89.99 approx
Review by: Dave Coward (January 2012)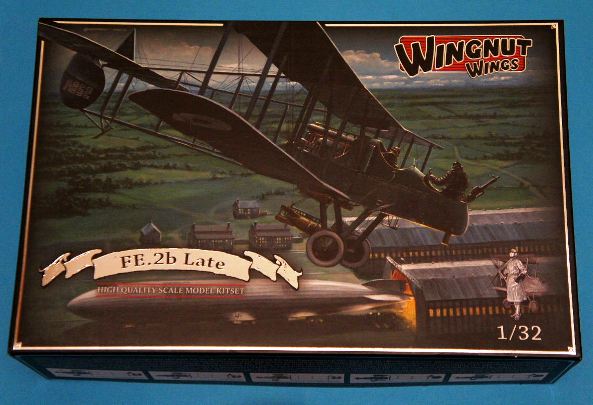 Our thanks to Wingnut Wings for supplying our review sample.
Some great bits of Reference…
Initial Assessment
I must admit that I've never had my hands on a Wingnut Wings (WW) kit until I was given this. One word instantly springs to mind: Impressed.
The box is solid, the art work beautiful and the information printed on the sides gives you side views of all five options, along with a description of the aircraft.
Upon opening the box the feeling of quality continues. It is full of sprues (9 to be exact, each of which is individually sealed in its own protective bag) and, upon examining these, you again cannot help but be impressed (yes, that word again)!
Each sprue covers a section of the build, so there is no need to spend wasted time hunting for that elusive part and each sprue is alphabetically labelled so finding parts is easy (Revell take note!).
The parts themselves are exquisitely moulded with a nice fabric texture to the fabric areas. Unsurprisingly, there is no flash present and the sprue gates are reassuringly small.
The kit contains all the parts required for the engine and cockpit assembly with just a couple of wires being required here and there to add that little bit more detail.
There is also a PE sheet that covers the seat belts , gun sights and rigging braces. Click on the Thumbnails below to enlarge the images and hopefully you should see what I mean.
Now the best bit: the Instructions
These are simply incredible; without doubt the best I've ever seen, which says a lot when you look at what Eduard produce these days.
They are full colour and printed on high quality paper. The front cover gives an in-depth history of the aircraft along with all its leading particulars.
You then open the 'booklet' and each construction step is covered using full colour drawings, which are backed up with reference photographs of that particular section of the aircraft.
The photos of the cockpit and engine are just amazing, there is no need to spend any more money on reference books as the instructions provide all that you will need. That said, the front cover gives a list of reference books should you wish to find out more about the subject.
Painting details are clearly marked and refer to a colour table in the front that references to Tamiya, Humbrol and Misterkit paints.
Being a WWI kit, rigging is an occupational hazard here but Wingnuts provide a full explanation of what is required and what's more, if you go to their website, they provide a PDF document that gives a step by step guide on how to do rigging. Remarkable!
The final seven pages cover the colour options for five aircraft.
These options are covered with full colour 3 view drawings and period photos for further reference. The decals come on 3 sheets that are printed by Cartograf, so their quality is guaranteed.
The options in the kit are as follows:
FE.2b 7018 `Punjab 32 Montgomery`,  Boulton & Paul built, LBF Morris & T Rees , 11 Sqn, September 1916
FE.2b 7666 `B4`, Boulton & Paul built, Training Squadron, June 1917
FE.2b A778 `Alfred Muller Simpson`, G & J Weir built, FH McNamara VC & SJ Hendry, CFS Australia, mid 1918
FE.2b A852, G 7 J Weir built, LG Taylor & FE Le Fevre, 100 Sqn, January 1918
FE.2b A5650 ` Jess` , G & J Weir built, 100 Sqn USAS, mid-late 1918
The first three are day fighter/bombers in a green/sail colour camouflage and the last two are night fighter in a black scheme.
The final page of the instructions gives a brief biography of the principal players behind the Wingnut Wings brand, which gives a nice feeling of real pride in the production of these kits.
One other thing to emphasise about these kits, which I've touched upon already, is the backup material available on the WW website.
Their website provides advice on such areas as rigging, painting wood effects and how to jig multiple wing aircraft to name but a few. It also provides archive pictures of period aircraft, a gallery of photos of a finished model, downloadable instructions, colour schemes and a 360 degree inactive view of the aircraft.
What's more, this backup is available for the whole Wingnut range of kits.
In Summary…
Along with Tamiya's new 32nd range of kits, this has set the benchmark for all other manufactures.
Wingnuts have found a niche in the market with this range of 1:32nd WWI kits and personally I can't see anyone else even getting close to them; the quality of the product is that good.
I genuinely cannot wait to build this kit as it just screams out to be made.
| FEATURE | STAR RATING (out of five) |
| --- | --- |
| Quality of moulding | ***** |
| Accuracy | ***** |
| Instructions | ***** |
| Decals | ***** |
| Subject choice | **** |
| Overall | ***** |
Dave C.