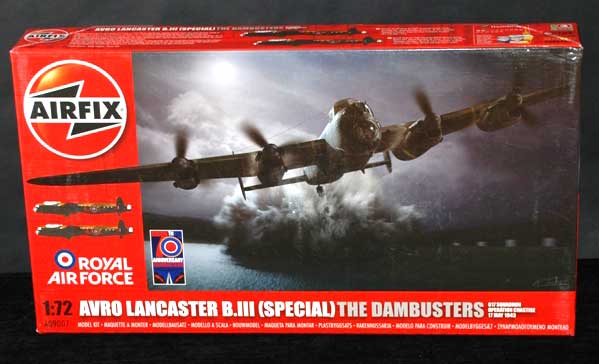 Reviewed by Geoff Coughlin
Price around £29.99 GBP (Apr 2013)
Our thanks to Airfix for supplying our review sample. Get this impressive kit here now at: www.airfix.com
Here's something to get you in the mood – as if you need any encouragement!

or this…

It's been a while
This is a very welcome release from Airfix – a completely new-tool Avro Lancaster, how good is that? Timed to coincide with the 70th anniversary of the famous Dambusters Raid in WWII it's really great news that we have a new Lanc on offer.
Ok, so what's in the box?
A box crammed full of light blue-grey sprues.
The plastic has a better feel to it than in some past releases, less powdery, quite smooth and on the softer side of hard. Having built the Harrier GR-7 and several other newer Airfix kits (see your Finished Now area), this plastic is very similar and is easy to trim, sand and work with. Panel line detail is recessed and in 1:72 scale looks quite good to me, a bit heavy for the purists but once covered in paint it should look ok.
Box art
Simply stunning! How moody is that? This is one of at least two beautiful box art images by Alan Tooby – so evocative and will undoubtedly sell many of these kits. Some of you may be wondering why I am commenting on the box? Well, the fact is great box art sells kits and I for one think the box is all part of the whole buying and 'owning' experience – it matters! Even better when the contents match the box in terms of quality and this is the case here in my opinion.
Cockpit
Detail in the cockpit is perfectly adequate for this scale, in fact better than adequate. Examples are the pilot's seat, internal rib detail and navigator position – all have authentically produced detail; also the delicate control yoke. Right about now I start to take more detailed interest and inspect the remainder of the sprues for subtle detail; more of that in a moment. Decals are provided for the main instrument panel and this will be just fine in this scale with the dial detail being comprehensive and noteworthy.
You do get a pilot if you want to add him – but he looks a bit retro to me and out of keeping with the rest of the kit.
Undercarriage
The finesse of the undercarriage legs is extraordinary – probably amongst the best I have seen in this small scale. No flash, just fine, accurate crisp moulding – impressive. Also a nice set of slightly bulged tyres is supplied and when painted and weathered these will add to the final authentic look of your model.
Fuselage
Once again the panel line detail is not bad. Airfix are certainly listening to modellers and showing great willingness to raise their standards to that of the best and they are certainly getting closer with this kit. The rudders and flaps are positionable to help you create more interesting options if you wish. The internal detail in the flaps is worthy of note and will look great if weathered.
Propellers
Both pointed and paddle-bladed props are included although you'll need the pointed ones for a B.III (Special) used on the Dams Raid aircraft. All the mods are included like the faired over upper turret position, although the parts are included to build a standard B.III too.
Upkeep mine and trolley
A very nice feature of this package is the inclusion of a realistic Upkeep mine and trolley. The mine can be displayed on or off your aircraft. The spinning mechanism is also supplied.
Clear parts
Nice looking these – very clear without any flash. The canopy plastic is thin too adding to the quality of the package.
Instructions, decals and painting guide
The instructions are logical and well laid out. The usual exploded-stage diagram approach is used. The colour painting guide is provided as a separate sheet and I like that, making it much easier to use and have in front of you when painting and applying the decals.
Two aircraft are featured with this release and it's nice to see that alternatives to Guy Gibson's aircraft (AJ-G) are available:
Avro Lancaster B.III (Special), reserve aircraft flown by Flt. Lt. Joseph Charles McCarthy DFC (Royal Canadian Air Force), No 617 Squadron RAF "Operation Chastise" 16-17 May 1943
Avro Lancaster B.III (Special), reserve aircraft flown by Flt. Lt. Robert Norman George Barlow DFC (Royal Australian Air Force), No 617 Squadron RAF "Operation Chastise" 16-17 May 1943 (aircraft and crew lost in action)
The decal sheet is well printed with all markings/colours in register.
Summary
A great addition to what's already available and significantly better than the Revell offering in my view in terms of detail, tooling and options. The recessed detail is ok but could be finer for sure are counterbalanced by the beautifully delicate and detailed undercarriage legs and bulged tyres – all positive, as is the choice of decals. It offers good value for money and all in all a nice new kit beautifully presented.
Highly recommended
Geoff C.
SMN Quick summary Star rating out of 5
| FEATURE | STAR RATING (out of five) |
| --- | --- |
| Quality of moulding | **** |
| Accuracy | **** |
| Instructions | **** |
| Decals | **** |
| Subject choice | ***** |
| Overall | **** |