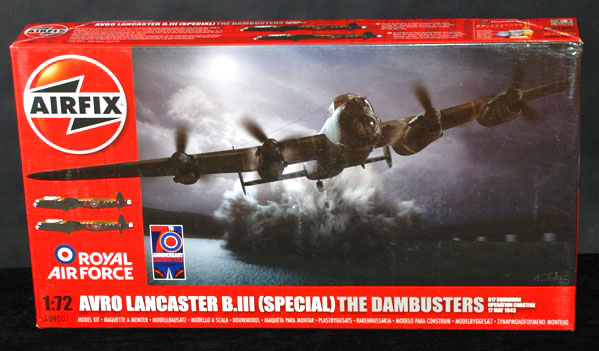 Special Feature Article by Andy Goodwin (May 2013 : 30th Anniversary of the "Dams Raid")
"Operation Chastise" Can Andy Goodwin start and finish his build of the new Airfix Avro Lancaster in 30 days from take off in Build Now to landing in Finished Now?
Here's something to get you in the mood – as if you need any encouragement!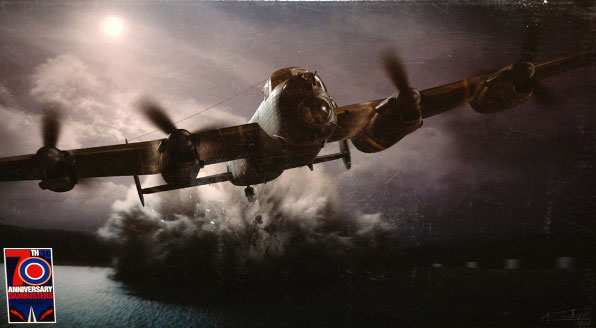 First to go
At 9:28pm (local) on Sunday May 16th 1943, a green Aldis lamp flashed from the runway control caravan at RAF Scampton, the famous Cathedral in Lincoln City just 3 miles to the south. The quiet purr of four Rolls Royce Merlin engines grew to a loud roar as RAAF Flight Lieutenant 'Norm' Barlow, DFC, pushed the four big throttle levers fully open. His specially modified Lancaster, ED927, coded AJ-E 'Easy' began to roll down the grass runway, slowly gaining speed before lifting off and becoming the first aircraft of the now famous 617 Sqn to depart for "Operation Chastise".
Barlow was one of those experienced pilots specially selected to join 617 Sqn for this now legendary, but at the time highly secretive, mission to destroy the hydroelectric dams of the Ruhr Valley. He had already completed a tour of 30 missions deep within enemy territory and with six weeks of intensive training in low-level flying, he and his six crew were glad to actually be getting on with the job-in-hand. They could now concentrate and focus on this job, flying at extremely low level to and from the target. Unfortunately, their aircraft struck power lines and they would never reach that target. Flt Lt "Norm" Barlow, age 32, together with his crew of six, died at 11:50pm near Haldern, Germany.
Here I go…
A comprehensive Here Now review has been written about this kit, so feel free to peruse that just to remind yourselves what we've got here. I can tell you that I am impressed with the box contents, and the package as a whole, and I have been itching to build this kit since it was first announced by Airfix. Luckily, I got my foot in the Editors door first this time. First thing was to decide which aircraft I was going to portray. I think that my intro explains why I have decided on "E-Easy".
This build begins on the evening of 25 April 2013 and I have 3 weeks until the 70th anniversary of this daring and costly raid. A lot of great men were lost and it is my aim to present the model to you, finished, on this anniversary date as a tribute to all involved in "Operation Chastise".
Bomb bay
The build begins with the bomb bay, which is also the interior floor. After the bay end-plates are fitted, two substantial bulkhead/wing spars are fitted to the floor. These look like they'll give some necessary strength to the enormous wings, but we shall see later. The Pilot, Navigator and Wireless Operator's stations were built as per the instructions and added to the interior structure.
Main painting was done using Tamiya acrylics, with X-18 SG Black used as a base and main colour for the black areas whilst XF-71 IJN Green was used for the remainder. I wouldn't usually use pure black for an interior colour, or any black areas, on a model as it is just too stark, but the subsequent matt coat and washes/highlights would tone this down. I used W&N oil paints to make the washes, thinned with white spirit, and also to drybrush highlights onto the nicely moulded raised detail.
Decals are supplied for the instrument panel, which is fine in this scale, and there is also a decal supplied for the navigator's bench depicting a map with the planned route for the mission. I do like this little touch. It is just a shame though that seatbelts, in any way, shape or form are not supplied. Due to a self-imposed time limit I have chosen to leave these out of this build.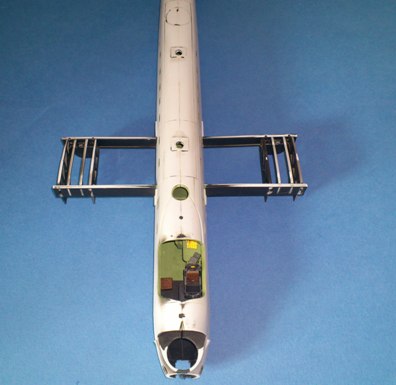 Joining the fuselage
In no time at all, I was ready to join the fuselage together. The spars were a tight fit into their slots on the fuselage halves, so a quick going over with a flat file sorted this out. Fit of the two halves around the interior was a little tight, but the use of clamps and liquid cement ensured this went as smoothly as I could get it. I did end up with small steps in a few areas, and this is most definitely of my own making. A bit of Mr Surfacer 500 and gentle blending sorted this out. I did drill out the recessed mouldings for the rooftop emergency exit hatches as it would be impossible to clean these up. I will use Microscale Kristal Klear to fill these hatches later, together with the fuselage side windows. I just don't fancy masking them all up, so I'm taking the easy route.