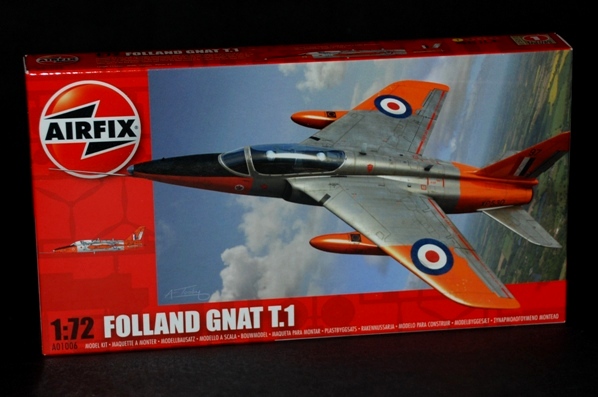 Review by: Geoff Coughlin (February 2012)
See our FINISHED NOW BUILD REVIEW
Our thanks to Airfix for supplying our review sample.  

A couple of videos to get you in the mood!
Background
The Gnat T.1, probably best remembered by virtue of its long association with The Red Arrows, served as the principal advanced jet trainer for many years, only giving way to the Hawk T.1 in the late seventies.
Apart from a small number of aircraft being assigned to the Central Flying School, most Gnats spent their training careers with No.4 Flying Training School at Valley.
I have to declare that this aircraft is one of my all-time favourites and will be built at least once for SMN, so do keep an eye out on Build Now to see how this completely new-tool kit goes together.
Reference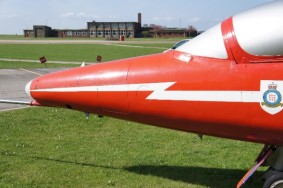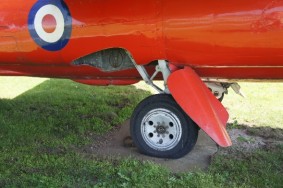 Don't forget that we have a great walkaround for the Folland Gnat T1 here in SMN. You can download the zip-file containing all the images if you have a Bronze-Plus, Silver, Gold or Platinum subscription.
The Kit
The original kit of the Gnat in the Airfix line up has been around nearly as long as I have and, believe me, you don't want to know about that! To be honest, I never dreamed that this or any other manufacturer would ever return to the subject and give us a new-tool ready for 2012; how good is that!
Matchbox always had a competitor, but its short stubby nose never looked right to me and I always preferred the look of the Airfix model, though its lack of detail was always a problem.
This model immediately looks much better, with decent levels of detail, most notably in the cockpit and wheel wells. I strongly recommend that you take a look at this kit if, like me, you like (or love) the type because this is a surprisingly nice model with a respectable level of detail.
Click on the Thumbnails below to enlarge the images and take a look at some of the box contents for yourself.
Three sprue trees are included (including the clear one) that fairly represents the parts needed to make a model of the Gnat aircraft in the small 1:72 scale. The panel line detail is a little heavy for the scale and is recessed.
Cockpit
The cockpit has a pair of seats that look quite good, thinly and delicately moulded, albeit simplified versions of the real items. The main instrument panels are addressed using decals for the front and rear panels, which is quite acceptable for this scale in my opinion.
The canopy glazing is clear and blemish-free; another good feature.
One slight disappointment is the fact that it's not split already, in order to allow the possibility of displaying your model with the canopy open. I guess you could carefully cut the canopy using a razor saw, but I doubt it's worth it in this scale as you'd probably need to start adding additional detail too.
Undercarriage
This looks pretty accurate with wheel wells that are boxed in, moulded detail on the retraction legs and arms. The wheels themselves have neat hub detail that should all paint up well enough.
Other Observations…
The slipper tanks that can optionally be fitted under the wings look pretty well shaped, as does the fin and wing attitude. Some very helpful instruction is given on the sheet for the correct angle that the undercarriage needs to sit at.
Decals
These look good and high quality, including all the stencil markings too.
You'll need to make sure they are applied to a high gloss finish and then applying the varnish tone you want (satin, flat? – try Alclad varnish to go with their excellent metallic lacquer 'silver' paints).
Watch the carrier film on the codes. Looking at them, you might want to trim the carrier film away as close to the actual marking as possible to reduce the chance of a 'silvering' effect where the carrier film shows through on your finished model. See our Techniques Bank for advice on how to paint and decal your model.
I reckon that, given a good surface and decal setting solutions, you should be just fine; we'll see in the build.
Markings are included for an aircraft from the Central Flying School, Royal Air Force Little Rissington, Gloucestershire, England, 1964.
Instructions
Classic Airfix fold-out sheet with the usual exploded stage-style diagrams. This is a basic kit ideal for any level of scale modeller and, if you follow the instructions, you can't go too far wrong.
All I'd suggest is to test fit some of the sub-assemblies – like the undercarriage – because you may be able to add them right at the end once all the painting and weathering is complete, thereby avoiding the risk of damage.
What's the verdict?
Well, I've got to say I'm impressed; it looks pretty good. Much higher quality than you'd usually expect to find on a model in this scale.
Manufacturers like Eduard have set a very high bar recently and this new model from Airfix is designed for anyone interested in the type. It's not the highest level of detail or accuracy, but is perfectly reasonable.
Personally I can't wait to build this kit, especially as it is so long since the last one!
Recommended.
| FEATURE | STAR RATING (out of five) |
| --- | --- |
| Quality of moulding | **** |
| Accuracy | *** |
| Instructions | **** |
| Decals | **** |
| Subject choice | ***** |
| Overall | **** |
Geoff C.