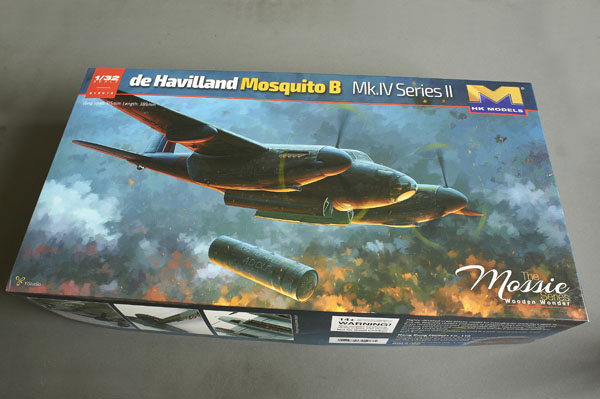 Kit ref: HK01E15
Price around £150.00 GBP (July 2015)
Review by Aaron Scott
The de Havilland DH.98 Mosquito was a British multi-role combat aircraft with a two-man crew that served during and after the Second World War. It was one of few operational front-line aircraft of the era constructed almost entirely of wood and was nicknamed "The Wooden Wonder". The Mosquito was also known affectionately as the "Mossie" to its crews.
On 21 June 1941 the Air Ministry ordered that the last 10 Mosquitoes, ordered as photo-reconnaissance aircraft, should be converted to bombers. These 10 aircraft were part of the original 1 March 1940 production order and became the B Mk IV Series 1. W4052 was to be the prototype and flew for the first time on 8 September 1941.
The bomber prototype led to the B Mk IV, of which 273 were built: apart from the 10 Series 1s, all of the rest were built as Series 2s with extended nacelles, revised exhaust manifolds, with integrated flame dampers, and larger tailplanes. Series 2 bombers also differed from the Series 1 in having a larger bomb bay to increase the payload to four 500 lb (230 kg) bombs, instead of the four 250 pounds (110 kg) bombs of Series 1. This was made possible by shortening the tail of the 500 pounds (230 kg) bomb so that these four larger weapons could be carried (or a 2,000 lb (920 kg) total load). The B Mk IV entered service in May 1942 with 105 Squadron.
In April 1943 it was decided to convert a B Mk IV to carry a 4,000 lb (1,812 kg), thin-cased high explosive bomb (nicknamed "Cookie"). The conversion, including modified bomb bay suspension arrangements, bulged bomb bay doors and fairings, was relatively straightforward, and 54 B.IVs were subsequently modified and distributed to squadrons of RAF Bomber Command's Light Night Striking Force 27 B Mk IVs were later converted for special operations with the Highball anti-shipping weapon, and were used by 618 Squadron, formed in April 1943 specifically to use this weapon. A B Mk IV, DK290 was initially used as a trials aircraft for the bomb, followed by DZ471, 530 and 533. The B Mk IV had a maximum speed of 380 mph (610 km/h), a cruising speed of 265 mph (426 km/h), ceiling of 34,000 ft (10,000 m), a range of 2,040 miles (3,780 km), and a climb rate of 2,500 ft per minute (762 m).
The de Havilland Mosquito operated in many roles during the Second World War, being tasked to perform medium bomber, reconnaissance, tactical strike, anti-submarine warfare and shipping attack and night fighter duties, both defensive and offensive, until the end of the war.
In July 1941, the first production Mosquito W 4051 (a production fuselage combined with some prototype flying surfaces – see section of Article "Prototypes and test flights") was sent to No. 1 Photographic Reconnaissance Unit (PRU), operating at the time at RAF Benson. Consequently, the secret reconnaissance flights of this aircraft were the first active service missions of the Mosquito. In 1944, the journal Flight gave 19 September 1941 as date of the first PR mission, at an altitude "of some 20 000 ft."
On 15 November 1941, 105 Squadron, RAF, took delivery of the first operational Mosquito Mk. B.IV bomber, serial no. W4064. Throughout 1942, 105 Sqdn, based at RAF Horsham St. Faith, then from 29 September, RAF Marham, undertook daylight low-level and shallow dive attacks. Apart from the famous Oslo raid, these were mainly on industrial targets in occupied Netherlands, plus northern and western Germany. The crews faced deadly flak and fighters, particularly FW 190's, which they called "snappers." Germany still controlled Continental airspace, and the FW 190's were often already airborne and at an advantageous altitude. It was the Mosquito's excellent handling capabilities, rather than pure speed, that facilitated those evasions that were successful. During this daylight-raiding phase, aircrew losses were high – even the losses incurred in the squadron's dangerous Blenheim era were exceeded in percentage terms. The Roll of Honour shows 51 aircrew deaths from the end of May 1942 to April 1943. In the corresponding period, crews gained three Mentions in Despatches, two DFM's and three DFC's.
The Mosquito was first announced publicly on 26 September 1942 after the Oslo Mosquito raid of 25 September. It was featured in The Times on the 28 September, and the next day the newspaper published two captioned photographs illustrating the bomb strikes and damage.
The Kit
A magnificent box art sets the standards high right from the off. The box is a two-part affair but is slightly weak and not as solid as one would like for such a large kit. Anyway, that's a minor point and mine came in a sturdy outer box so arrived safely from Profimodeller from Czech.
Lifting the lid and we're confronted with a box packed full of plastic made up of 26 sprues.