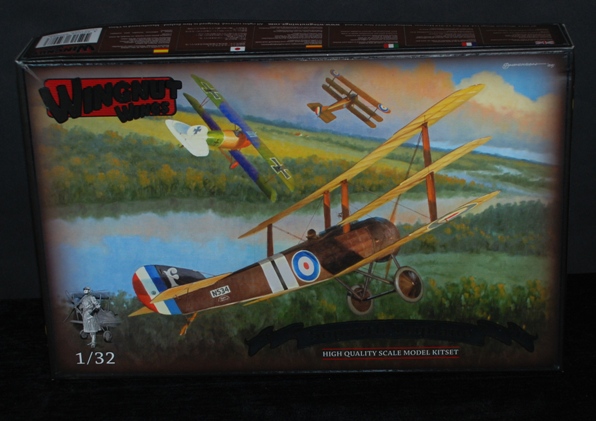 Review by Les Venus  
Materials: Injection Moulded Plastic and etched brass
Price around: US$ 69.00 direct from WW or £69.99 GBP in the UK
We have multiple builds of Wingnut Wings kits… just check out your Wingnut Wings Finished Now area in SMN.
Background…
I have been a huge fan of Wingnut Wings kits since my first, the RE-8 (Harry Tate). Since then, I have made two WW1 German Fighters: a Pfalz and Albatross but haven't delved back into British aircraft since the RE-8. Shame this as I know from other reviews that the Sopwith Pup and SE-5 are sublime and you have seen in SMN what Dave Coward did with their FE-2B!!
Imagine then my surprise and delight when popping round to Geoff's to collect a ship for review when he showed me the latest from WNW: The Sopwith Triplane. As a subject the 'Tripe', as it was affectionately known, has not been on the top of my must have list ever but I do recall reading a super article in another mag by Andy Ieronymides about this build of the Roden version and I have to say I was inspired.   When this come up then I had not one second of indecision I was out the door with it unless Geoff changed his mind! (You're ok Les – I know how much you love these great kits! – Geoff)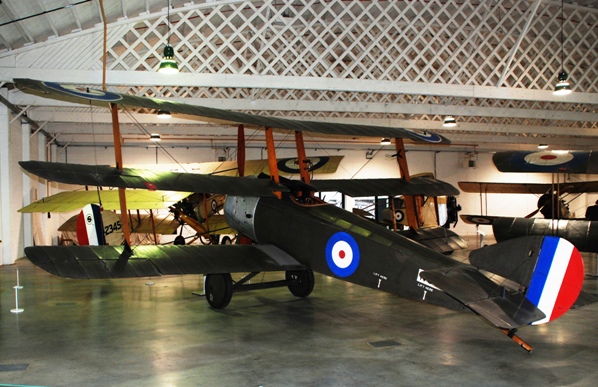 Reference…
Worth taking a good look in your SMN Photo Reference Library as this has a great walkaround for the Sopwith Triplane.
First Impressions…
As ever with WNW kits the box grabs you from the off! A fabulous painting of a 1(N) (RNAS) Sqn 'Tripe' peeling into the 6 o'clock position of an Albatross too busy trying to get a bead on another 'Tripe'. They have a lovely aged look of a watercolour about them and for me capture the period perfectly. The typical WNW sturdy lid and tray box assures safe transit from New Zealand and inside all the sprues are packed in their own poly bags as are the instructions decals and etched brass parts; first class and exactly as it should be done. The side of the box shows the 5 colour choice's available on the decal sheet so for the buyer everything you need to know is at a glance and very helpful. For me, whatever the subject, WNW offer there is an almost overwhelming urge to buy simply from the box along as it oozes the quality that lurks within.
Instructions…
WNW instruction sheets are by now surely legendary?  They are for me perfection and represent the model against which all others are measured; no one gets close. Not only is there great clarity but the build sequencing is logical and clearly written by someone that actually built the kit. They are the antithesis of Dragon kits instructions which I sometimes feel haven't been near the kit they represent! (a little dig there as I am currently building a Dragon kit and its killing me!)
Colour call outs are colour coded and show Tamiya, Humbrol and Mr Kit colours. The instructions also include a very helpful sprue map.
The instructions best bit though is the wealth of photography of an actual aircraft against the area under construction. Not only does it aid the building but also offers great colour representation or little added details that one can add above what is in the kit, not that there is much of that!
The kit…
The kit has 6 sprues of plastic all of which are beautifully moulded and to scale. My eyes were drawn immediately to Sprue A, which includes the cockpit components, engine cowling, fuselage halves and tailplane and fin. I especially love the cabane struts moulded in with the cockpit framing. The fine detail in these areas will be a joy to paint in my usual wood technique and thereafter adding in the brass and black-Japanned components; it will be striking. My only concern will be my ham-fistedness and the danger of breaking a strut under construction.
The fuselage sides are fabulous too and WNW has really captured the framing showing through the cockpit sides. It will come up a treat on some subtle dry brushing as I shall hope to demonstrate. All the other parts in the box are crisp and begging to be used. The 'Tripe' is not a big aeroplane so the parts count is quite low and the assembly will be straight forwards and quite fast.  I should think Dave Coward could knock up a show stopper between cups of coffee!
Etch Brass…
The etch brass set is small but helpful including as it does the seat belts and some small etch components for the struts and wings.
Schemes and Decals…
There are 5 very interesting schemes to choose from; one French, three RNAS and one German example. Each has its merits and the French one is particularly appealing as it has a wonderful Sopwith Logo that covers the whole tailfin. Choices, choices!
The decals by Cartograf look as ever to be superb. Colours are accurate but I did find with my RE-8 build that some really don't like decal softener so be careful how you use it if at all. It's good to see that WNW have already split the cockades and the crosses on the German version to fit the wings and ailerons; nice touch this and shows again that these kits are designed by modellers.
Summary…
On the face of it this is another world class kit from Wingnut Wings and surely makes the Roden kit pretty redundant?  It's beautifully packaged, instructions and reference materials in a league of their own, beautifully moulded and well detailed parts and a fantastic range of well-chosen and striking decal options. In short this is another winner out of the box and after my fight with my Dragon USS Independence is over I shall build this as a form of therapy!
SMN Quick summary rating out of 5
| FEATURE | STAR RATING (out of five) |
| --- | --- |
| Quality of moulding | ***** |
| Accuracy | ***** |
| Instructions | ***** |
| Decals | ***** |
| Subject choice | ***** |
| Overall | ***** |
Highly Recommended
Les V.