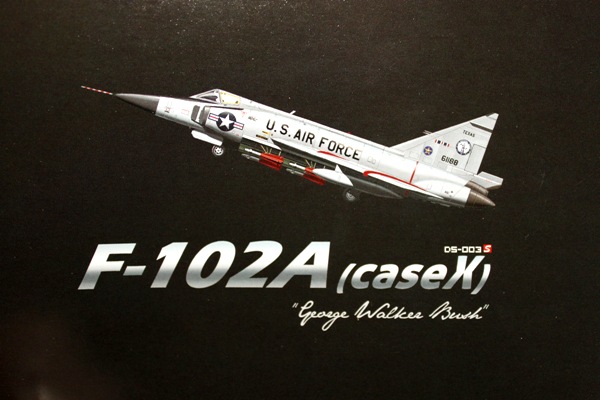 Price: around £20.00 GBP (Nov 2012)
Review by: Adam Brown
History
The Convair F-102 Delta Dagger is an American interceptor aircraft that was built as part of the backbone of the United States Air Force's air defences in the late 1950s. Entering service in 1956, its main purpose was to intercept invading Soviet bomber fleets during the Cold War. Designed and manufactured by Convair, 1,000 F-102s were built.
A member of the Century Series, the F-102 was the first operational supersonic interceptor and delta-wing fighter of the USAF. It used an internal weapons bay to carry both guided missiles and rockets. As originally designed, it could not achieve Mach 1 supersonic flight until redesigned with area ruling. The F-102 replaced subsonic fighter types such as the Northrop F-89 Scorpion, and by the 1960s, it saw limited service in the Vietnam War in bomber escort and ground-attack roles. It was supplemented by McDonnell F-101 Voodoos and, later, by McDonnell Douglas F-4 Phantom IIs.
Many of the F-102s were transferred to United States Air National Guard duty by the mid-to-late 1960s, and the type was retired from operational service in 1976. The follow-on replacement was the Mach-2 Convair F-106 Delta Dart, which was an extensive redesign of the F-102.

Intro.
After releasing two subjects on Imperial Japanese Army aircraft, Meng Models third kit in their 'Dimorphodon' range (explain later) is the Convair F-102A Delta Dagger.

What's in the Box?
The six sprues are moulded in light grey plastic and are some of the prettiest sprues I've seen in a while. The upper wing surfaces are very restrained and the fuselage has some lovely engraved detail. The weapons bays are very sparse of any pipe work but the missiles will take eyes off of this minor glitch. The wheel bays have ample detail, and the cockpit has a lovely ejection seat but no belts, the side consoles and instrument panels have some raised dials and buttons and a decal is provided for the gauges on the instrument panel.
Decals
A little disappointing, I had a chat with the rep on the Meng stand at SMW 2012 at Telford and she informed me that this was a limited edition release with only one decal scheme but the other boxing has two very colourful schemes but this may be released at a later date? The scheme on offer in this boxing is future President of the USA George W Bush. He served on 111th FIS F-102's in the Texas ANG in the 1970's. The sheet looks fantastic with excellent colour and registration.

Instructions
These are in book format which I prefer to be honest, and are very similar to HobbyBoss in terms of the diagrams, very simple to follow and painting is called out where needed.
Meng Models
I mentioned earlier about this being in the 'Dimorphodon' series, this is because of the Dinosaur method Meng have chosen to place their subjects into, it makes sense trust me.
Dimorphodon: Aircraft
Stegosaurus: Large armoured non aggressive vehicles
Velociraptor: Civilian vehicles with weapons
Tyrannosaurus: Large armoured combat vehicles
Human: Figure sets
Summary
This is a very welcome kit and for a new company's third release an extremely good one and at only £21.50 a lot of model for your money as I've had people thinking that it's a 1:48th model.
For this you get a lovely cockpit, weapons bay and (hopefully) a fault free build.
Highly recommended to everyone!
Adam B.
SMN Quick summary Star rating out of 5
| FEATURE | STAR RATING (out of five) |
| --- | --- |
| Quality of moulding | ***** |
| Accuracy | ***** |
| Instructions | ***** |
| Decals | **** |
| Subject choice | ***** |
| Overall | ***** |