Initial assessment
This looks like a very nice boxing containing sprues that are in fact from the Eduard kit – and very nice that builds up too. Dave C has built that model and you'll find it in Finished Now here. New decals are included as is the case with all the current and recently re-released models by Revell.
Sprues and more sprues
The Bristol F2b Fighter can be a tricky subject to build, at least I thought so when I built my Wingnut Wings kit.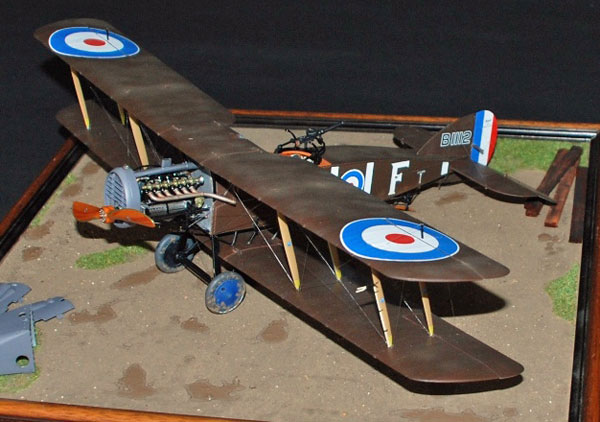 … but in this scale Eduard (and now Revell) has thought carefully about the assembly and by reading Dave's article above first, you should have few problems.
Probably the best thing to do is show the sprues to you here:

So, what do you think? Well, overall I'm pretty impressed with what's inside, especially given the relatively low price of the package – the original moulds are standing up very well with hardly any flash anywhere. The cockpit looks good for detail with most of what is in the original aircraft – basic, like the real aeroplane. You get individual decals for the main instrument panel dials.
Highlights at a glance:
Subject choice – very welcome additional boxing with new decals
Choice of prop blades – 2 or 4-bladed
Surface line detail – sharp and good in this scale
Cockpit detail
Undercarriage looks accurate and subtle, like the original – nice hub detail
Decal options – two varied choices.
Things to watch and take extra care with:
Nothing really stands out at all ☺
Instructions
These are in classic Revell style with 51 exploded stages no less.
Decals
Option 1 – Bristol F2B C4630 No 62 Squadron RFC, France Spring 1918
Option 2 – Bristol F2B 1134 "19" No 35 Squadron RFC, France February 1918
Decals quality is pretty good as mentioned, the colours are solid with decent opacity and markings are in register. No need to go to for aftermarket supplies here.
Accuracy
From what I can see the shape certainly looks fine from most of the angles I have tried. After a dry-fit and taping this is unmistakably an accurate-looking Bristol F2b Fighter.
Conclusion
Well I hope that this Here Now in-box review says enough for you to make your buying decision. The package is clearly well worth the money in my opinion and there is going to be a lot of modelling fun and pleasure for your money.
Recommended
Geoff C.
SMN Quick summary Star rating out of 5
| FEATURE | STAR RATING (out of five) |
| --- | --- |
| Quality of moulding | **** |
| Accuracy | **** |
| Level of detail | **** |
| Instructions | *** |
| Decals | **** |
| Subject choice | ***** |
| Overall | **** |