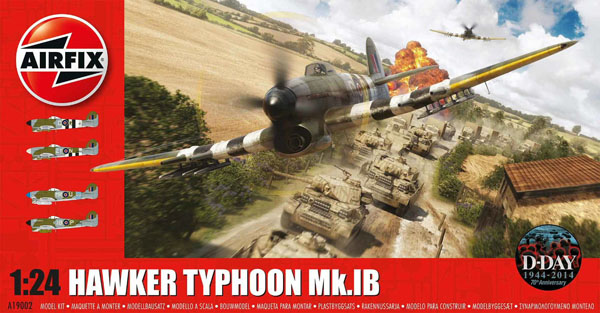 Feature article by Dave Coward
A note from Geoff…
See our In-Box Here Now kit review
This is exciting! Our second build of the impressive, yet challenging big Airfix Hawker Typhoon Mk.Ib in 1:24. As you may recall, Julian took on the huge challenge of building this model first time around against a serious time-pressure to have his model ready for last year's IPMS UK's Scale Model World in 2014. He succeeded, but as Julian explained, some of the usual in-depth coverage couldn't be covered in as much detail as we would like. Here's a reminder of the great result Julian achieved and you can find his full build on the Airfix page in Finished Now – here.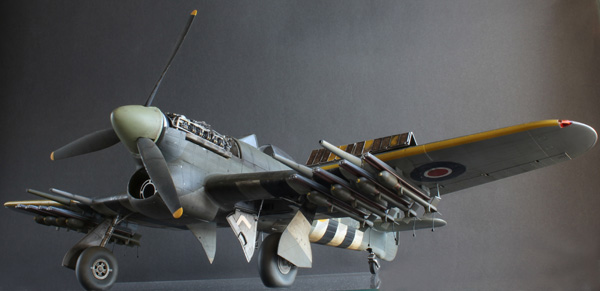 The great news now is that Dave C has finished an excellent in-depth build and that starts below and here's a couple of photos to show you what you can look forward to ☺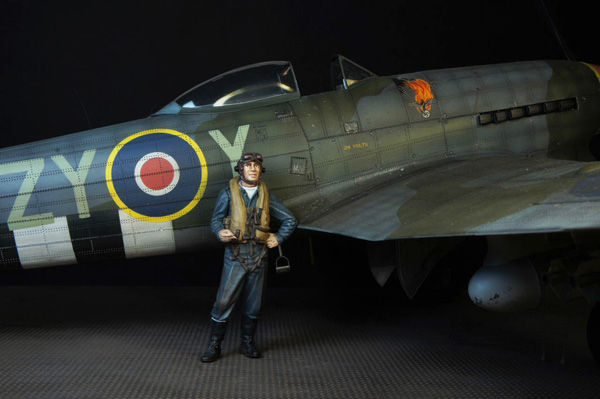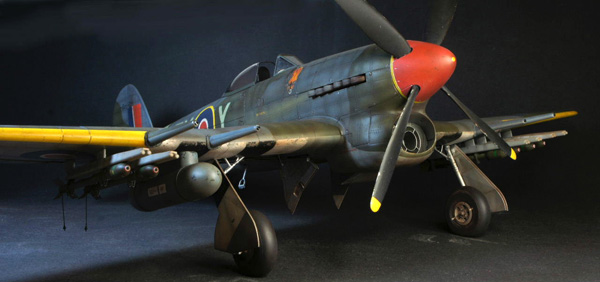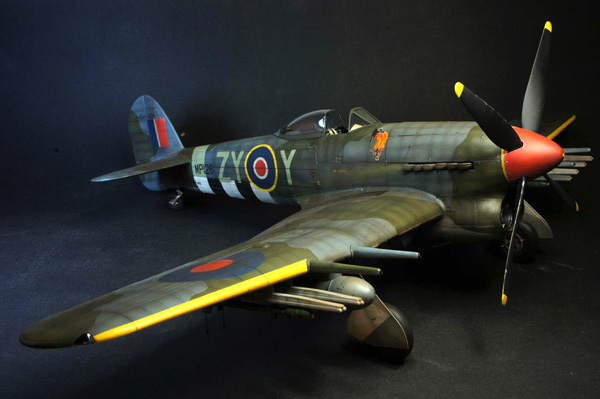 Background
I`ve been eyeing up this kit on my shelf for some time now but I`ve had quite a few projects to finish but with these done and dusted I can now get on with it. Julian has already done a stunning build of this kit when it was first released (see above) so my plan here is to finish it off in a different configuration so you can see how it goes together all 'buttoned up' and with some 'extras' added. I also won't be doing a blow by blow account of every step but will try and stick to areas that I think will help you out if you decide to build this kit. I have also taken a slightly different approach in how I will show the construction and painting of the kit – I intend use a lot more pictures as I believe a picture can paint a thousand words.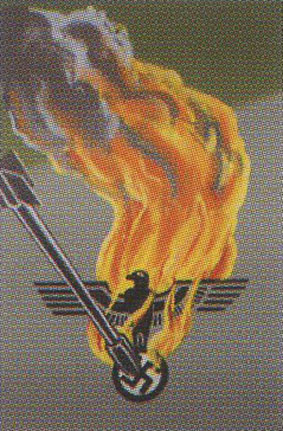 My subject is to be MP126 Z-ZY of 247 Sqn and was the mount of CO Squadron Leader Basil Gerald "Stapme" Stapleton DFC. Unfortunately it was lost to flack near Rhede on the 5th December 1944 whilst being `borrowed` by Dutch pilot Plt Off Fricky Wiersum. What is different about this aircraft is the red/yellow spinner and the artwork on the starboard side that was done by Intelligence Officer Flg Off Kay. Fortunately there are some great reference photos available that were taken by the Germans after the forced landing as they seemed particularly interested in the artwork!!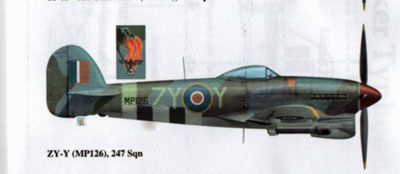 References used: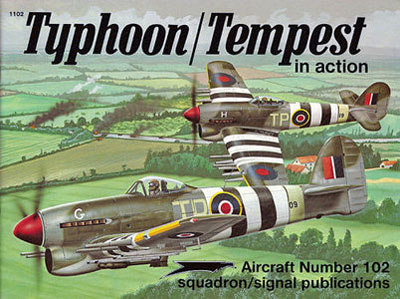 Valiant Wings Airframe and Miniatures No.2 The Hawker Typhoon
Osprey Typhoons Wings of the 2nd TAF 1943-45
Squadron Signal Publications Aircraft Number 102 – Typhoon/Tempest in Action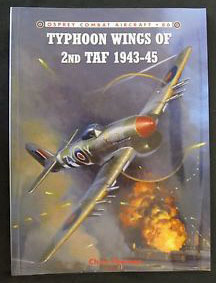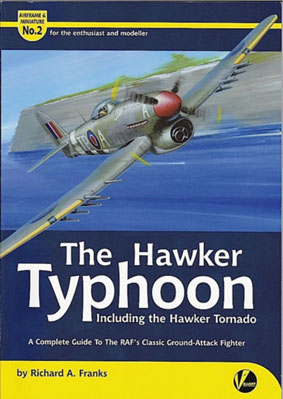 Aftermarket Extras:
Airscale cockpit dials and placards
Radu Brinzan PE Radiators
HGW Late Style RAF Sutton Harness
Miracle Paint Masks (Camouflage pattern, Invasion Stripes, Roundels and fin Flashes, Serial Numbers)
Eagle Cal Typhoon Part 2 Decals
Eduard Brassin Resin Wheels
Master RP-3 Rockets
Barracuda Studios RAF Pilot