Instructions and decals
The instruction booklet is a standard affair with paint references and the usual exploded diagrams. Assembly looks pretty straightforward and I remember Dave seemed to make rapid progress when he built his Vintage offering, so I don't expect any nasty surprises this time. The model is ideal for any level of modeller that has a few models experience – you'll end up with an impressive beasty!
The decals look to be very good quality, printed by Cartograf. Two options are included:
• "Squirt II" 405th FG Pilot: Lt R. Parker
• "Miss Mutt" 348th FG Pilot: Lt Col. Robert R. Rowland
Both these aircraft are the Olive Drab over grey scheme and I think that's a shame as there were many colourful, interesting 'silver' (NMF) birds and one could have been included. As it is, Les V has managed to het some great help from Mal M at Miracle Masks and that's the way we'll have to go with the build.
So, what's the verdict?
Impressive and I reckon that around £68.00 for a 1:24 kit with the detail on offer is a very fair price for what you get. Here's my summary:
SMN Quick summary Star rating out of 5
| FEATURE | STAR RATING (out of five) |
| --- | --- |
| Quality of moulding | **** |
| Level of detail | **** |
| Accuracy | **** |
| Instructions | *** |
| Decals | **** |
| Subject choice | ***** |
| Overall | **** |
Geoff C.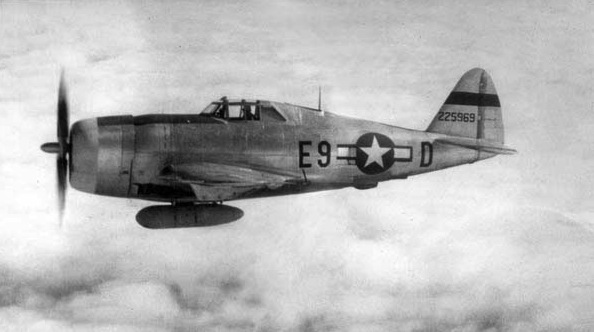 A little bit of background to the P-47 Thunderbolt
The Republic P-47 Thunderbolt is one of the largest and heaviest fighter aircraft in history to be powered by a single 4-stroke internal combustion engine. It was built from 1941–1945. It was heavily armed with eight .50-caliber machine guns, four per wing. When fully loaded, the P-47 weighed up to eight tons, and in the fighter-bomber ground-attack roles could carry five-inch rockets or a significant bomb load of 2,500 pounds; it could carry more than half the payload of the B-17 bomber on long-range missions (although the B-17 had a far greater range). The P-47 was designed around the powerful Pratt & Whitney R-2800 Double Wasp engine—the same engine used by two very successful U.S. Navy fighters, the Grumman F6F Hellcat and Vought F4U Corsair, the latter of which was the first to fly with Double Wasp power in late May 1940—and was to be very effective as a short-to-medium range escort fighter in high-altitude air-to-air combat. When deployed as a fighter-bomber with its usual "double quartet" of heavy-caliber M2 Browning machine guns, it proved especially adept at ground attack in both the World War II European and Pacific Theatres.
The P-47 was one of the main United States Army Air Forces (USAAF) fighters of World War II, and served with other Allied air forces, notably those of France, Britain, and Russia. Mexican and Brazilian squadrons fighting alongside the U.S. were equipped with the P-47.
The armoured cockpit was roomy inside, comfortable for the pilot, and offered good visibility. A modern-day U.S. ground-attack aircraft, the Fairchild Republic A-10 Thunderbolt II, takes its name from the P-47