Reviewed by Geoff Coughlin (Oct 2012)
Price around: 9.99 GBP
Product Ref: A03701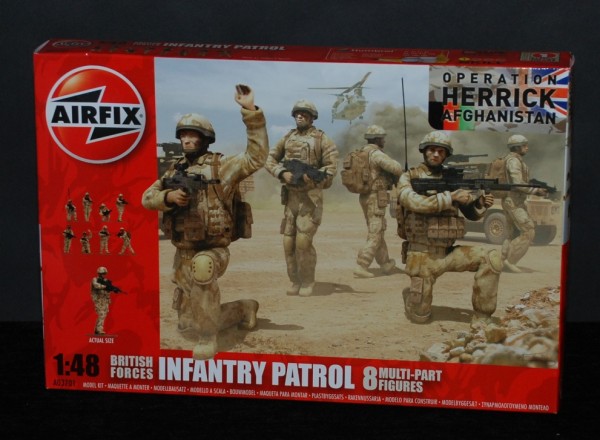 Our thanks to Airfix for supplying our review sample, get this kit here now at: www.airfix.com                        
.
Background…
This release is part of the Airfix range of Operation Herrick Afghanistan kits and specifically this pack includes 8 figures.
UK troops are in Afghanistan as part of the NATO International Security Assistance Force (ISAF), which includes military from 43 other countries. Whether they arrive by armoured vehicle or boat, British soldiers are trained to operate anywhere in the world and are supported by state-of -the-art body armour and personal load carrying equipment, and by an armory of powerful and versatile weaponry, from grenades to heavy machine guns, tools for the soldier's task of taking and holding ground.
The kit moulding…
This is a great release and a timely addition to the Airfix Lynx and Merlin helicopter kits available now in the case of the Lynx and soon for the Merlin. Add to that the WMIK Snatch Land Rover vehicles also just released as I write and you have some serious armour on your hands.
The eight figures are well tooled and despite some excess flash have realistic and accurate moulding. The flash is a little odd, given the fact that they are newly tooled but this is easily removed and doesn't detract from what are excellent additions to any diorama that you may wish to create.
The weapons like the SA80, SA80A2 and support weapons are excellent and will look great under paint and gunmetal weathering.
Instructions
A colour painting guide is provided in the box and although Humbrol colour references are given, the colours are named and this will help you to match the colours from your own source to complete your model authentically. I like the inclusion of European and Desert camo pattern guides so don't think that you are constrained to a Desert set up.
To conclude
I am pretty impressed with what is a neat little addition to the Airfix figure range. The fact is you are getting decent little model figures that are well detailed even though they do have some excess flash. 1:48 scale is extremely popular now, especially amongst armour modellers and deserves to sell well – I'm sure to will!
Recommended
Geoff C.
SMN Quick Summary Rating out of 5
| FEATURE | STAR RATING (out of five) |
| --- | --- |
| Quality of moulding | **** |
| Accuracy | **** |
| Instructions | ***** |
| Decals | N/A |
| Subject choice | ***** |
| Overall | **** |