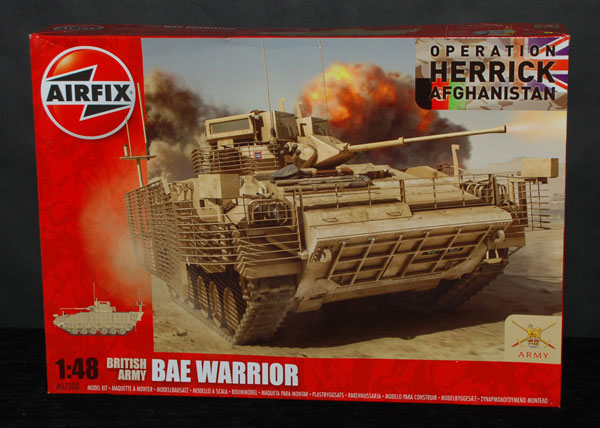 Price around: £21.99 GBP
Product Ref: A07300
Review by Geoff Coughlin (December 2013)

Our thanks to Airfix for supplying our review sample, get this kit now at: www.airfix.com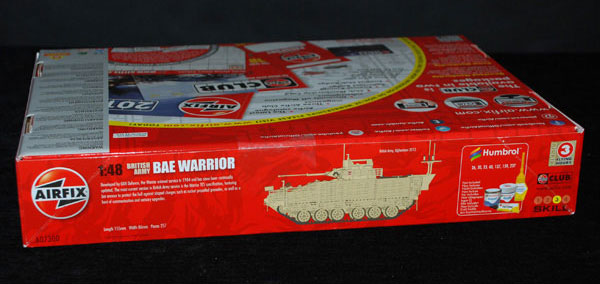 A little bit of background
I know that many of you have been waiting for this new kit from Airfix and I'm really pleased to be able to bring you this review so soon after we have received the kit!
This release is part of the Airfix range of Operation Herrick Afghanistan kits, enabling the builder to build a comprehensive range of dioramas and settings using multiple options of products in this Airfix range of kits. Here you have the British Forces BAe Warrior to go with your Coyote, Jackal, Snatch Land Rovers, Quad bikes and figures – all are reviewed in your Here Now area of SMN, or will be imminently in the case of the Quad Bikes.
The crews of vehicles operating in Afghanistan have to be fully alert to the dangers they find on a daily basis. Operating in the extreme conditions the crews are fully trained in all the tasks they are asked to undertake. There are no figures in this boxing but they are available separately as part of the British Forces Vehicle Crew set in the series that contains a set of eight figures is suitable as drivers and other on-board crew, as well as maintenance teams, extending the opportunities for diorama with the Land Rovers, Jackal and Coyote.
As Airfix points out: The Driver, Passenger and 'Top Gunner' figures supplied in the above set have been designed to fit the Airfix Jackal and Coyote. They can be made to fit into the Airfix Snatch Land Rover and WMIK, but they will require some modification in order to do so, therefore only modellers with some experience should attempt this. So, given this note from the manufacturer I'm not sure about the exact fit for the figures into the Warrior kit, but hey, we're all modellers so I am sure if you want them to work you'll find a way!