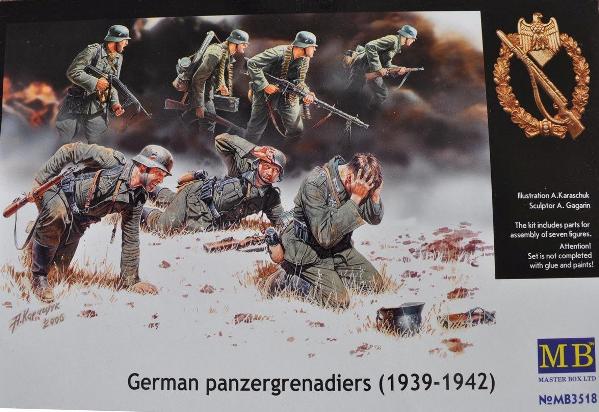 Ref: MB3518
Review by: Bill Curtis
N.B. This kit was purchased from Netmerchants.
Initial Assessment
The box contains two sprues of figures moulded in tan plastic and comes complete with all their personnel equipment. The poses are natural and show an infantry section moving forward to attack. Four figures are standing, while the other three are on the ground – one laying, one getting up and the last kneeling holding his head.
Click on the thumbnails below to enlarge and see what you think.
Accuracy
The uniforms are crafted as the earlier war regulation gear and look good.
Quality
The detail is good too, with the exception of the mould parting lines and some flash at one end of the smaller sprue. This can be cleaned-up with the use of a good craft knife and some wire wool.
Instructions
These are pictorial with sprue maps and part numbers on the back of the box, which also has the painting guide with reference to Vallejo, Tamiya, Lifecolor, Humbrol and Agama paints.
Decals
None.
Conclusions
This is a good kit for the early-war years and should build up into a great group to add to a diorama.
Apart from the mould lines, the main disappointment for me was when comparing the box art and the figures, the uniforms are all buttoned at the throat, whereas on the box only one is so dressed.
I think this is misleading and it would have been great to have them as depicted on the box. The lack of decals for the helmets is another omission, but this is easily covered from either the spares box or another manufacturer. A nice touch is the ammo belts for the MG34, which can be shaped to hang round the necks of the MG crew.
With a little work this kit should build up nicely into a group of early war troops.
Highly Recommended.