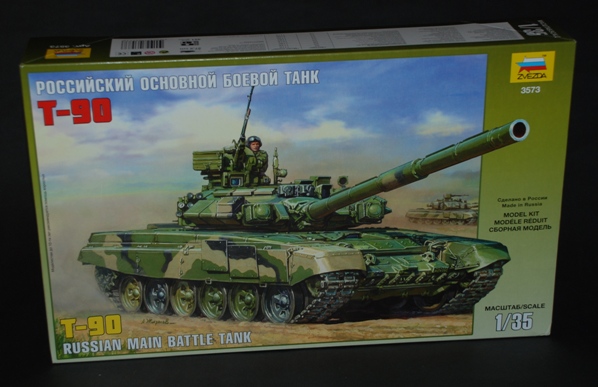 Price: £24.00 (Mar 2012)
Review by: Geoff Coughlin
Something to get you in the mood…
The Zvezda kit…and that box!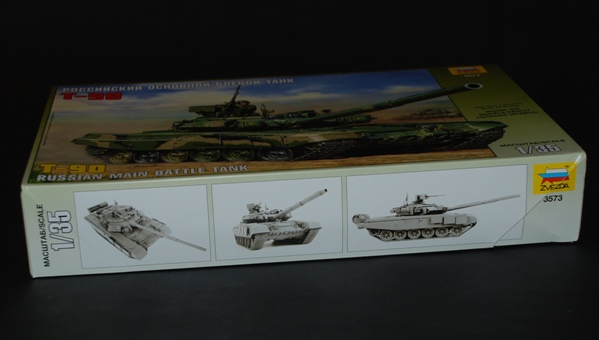 This is one heavy box and certainly different in design from the usual ones.
What you get is a whole inner hard cardboard tray that can be used throughout your build to hold parts; the separate lid can be used as a tray as well. Superb design – I wish all kit boxes were like this!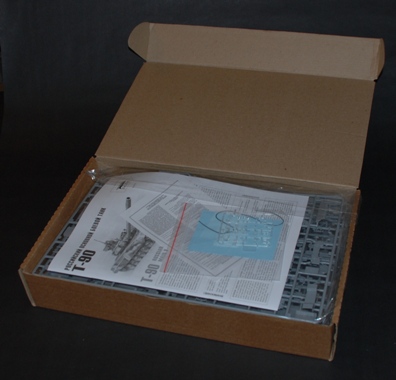 You'll see from the Gallery Grid below that you get a lot, an awful lot, for your money with this impressive package. Six sprues packed with parts to make what looks like a very accurate representation of the Russian T-90 Main Battle Tank.
Detail is finely moulded onto all hull top and separate parts for the small cupola, hatches and of course main turret go to make up an MBT that looks like it means business – you just don't want to be on the wrong end of one of these, that's for sure.
Click on thumbnails to enlarge the images.
No crew figures are included and I notice that the barrel is split, so both of these are accessories you will probably want to source from elsewhere, especially a one-piece turned main gun barrel.
The wheels look impressive and you can just see the lineage of the type coming through, as you can with the huge barrels that are carried on the back of the vehicle; don't you just love those? I do and can't imagine the type being modelled without them!
Tracks
These have been cleverly moulded in separate sections, with drooped upper sections that can be visible if some or any of the side plates are omitted.
While researching this vehicle on the 'net, I saw some pics where these side plates are missing, so that can create extra interest in your model. Detail is good for moulded track links/sections and these will weather up really nicely.
Other Extras
Some nice touches here, like the two different sizes of metal mesh that are included, as well as the length of rope. All will add to your finished model.
Clear Parts
These are good and clear, covering all the small clear areas applicable to the type.
Instructions and Decals
The instruction book looks to be pretty clear in its guidance and suggested assembly sequence. As many of you will be aware, I'm no armour modeller, but I am a modeller and these seem pretty good. Again, I've included several images of the instruction sheet above for you to decide.
The Russian T-90 in service doesn't exactly have flamboyant markings for obvious reasons, so what's included is a national badge and a series of numbers from which you can draw to make your own individual tank.
Quality looks ok too and we'll find out exactly how they go on when we build this model, which shouldn't be long at all; I've moved it to the top of the armour review pile!
In Summary…
This model seems to have attracted a lot of interest looking around the Internet and it's not hard to see why after an initial inspection of the kit. Detail is high, moulding is sharp and accuracy looks very reasonable too.
There's just something about modern Main Battle Tanks and the T-90 sits well in there with Challenger, Leopard and Abrams to mention just 3. If modern armour is your bag, you'll love this and, for the price, the package offers exceptional value for money.
| FEATURE | STAR RATING (out of five) |
| --- | --- |
| Quality of moulding | **** |
| Accuracy | **** |
| Instructions | **** |
| Decals | **** |
| Subject choice | ***** |
| Overall | **** |
Geoff C.