Ref: PT-14
Review by: Bill Curtis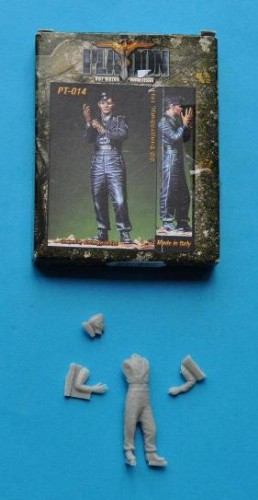 Initial Assessment
This is not a new kit, but one I picked up from a model show earlier this year. The model consists of a complete body, two arms and a head with the field cap. The pose shows the crewman pulling on his gloves.
Accuracy
The uniform detail and "cut of the cloth" is very good and represents the panzer uniform well. This stands up well to checks against pictures of the uniform in reference books.
Quality
The quality of the figure is very good with nice detai,l but there are some parting lines which should clean up easily. Some care will need to be exercised when the resin pour plugs are removed.
I dry-fitted one arm, the square locating plug and hole works OK and one should need little or no filler on the joint.
Instructions
There are no written instructions, but on the box there's three pictures of the finished figure which shows the colours used. 
Decals
None.
Conclusions
This is a nicely posed panzer crewman, who is pulling on his gloves possibly before mounting his vehicle.
The anatomy is good as is the uniform with correct detail and I look forward to finishing it. This company has a range of figures, including some civilian and is well worth a look at when you are looking for a figure to crew your current project.
Highly Recommended.