Review by: Neil Pepper (February 2012)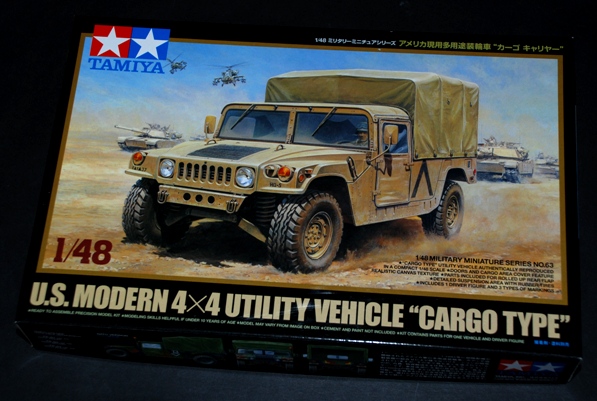 Background
In the late 1970s, the U.S. military decided to develop a single standard vehicle to replace the many mission-specific types like the M151 Mutt and M561, which were then in service.
The new general-purpose vehicle was to be reliable, have excellent off-road mobility and have the versatility to perform a variety of roles.
Three companies presented proposals and created prototypes and, after exhaustive comparative tests, the vehicle which exceeded all performance requirements as well as being the lightest was chosen as the winner.
Featuring an aluminium body on a strong steel frame, it is equipped with a four-wheel independent suspension, full-time four-wheel-drive system and a 150hp V8 diesel engine that enables a top speed of 105km/h.
Depending on the body type and fitted equipment, it can also perform a wide range of roles including cargo/troop transport, ambulance and armament carrier. Of these many different variants, the basic 'cargo type'/ 'cargo troop' transport is the most numerous.
These vehicles have a large rear deck area which can accommodate either 1,100kg of cargo or eight infantrymen and, in contrast to the metal roof and doors found on armament carriers, the ones on the 'cargo type' transport are made from a lightweight canvas.
U.S. military units were issued with these vehicles from 1985 and they first saw action in Panama in 1989. Since the 1991 Gulf War, they have supported the logistical needs of the U.S. forces in all fields of operations.
Onto the kit…
Click on the thumbnails to enlarge the images.
The box has good artwork of the vehicle and contains three sand colour sprues of parts, two small sprues of clear plastic for windows and lights etc, four rubber tyres and the bonnet as a separate item.
As one has come to expect from Tamiya, the parts are crisp with good detail and the clear items are just that. Also included in the parts is a driver figure.
Of note is the detail on the suspension, while the texture of the canvas door and tilt cover is well done and should paint up well. The fabric effect on the canvas looks convincing and will look even better under some careful weathering, especially if you plan to 'desertise' your vehicle.
A decal sheet with three options is included and the decals look thin, in register and well printed.
Instructions are usually one of Tamiya's strengths and these are clear, logical and as such easy to follow.
The Verdict
I guess all there is left for me to do is get on and build this kit, which I am looking forward to doing. It won't be long before this gets underway in Build Now, so keep an eye out for it.
| FEATURE | STAR RATING (out of five) |
| --- | --- |
| Quality of moulding | ***** |
| Accuracy | **** |
| Instructions | ***** |
| Decals | ***** |
| Subject choice | **** |
| Overall | **** |
Neil P.