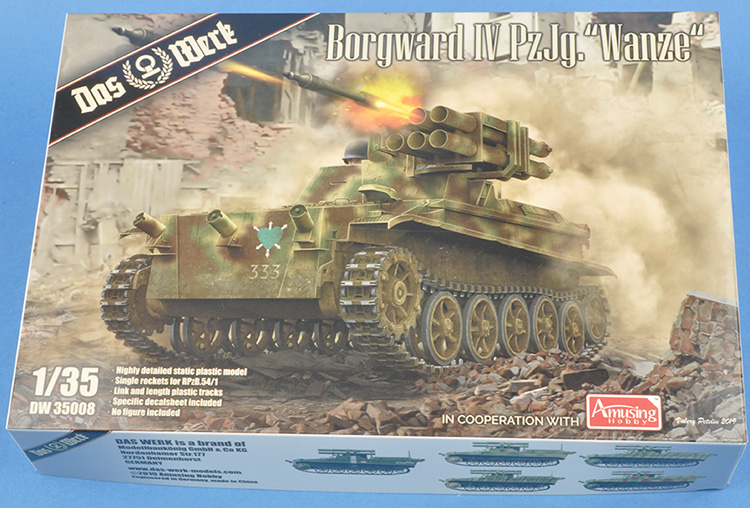 Reference number: DW 35008
In Box browse with Bill Curtis
History
Shortly before the end of the Second World War, 56 vehicles of the Schwerer Ladungsträger (Heavy explosive Carrier) Borgward IV Ausf.B and Ausf.C were converted to tank destroyers with the name Wanze. They were used around and in the city of Berlin in the closing stages of WWII.
The Wanze was equipped with six RPzB 54/1 anti-tank rockets which were also known as the Panzerschreck or in English tank fright, the equivalent of the American bazooka.
Initial assessment
The kit is small, so the parts will need careful handling especially the link and length tracks. All Parts are cleanly moulded in a tan coloured plastic and comes in four sprues two of which are identical for the running gear. The moulding of the detail is very good, I particularly liked the wood grain on the rocket box but would have liked to see this extended onto the sides also as these are plain plastic.
Accuracy
Having no plans to check this against taking a look at photographs indicates it stacks up well.
Quality
The quality is very good with no flash and most of the injection marks are on the inner surfaces, the only two I could find were on triangular parts A11 & 12.
Instructions
Instructions come in the form of a twelve page booklet which contains exploded view drawings which are clear and well-drawn. There are five colour schemes with decal placement and with reference to Ammo of Mig paints for the basic schemes and also the paints required for weathering.
Decals
The decal sheet is like the kit small with eleven separate items all of which appear to be thin and clearly printed. Five colour schemes with different decal options including:
– Panzervernichtungs-Abteilung 1 (Hearts + Numbers 224 and 333)
– Soviet Captured Version (сверчок – Grille – Cricket)
Conclusions
I first came across this vehicle in the book Panzers in Berlin by Panzerwrecks and was intrigued by its adaptation to a tank destroyer and had to build one. The moulding is very good as is the detail, in fact a very nice kit all round and a full build will follow in the future.