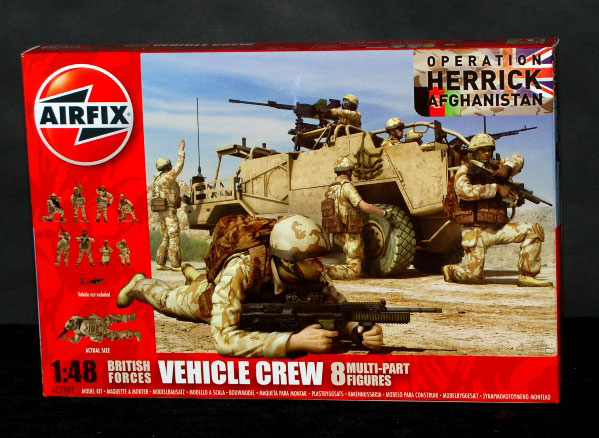 Price around: £9.99 GBP
Product Ref: A03702
Review by Geoff Coughlin (June 2013)
Our thanks to Airfix for supplying our review sample, get this kit here now at: www.airfix.com
A little bit of background
This release is part of the Airfix range of Operation Herrick Afghanistan kits, enabling the builder to build a comprehensive range of dioramas and settings using multiple options of products in this Airfix range of kits. Here you have the figures to go with your Coyote and Jackal vehicles and all are reviewed in your Here Now area of SMN.
The crews of vehicles operating in Afghanistan have to be fully alert to the dangers they find on a daily basis. Operating in the extreme conditions the crews are fully trained in all the tasks they are asked to undertake. This set of eight figures is suitable as drivers and other on-board crew, as well as maintenance teams, extending the opportunities for diorama with the Land Rovers, Jackal and Coyote.
As Airfix points out: The Driver, Passenger and 'Top Gunner' figures supplied in this set have been designed to fit the Airfix Jackal and Coyote. They can be made to fit into the Airfix Snatch Land Rover and WMIK, but they will require some modification in order to do so, therefore only modellers with some experience should attempt this.
Important: It is not possible to fully assemble the Driver, Passenger and 'Top Gunner' figures from this set and then fit them into a fully assembled Jackal or Coyote (or any other vehicle). The figures must be built up together, as indicated in the figure assembly instructions. Please read both the figure and vehicle instructions carefully before you start.
The kit moulding
Contains eight unassembled, unpainted figures to use with vehicles in the Airfix Operation Herrick Series.
This is a great release and a timely addition to the Airfix Lynx AH7 and Merlin HC3 helicopter kits available now. Add to that the vehicles and figures mentioned above like those we've already reviewed: British Forces Infantry Patrol, Snatch Land Rovers, Jackal and Coyote vehicles and you'll have great modelling opportunities as you cross-kit these sets – superb stuff!
Back to this release, the figures are very well tooled and despite some excess flash are realistic and accurate moulding. The flash is a little odd, given the fact that they are newly tooled but this is easily removed and doesn't detract too much (just a little bit annoying really given they are new-tool) from what are excellent additions to any modern British Army diorama that you may wish to create.
Having got that out of the way, the plus points are extensive:
Fully detailed battledress
Nice detail on the weapons
Extensive fit-out of features applicable to the type
Instructions
Colour painting guides are provided on the back of the box as well as in detail on all-colour pages in the instruction sheet. Humbrol colour references are given, the colours are named and this will help you to match the colours from your own source to complete your model authentically.

To conclude
I am very impressed with what is a neat addition to the Airfix 'Operation Herrick Afghanistan' range. The fact is you are getting new-tool state-of-the-art figures that are well detailed even though they do have some excess flash is excellent. Co-ordinating the release to compliment multiple types is a new and innovative approach that's great for modellers. 1:48 scale is extremely popular now, especially amongst armour modellers and deserves to sell well and undoubtedly will, of that, I'm sure. Given what's included this package offers great value for money in my opinion.
Keep an eye on Finished Now to see some of these models and sets completed.
Recommended
Geoff C.
SMN Quick summary Star rating out of 5
| FEATURE | STAR RATING (out of five) |
| --- | --- |
| Quality of moulding | **** |
| Accuracy | **** |
| Instructions | ***** |
| Decals | N/A |
| Subject choice | ***** |
| Overall | **** |