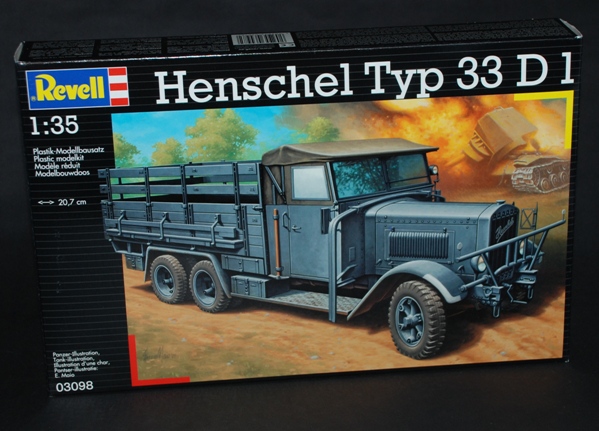 Ref: 03098
Price: £19.99 (Mar 2012)
Review by: Geoff Coughlin
Thanks to Revell for supplying our review sample.

A little bit of Inspiration…
Also…
Check this website out; some great reference there.
Background
The German Army certainly had a requirement for heavy trucks and 3 ton trucks seemed as if they would be in particular demand.
In addition to Krupp and Büssing, Henschel took part in the development. So it was then, that in 1929 Henschel already had an off-road thee-axle type 33 D1 vehicle which was a successor to the 33 B1.
From 1934, the 33 D1 was fundamentally revised. Production ran until 1942 and by that year about 22,000 of these trucks had rolled off the Henschel production line.
Initial Assessment
It's important to say at the outset that this isn't a new kit, or one original to Revell, but ICM. Now that's no bad thing though, because what we have here is an impressively tooled model that has new decals added; so a partial new package is on offer this time.
Moulding quality is to a high standard with very fine levels of detail across the board.
The Package
Five sprues moulded in brown plastic form the basis of the model, one clear sprue with window glazing; a set of instructions and small decal sheet make up the package.
Sprue Trees
You can see that the chassis and wooden rear cargo compartment is very clean and crisp, as is just about everything else. The detail is cleanly and accurately moulded onto the parts.
The moulded detail throughout is good and although I can't give an opinion on accuracy, what you get certainly looks consistent with some of the images I have seen in the references that accompany this review.
There are some nicely moulded tools like picks and shovels and these will look great when added to your vehicle.
Other highlights include…
A strength of this kit has to be the option for an open, detailed engine.
From what I can see it looks pretty complete and creates many opportunities for placing you model in or on a realistic diorama or base.
There are some ejector pin mould-release circles left during the making of the kit, but these are well placed in out of the way or hidden locations. The engine grill look fine with enough relief to allow for a wash and weathering bringing out the detail.
There's no flash or excess plastic on any of the parts, so this will help build time greatly.
The cab is a focal point for the model and features finely details parts like steering wheel and handbrake lever as well as other small parts; see the gallery grid images for a closer look at what's on offer.
There are a lot of parts in this package building up of a 91-Stage build sequence.
Decals
There's a small sheet with the respective number plates and unit badges for the German options contained in the kit. The quality looks good overall.
Versions are:
Pi Btl.7, Rosenheim Pionier,  Kraftwagen, Kolonne
3 Inf. Komp, 15 PD Deutsches, Afrika Korps
3,7cm FlakAbt. Luftwaffe, 1944, 1./ Flak Reg. 47
JG-1 Werkstatt Kompanie
Instructions
These follow the usual Revell format with Revell colour references, parts and sprue layout diagrams followed by a 91-Stage build (no less) and finishing sequence.
The sequence looks to be logical to me but of course you may want to leave off some of the small delicate parts until near the end of the build to avoid damage.
What you could build…
Here's a few images from Revell of this kit built up. Impressive!
Conclusion
This is really a very impressive kit from initial inspection – sizeable too!
I'm sure that you'll be made up if 1:35 armour modelling is your area of interest, not least because this may have been quite a hard kit to come by in recent times. Levels of detail are excellent for the scale and fit looks to be clean and pretty trouble-free.
| FEATURE | STAR RATING (out of five) |
| --- | --- |
| Quality of moulding | **** |
| Accuracy | **** |
| Instructions | *** |
| Decals | **** |
| Subject choice | **** |
| Overall | **** |
Geoff C.