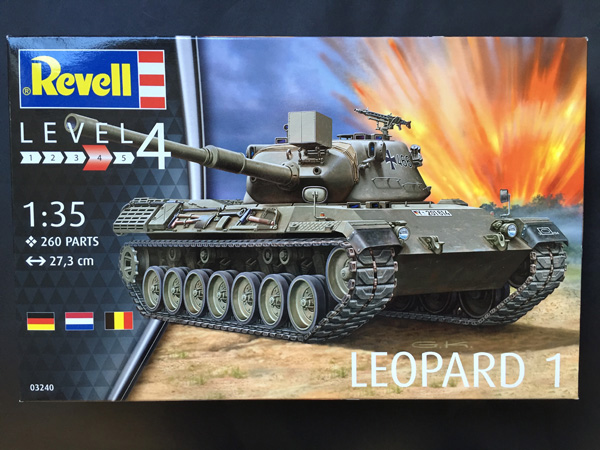 Ref: 03240
Review by Geoff Coughlin (January 2016)
Price around: £26.99 GBP
Our thanks to Revell for supplying our review sample. Revell model kits are available from all good toy and model retailers. For details visit www.revell.de/en
At a glance SMN Star Rating: 4/5 Stars
A little bit about the type
The Leopard project started in November 1956 in order to develop a modern tank, the Standard-Panzer, to replace the Bundeswehr's American-built M47 and M48 Patton tanks, which, though just delivered to West Germany's recently reconstituted army, were rapidly becoming outdated. On 25 July 1957, the detailed specifications were released; the new de-sign needed to weigh no more than 30 metric tons, have a power-to-weight ratio of 30 horsepower per ton, be able to withstand hits by 20 mm rapid-fire guns on every side as well as to operate in a battlefield contaminated with chemical weapons or radioactive fall-out, the then-standard baseline for combat with the Warsaw Pact. In addition, the main ar-mament had to consist of a 105 mm caliber weapon (the new British L7A3 105 mm gun was selected), carrying at least as many rounds as current US tank designs. Mobility had priority, while firepower came second; armour was seen as less essential, as it was believed that no real protection against hollow charge weapons was possible anyway.
France was very interested in the design as its own AMX 50 project had just failed. In June 1957, West Germany and the French Fourth Republic signed an agreement to develop a common tank, designated in German Europa-Panzer. Three German (Arbeitsgruppe A, B and C) and one French design team would be included in a competition, with each team produc-ing two prototypes. In September 1958, Italy joined the development program. Several pro-totypes were entered for testing in 1960. Among the prototypes were Porsche's Model 734 from team A, sporting a cast turret, and that of team B (Rheinmetall), whose cast turret was somewhat higher. Team C from Borgward, designing a very futuristic tank, failed to have a prototype ready in time.
Even before these first prototypes were finished, it had (in 1959) been decided that a se-cond phase with improved designs would be started: Team A had to build 26 phase II Proto-types for testing, team B six. Only two tanks of the required six would actually be construct-ed by team B.
The Porsche Prototype II was eventually selected as the winner of the contest in 1963; this did not come as a surprise: it had already been decided in 1961 to build a pre-series of 50 vehicles based on this design; production of these was started that very year. This "0-series" was modified with a new cast turret and several hull changes to raise the rear deck to pro-vide more room in the engine compartment, and move some of the radiators to the upper sides of the hull. Before mass production of the standard version started, it was also decided to add an optical range-finding system for better long-range gunnery, which required the turret to be somewhat taller, and added "bumps" on either side of the turret to mount the optics for triangulation. In 1963, France and Germany had both decided to build their own tank; Germany continued with the Leopard, while France built the similar AMX-30.
Production was set up at Krauss-Maffei of Munich from early 1964 onward, with deliveries of the first batch between September 1965 and July 1966. The Leopard was soon being pur-chased from Germany by a number of NATO members and other allies, including (in chrono-logical order) Belgium (1968), the Netherlands (1969), Norway (1970), Italy (1971), Denmark (1976), Australia (1976), Canada (1978), Turkey (1980) and Greece (1981). Germany has a strict export policy for military equipment; Greece, Spain and Chile, while still dictatorships, purchased the French AMX-30.
The Revell Kit
This is a new-tool kit from Revell featuring the Leopard I MBT in an earlier guise to those already offered by the manufacturer.
Box and contents
The Revell box artwork is usually impressive enough and that's the case here – a German Leopard I rolling across the range with explosions all around!
Manufacturer's completed model…
Taking a look at the completed manufacturer's model this new kit certainly looks the part…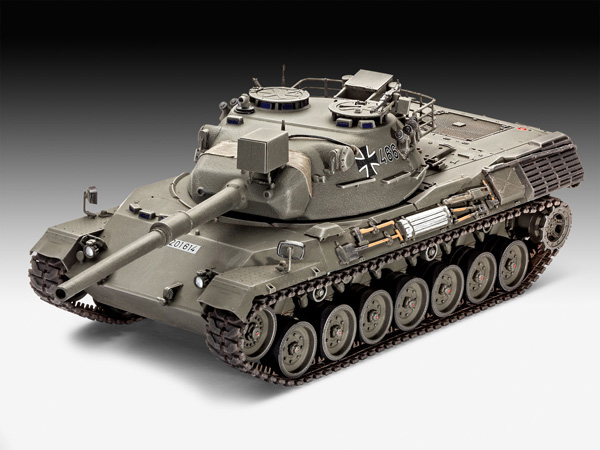 Let's go inside
Well moulded light grey sprues supplied (thank goodness for that – the green is gone at last! Revell do seem to be listening to us all…) and taking the main components first, they are well tooled with fine raised and recessed detail and good levels of other detail across the board. No distortion on the main parts is apparent.
The initial impression is one of detail parts – love the casting on the turret, that will go to make up a nice representative model in 1:35 scale. No real evidence of excess flash on the parts supplied in this kit.
Some observations
rear decking has moulded mesh detail for the engine compartment and this is finely done and will respond well to painting and weathering
cast turret looks excellent and will look just great after some subtle weathering
gun mantle is sufficiently contrasting in texture to the main turret to look authentic
road wheels are good, nicely moulded with good hub detail
separate tools are a nice touch and really necessary in this scale; e.g. axe, spade, pick axe all supplied
gun barrel is split and you may want to replace it, but it has to be worth having a go at us-ing the kit item first (ok, I know I'm not an armour modeller but no need to waste money if you don't have to?)
rubber-vinyl tracks are included, along with the ropes in the same material.
PIC 14
Instructions
The Revell instructions look rather different this time – colour! have you got used to it yet? Location of parts is clear but colour paint coding is for Revell paints only. You'll have to match your own choice of paints if you go elsewhere for your choice of colour. The build se-quence is pretty standard and logical but many modellers will part company with the stated order to suit their experience.
The back of the box has additional colour and painting guidance and all in all the instructions are definitely a step forward for Revell over their pretty basic instructions included so far.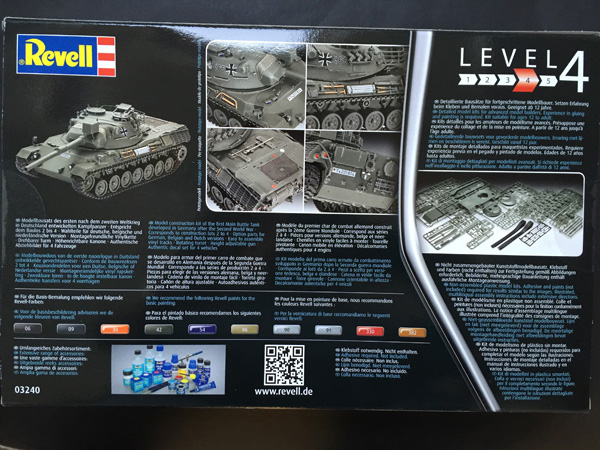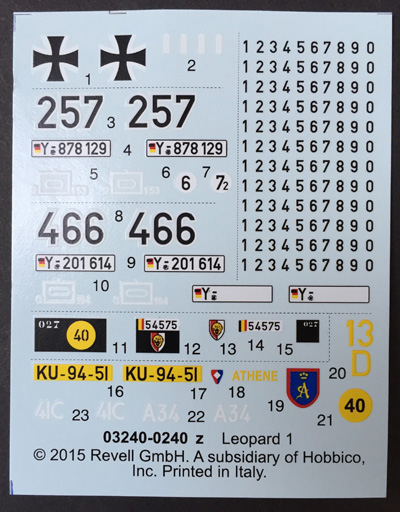 Decals
Options for three German and one Dutch Leopard I tanks is included.
Quality of good with marking in register and colour saturation good. Plate markings for many different individual tanks is included.
Conclusion
This is a great subject and it's good to have a current quality early Leopard I MBT readily available in 1:35 scale. This model will provide all military fans, especially those with an in-terest in German and modern European subjects with a great new addition to their collec-tion.
The model itself is well engineered and its great to see Revell producing their armour kits in grey and not that horrid green plastic that many modellers find hard to work with.
Geoff C.
SMN Quick summary Star rating out of 5
| FEATURE | STAR RATING (out of five) |
| --- | --- |
| Quality of moulding | **** |
| Level of detail | *** |
| Accuracy | **** |
| Instructions | **** |
| Decals | **** |
| Subject choice | **** |
| Overall | **** |