Review by Julian Seddon
Check out Resicast and availability at http://www.resicast.com/
Want some inspiration? Check this out…

Background…
The Comet was final embodiment of the British cruiser tank. The Cromwell, from which it emerged, was a fast and manoeuvrable but towards the end of its career was considered to be under gunned when up against the more powerful German Panthers and Tigers. Leyland won the contract for an upgrade of the Cromwell. The Upgrade strengthened the suspension (a Cromwell weak point largely due to its speed) and widened the turret and thickened the armour. In addition to this the 77mm gun was installed. This weapon smaller than the 17 pounder but packed an equal amount of punch as it fired the same shell as the 17pdr.
A design was ready for review in September 1943 and a prototype followed early in 1944. Delivery of this, considered to be the best British tank that served in the war was not until September 1944. The only Division to be totally equipped with this vehicle was the 11th Armoured and this was only after the main tank battles were over. I imagine they enjoyed barrelling up the Autobahns at the 32mph max speed that the Rolls Royce Meteor could deliver (governed down from the 40mph or more of the Cromwell).  Their final appearance as a WW2 tank was in the Berlin parade in 1945.
It continued in service with some Nations until the 70s and for the British it saw action in Korea alongside its successor the Centurion. About 1200 Comets were produced in all.
The Kit…
Well I seem to find kits that threaten time in building, this is no exception. It is a limited edition resin kit and costs around 250€  at present (11th Jan 2011) that is about £210, not cheap, but not surprising as you are going to build a museum piece.
Look at these bags of tricks. They are numerous and full of large to the tiniest of parts. As you will see they are beautifully moulded.
Get your face masks out!
Every part has to be separated from its casting block so there is a lot of cutting and sanding to do. Don't breath in resin dust it will take your breath away! Like the kit!! I cannot see any part of the real vehicle that is missed and I have emptied some of the bags to show you what jewels await you.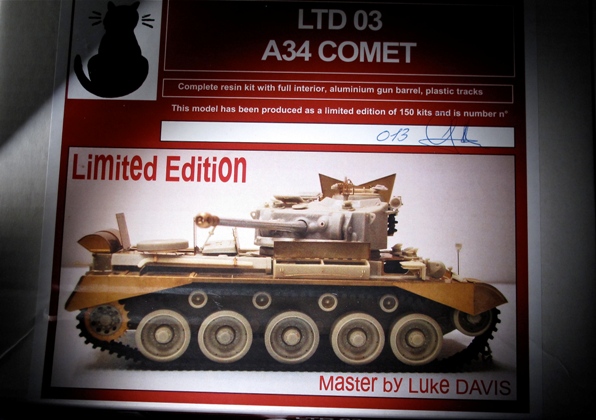 The box is sturdy, and has to be, for us British it has to survive the mail from Belgium where Resicast is based. It has several images of the model on its side, unpainted, that provide a quick reference – useful.
One of the box side images