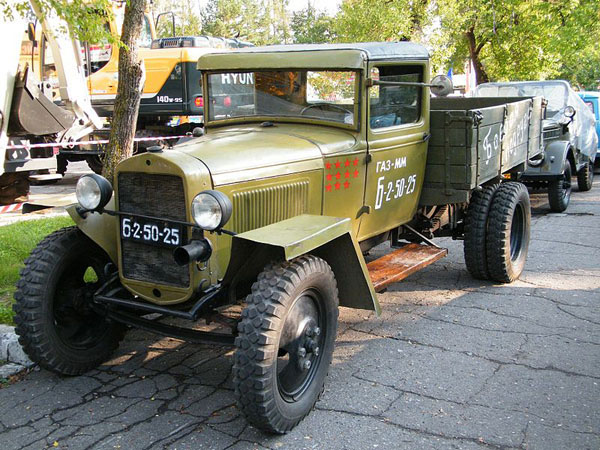 Kit ref: 32577
Price around £16.00 GBP (May 2014)
Review by Graham Thompson
The Tamiya kit
The truck is actually based on the GAZ MM which was a Russian built, under Licence, Ford A type. Production started in around 1939 as a direct copy of the Ford A. However, the model depicts the 1941 version by which time cost cutting had taken place and the full, rounded front fenders were replaced by flat pressed steel. The doors were left off and canvas ones fitted which were again replaced by wooden ones during the harsh winters. PIC 01a
The steel cab floor was replaced with a wooden one, the front brakes were left off and only one headlight and tail light were fitted. All in all, a serious cutback but what character those changes gave to this gorgeous little truck.
The kit comes with two olive green sprues which cover the truck and the driver figure.
I hope you can see from the pictures just how good the quality of moulding is, and it is superb. Completely flash free as would be expected for a new tool kit from Tamiya. The wood grain on the truck cargo box is amazingly well done. OK, it is over scale but realistically, this effect is more about representation than reality. Just as with engraved panel lines on aircraft kits, they are not realistic by any means but most modellers like to see them as it gives a better 'look' to the finished model. In scale, these wooden sides and floor would be perfectly smooth but that wouldn't look half as good.
A set of four figures are included in the kit to place in the cargo box. These are very nicely moulded in grey plastic ad consist of two identical sprues. There are the inevitable seam lines but these clean up very easily.
Cleverly though, Tamiya supply two sets of arms for each figure which means that you can have four different figures. You also get four very nicely moulded separate heads on each sprue so you get some really nice spares. The design of the figures is unlike any others I have come across. Instead of the traditional joining arms on the shoulder, the torso is deeply carved out to virtually follow the strap lines on the rear of the figure. This makes getting seam free figures quite easy as the fit is superb.

To complete the kit, there is a single grey sprue filled with beautifully moulded weapons, kit and other bits and bobs including the classic wheeled Maxim machine gun in 8 parts. Again, I hope you can see from the pictures just how nicely done these parts are done. Remember, this is 1:48 scale!
There is a single small clear sprue, which is very clear, consisting of a thin windscreen and a headlight lens.

Instructions
The instructions are good old fashioned single sheet vertical format which can be a bit of a nuisance to keep folding if, like me, you are short of desk space. However, the 9 stages of instructions are clear and well defined making them easy to follow.

All in all, this is a great subject for 1:48 modellers and is a perfect blank canvas for anyone wanting to convert it. The type was used extensively throughout the war and many were captured by the Germans. I have no doubt they towed stuff – a field kitchen for example? I really don't think you could do anything wrong with this kit.
The review kit was from MJR Models and Hobbies http://www.mjrmodelsandhobbies.co.uk
SMN Quick summary Star rating out of 5
| FEATURE | STAR RATING (out of five) |
| --- | --- |
| Quality of moulding | ***** |
| Accuracy | ***** |
| Instructions | ***** |
| Decals | None included |
| Subject choice | ***** |
| Overall | ***** |
Here are some of the manufacturer's publicity photos: