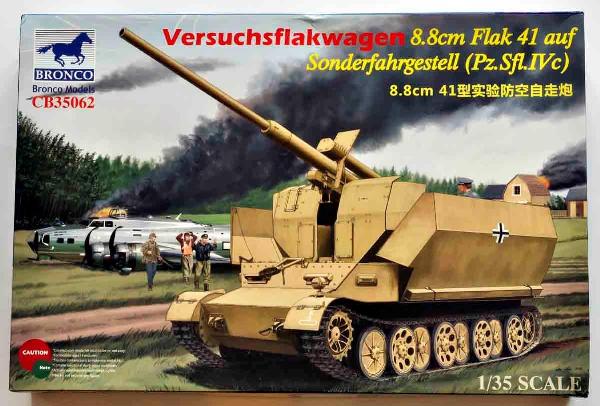 Kit Ref: CB35062
Price around £36.00 GBP (Jul 2013)
Review by Bill Curtis
Initial assessment
I had hoped that one day this particular vehicle would be produced in injection moulded plastic and have to say I was a happy bunny when I saw this was coming. The box measures 44 x 30 x 6.6cm and is full.
The contents are as follows:
an A4 colour drawing of the box art to use as a picture
a single A4 colour four view drawing of a recommended paint scheme
the 23 page instruction book
64 sprues in light grey plastic with the tracks moulded in light brown numbering 19 with 12 track links on each and another 12 with the pins to fit them together
1 sprue of clear parts
2 photo-etch frets and
a small decal sheet.
The parts count is high with a great many small pieces as this is really two kits in one.
The moulding is good but you will have to clean up mould lines on a lot of parts, this is not going to take long as they are small. The larger parts like the external folding sides and rear have injection pin marks which will need filling and sanding down as will the gun cradle body parts. The barrel parts have no seams but have attachment parts which again will need care to remove so as not to have flats when filing and polishing the radius.
The hull comes as a tub with the suspension arms fitted separately and I think these could be made to articulate for uneven ground and represents the real vehicle which was a modified Pz IV chassis with suspension units from the Famo half track.
The Flak 41 is an impressive kit in its own right and has lots of detail slide moulding of the gun tubes and thinly moulded gun shields.
A nice touch is the personnel equipment such as packs and rifles for the crew. The other items are a range finder, ammo boxes and shells. Now can we hope for a crew to populate this kit.
Accuracy
Reference material is sparse to say the least on this type but various pictures can be found on the Web. I believe that a total of two or three vehicles were produced and originally designed to utilize the Flak 37 and pictures do exist of this. Some time later the Flak 41 was mounted for trials and this is the vehicle that has been produced. Maybe we will see the earlier version kitted up next. As to its accuracy, a comparison with photographs looks good and for me having one of such a vehicle with a small production run to build, I feel that if it looks right then it is.
Quality
The quality of the moulding is very good and on a par with the best manufactures in this scale. As previously stated some seam lines and pin marks but nothing that the average modeller cannot take in their stride.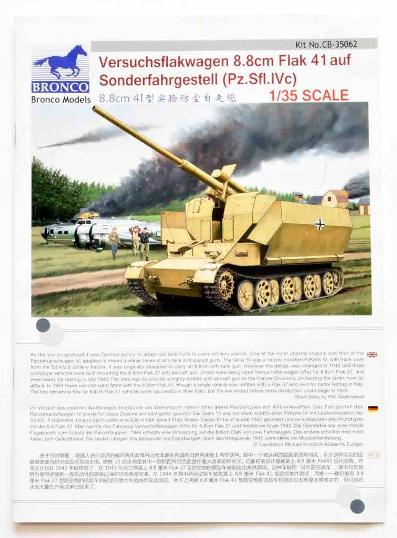 Instructions
The instructions follow a logical path and are clear and concise with not too many parts for each exploded view. I would suggest a good time spent looking at these drawings before starting the assembly as this is a kit that will benefit from care taken with the construction.
Decals
The small decal sheet has markings for the trial vehicle at Oxbol Denmark in 1944 which was finished in overall Dunkelgelb. Also included are the dials for the gun and stencils for the ammunition crates and tubes. From inspection these look thin and in register with good colour; more on this when built.
Conclusions
This is not a kit for a beginner as the parts vary in size from large to very small and the complexity is not too extensive but a lot of care and attention to detail will be required to produce a very good model of this beast. I will say well done Bronco for producing this kit as it's very good and I look forward to building it soon.
SMN Quick summary Star rating out of 5
| FEATURE | STAR RATING (out of five) |
| --- | --- |
| Quality of moulding | **** |
| Accuracy | **** |
| Instructions | **** |
| Decals | ***** |
| Subject choice | ***** |
| Overall | **** |
Highly Recommended
Bill C.