Reviewed by Geoff Coughlin (Oct 2012)
Price around: £18.99 GBP
Product Ref: A06301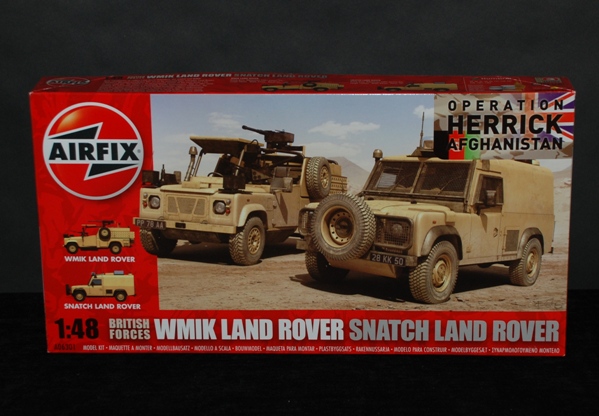 Our thanks to Airfix for supplying our review sample, get this kit here now at: www.airfix.com
Click on each image to enlarge / reduce the pictures:
.
Background…
This release is part of the Airfix range of Operation Herrick Afghanistan kits. Snatch Land Rovers are used as protected transport vehicles by the British Army. Being light and manoeuvrable they make for ideal utility vehicles. The Land Rover WMIK (Weapons Mounted Installation Kit) is the British Army's light armoured and patrol combat vehicle. Both adaptation of civilian Land Rover Defenders, the Snatch and WMIK are as far removed from everyday Land Rovers as you could get. The Snatch is an up-armoured version of the Land Rover 110, suitable for armoured patrols in potentially hostile environments. Able to offer some protection against small arms fire and limited protection against explosives, the Snatch is being phased out of service in favour of more modern replacements. The heavily armed WMIK continues to serve in its most recent incarnation, the R+, as an effective Special Forces and reconnaissance vehicle.
Reference…
Don't forget that you have a good walkaround on the WMIK land Rover in your Photo Reference Library right here in SMN!
The kit moulding…
This is a great release and a timely addition to the Airfix Lynx and Merlin helicopter kits available now in the case of the Lynx and soon to be released Merlin. Add to that the British Forces Infantry Patrol figures and Supacat Jackal vehicles also just released as I write and you'll have great modelling opportunities as you cross-kit these sets – superb stuff!
Back to this release – The vehicles are very well tooled and despite some excess flash have realistic and accurate moulding. The flash is a little odd, given the fact that they are newly tooled but this is easily removed and doesn't detract from what are excellent additions to any diorama that you may wish to create. Some ejector pin marks exist too and you will need to remove some of these to prevent them showing.
Having got that out of the way, the plus points are extensive:
Detailed engines
Fully detailed sub frames and chassis on both vehicles
Extensive fit-out of features applicable to both types
Options for open or closed doors
Slightly weighted tyres
Decals for dials on instrument panel.
In addition, the weapons like the SA80s will look great when put with some of the figures supplied separately.
Instructions…
Colour painting guides are provided in the box for both vehicles and although Humbrol colour references are given, the colours are named and this will help you to match the colours from your own source to complete your model authentically.
To conclude…
I am very impressed with what is a neat little addition to the Airfix 'Afghanistan' range. The fact is you are getting new-tool state-of-the-art armour types that are well detailed even though they do have some excess flash is excellent. Co-ordinating the release to cover multiple types is a new and innovative approach that's great for modellers. 1:48 scale is extremely popular now, especially amongst armour modellers and deserves to sell well and undoubtedly will, of that, I'm sure.
Given what's included this package offers great value for money in my opinion. We will certainly be building these models in SMN, so keep an eye out on Build Now – that's where you'll see them first.
Highly Recommended
Geoff C.
SMN Quick Summary Rating out of 5
| FEATURE | STAR RATING (out of five) |
| --- | --- |
| Quality of moulding | **** |
| Accuracy | **** |
| Instructions | ***** |
| Decals | **** |
| Subject choice | ***** |
| Overall | **** |