Review by Graham Thompson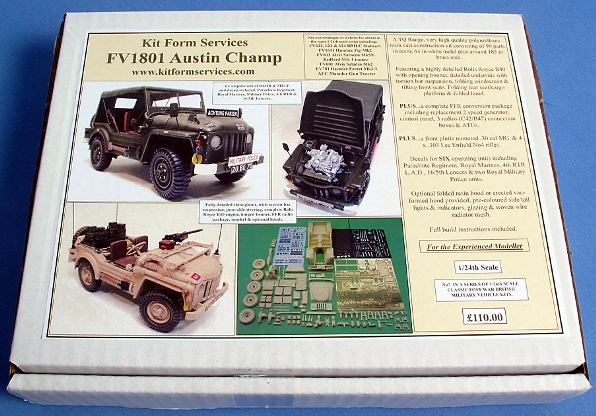 This review is going to be slightly different to my usual style.  There are a few good reasons for this:
This is a special kit as it is not a plastic injection kit. This is multimedia kit consisting of superbly cast, very high quality polyurethane resin, very cleanly cast white metal parts, high quality surface etched brass photo etch, Vac form plastic for the hood, pre-coloured transparent tail lights and indicators, a collection of brass rod and plastic strip topped off with very nicely printed decals.  Add to that a sheet of clear acetate for glazing the windscreen and rear hood window and a small sheet of fine metal mesh for the radiator.
The scale.  This is 1:24 scale which fits in with a large range of trucks and car kits.  KFS do a lot of truck builders goodies as well as their superb range of Military kits.
This and the other kits in the KFS stable are premium kits.  They are not the run of the mill subjects either. The subject of this review, the Austin Champ, is a classic post WWII British 'Jeep' that was quite successful until overshadowed by the Land Rover.  Other subjects in their range include such vehicles as :-
Stalwart Mk2,
Stalwart conversion
Saracen Mk5/6,
Saladin Mk2,
Daimler Ferret Mk2/3,
Humber Pig Mk2
Add to this a Bedford 4 ton truck, a Matador truck and a 5.5″ Howitzer that will pair up with the Matador very nicely. In the pipeline are other projects that cover subjects that you are unlikely to find in other kit manufacturers ranges.
As you can see, these are not the run of the mill subjects and when you add to this that they are all complete kits, engines, interiors the lot they add up to superb models for the experienced modeller.
Premium kits come at a premium price, this not a negative thing as the prices of these kits reflect the quality which is amazing for relatively short run models.  I remember when Vac form models cost a fortune but were snapped up because they covered subjects that could not be bought as injection moulded kits.  However, vac form kits were very tricky to make and relied on the builder using their skill to make support pieces, undercarriage parts etc.  With a KFS kit, all you want is time, epoxy resin, superglue, normal modelling tools and some care and attention.
OK, enough chat, let's have a look at the kit…
I have never built a resin kit before so I sought some advice on what would make a good first choice.  I know which kit I wanted to buy, and I will after I have finished this one, but I was gently steered to the Austin Champ by my good modelling mate Nick Allen and am I pleased I took his advice.
There is an amazing amount of information on the Austin Champ on the internet including the Austin Champ Owners Club who were consulted in the researching of the masters for this kit so I will not go into its history too much here.  Suffice it to say that this is a historically important British vehicle.
Open up the box and you see all the resin parts are separate, no huge plug blocks to saw off here. (N.B.  There was additional packaging in the box to help prevent the bagged up parts moving around which I have removed for the picture)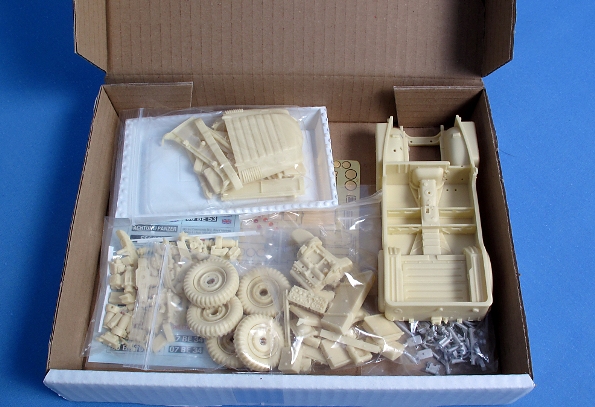 The part count is impressive.  There are 90 resin parts packed in three bags including the one piece superbly cast body and 64 cast white metal parts in another bag which includes 4 .303 Lee Enfield rifles and a .30 cal machine gun.
First up, the body and the wheels…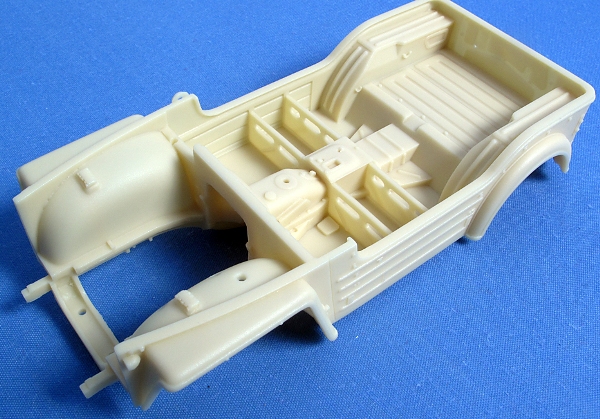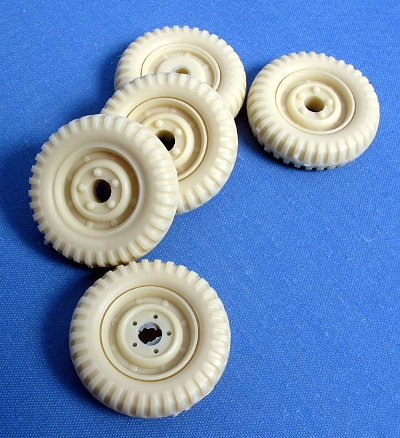 Note that apart from washing these parts to remove any trace of mould release agent as suggested in the instructions, I have not done any further cleaning up of the parts so that you can see just how nicely these are presented.