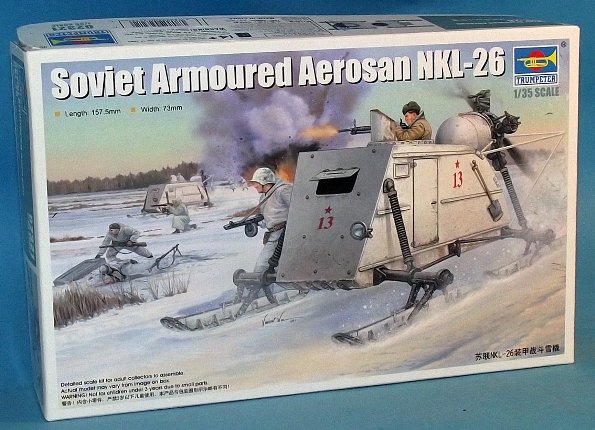 Review by: Neil Pepper (October 2011)
A bit of background
The NKL-26 was an armoured aerosan introduced by the Soviet Union during World WarII and was based on the earlier NKL-6.
It was made of plywood and had ten-millimetre armour plate on the front only. It was armed with a 7.62 DT machine gun in a ring mount and was powered by an M-11G aircraft engine.
Each NKL-26 was operated by two crewmen, who were organized into battalions of 30 NKL-26s with a transport company of NKL-26s – each with three companies of ten. Each company was organized as three platoons of three vehicles and a commander's vehicle
The Trumpeter Kit
Upon opening the box you are presented with a very full box of eight light grey sprues, two photo etched brass frets, one clear sheet for the windows, a set of decals, instruction sheet and, something I like about a lot of the newer manufacturers' of kits, the colour paint guide to look at.
The Aerosan is quite a simple design, yet has loads of angles, springs and exposed details like the engine, prop and other bits that will look great when weathered.
The whole project will provide a great challenge when it comes to displaying your model – especially getting that winter snow scene looking good. But with some of the accessories available for the job, that part of presenting your model shouldn't put you off.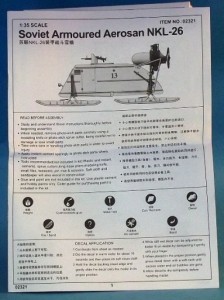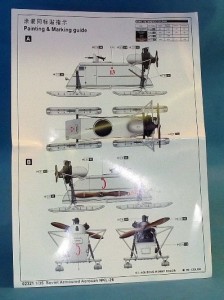 I've had a look at all the parts, which are full of crisp detail and I can't see any mistakes. I am now itching to get the tools out and get started on it!
| | |
| --- | --- |
| Quick summary | Star rating out of 5 |
| Quality of moulding | **** |
| Accuracy | **** |
| Instructions | **** |
| Decals | **** |
| Subject choice | **** |
| Build enjoyment | N/A |
| Overall | **** |
Neil P.