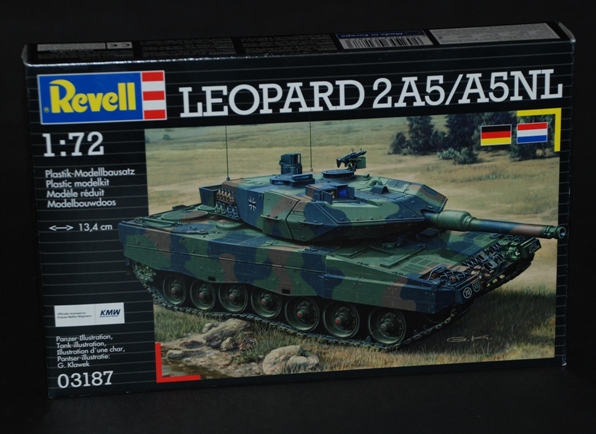 Ref: 03187
Price: £9.99 (Mar 2012)
Review by: Geoff Coughlin
Thanks to Revell for supplying our review sample.
A little bit of Inspiration…
Background
Despite its age (the first Leopard was delivered in 1979), the Leopard 2 is still a model in great demand with 16 nations using the type.
The 2,125 Leopards produced for the German Army up to 1992 were continually improved during production, which ultimately gave rise to the Leopard 2A4.
The Cold War demanded even more powerful weapons systems and a comprehensive upgrade programme was implemented. The resulting Leopard 2A5 had significant differences from previous versions.
The notable slab-sided turret walls were changed with add-on modules; the commander's periscope received thermal imaging capability and the driver a reversing camera! The old hydraulic aiming device was replaced by an electric one and many other mods were made.
The combat capability upgrade was developed jointly with Holland and Switzerland, but only implemented by Germany (A5) and Holland (A5NL). It was used by Holland with SFOR and Germany with KFOR in the Balkans.
Initial Assessment
There are several other reviews of 1:72 Revell armour subjects in Here Now, which are all really impressive little kits in this scale and this Leopard 2A5/A5NL is no different.
Moulding quality is to a high standard, with very fine levels of detail across the board.
The images within this review should speak for themselves and you can decide what you think, especially as armour is probably your area. So I offer a basic insight into this Revell kit that's widely available, which will be good news to all of you that are interested in armour modelling in this scale.
The Package
Five sprues moulded in dark green plastic form the basis of the model. A set of instructions and small decal sheet make up the package.
Click on the thumbnails to enlarge images.
Sprue Trees
You can see that the hull top is very clean and crisp, as is just about everything else.
The detail is cleanly and accurately moulded onto the textured surface and will look excellent when spray painted and given a subtle wash.
The moulded detail throughout is good and although I can't give an opinion on accuracy, what you get certainly looks consistent with some of the images I have seen.
The fact that the few vehicle tools are provided moulded into the chassis might not please everyone, but remember that this is 1:72 scale and a subtle wash should create a sufficient demarcation between the two to look convincing.
Other Highlights…
The detail on the hull top, track links and one-piece gun barrel – the latter being easy to drill out with a pin vice hand held drill and bit.
There are some ejector pin mould-release circles left during the making of the kit, but these are well placed in out of the way or hidden locations – nice touch. The engine grills look fine for the scale and I can just see that they will look good after a wash and dry-brush.
The tracks are broken down into small sections that should allow you to pose them fairly naturally.
In fact, if you add the side skirts them much of the track section along the upper run will be invisible, so what's provided looks to be just fine in 1:72 scale. The tracks are designed to be moulded into shape by immersing them in very hot, but not boiling water, so if you do this get out your Marigolds (rubber washing up gloves) first!
There's no flash or excess plastic on any of the parts, so this will help build time greatly.
Decals
There's a small sheet with the respective number plates and unit badges for the German and Dutch options contained in the kit. The quality looks good overall, although there is carrier film visible around most of the items, but applying them to a glossy finish should ensure that doesn't show. I might be tempted to trip the excess away.
Versions are:
Leopard 2A5, PzBtl 84 Luneburg, 2001
Leopard 2A5, PzBtl 33 Neustadt a.R., 2000
Leopard 2A5, PzBtl 93 Munster, 2006
Leopard 2A5NL, B Kompanie/ Tkbtj 101, SFOR, Bosnia-Herzigowinia, 2000/01
Instructions
These follow the usual Revell format with Revell colour references, parts and sprue layout diagrams followed by a 43-Stage build (no less) and finishing sequence.
The sequence looks to be logical to me but of course you will want to leave off all the small, delicate parts like the aerial until near the end of the build to avoid damage.
To sum up…
This is really a very impressive little kit and I reckon that you'll be made up if 1:72 armour modelling is your area of interest given all the impressive kits being released in this scale.
Levels of detail are excellent for the scale and fit looks to be clean and pretty trouble-free. At the small price of the kit, you can't go wrong!
| FEATURE | STAR RATING (out of five) |
| --- | --- |
| Quality of moulding | **** |
| Accuracy | **** |
| Instructions | *** |
| Decals | *** |
| Subject choice | **** |
| Overall | **** |
Geoff C.