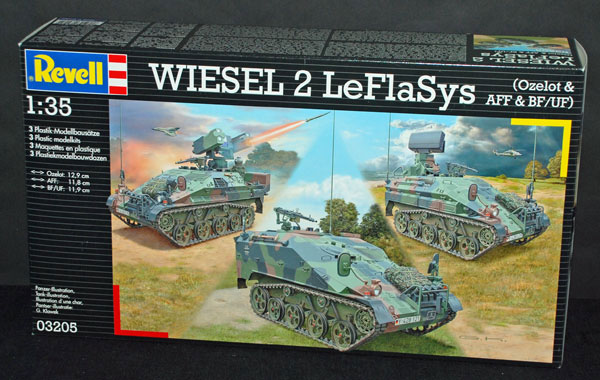 Ref: 03205 (3 kit package)
Review by Geoff Coughlin
Our thanks to Revell for supplying our review sample. Revell model kits are available from all good toy and model retailers. For details visit www.revell.de/en, @RevellGermany or facebook.com/Revell
Reference
Some really useful reference info in this video…
This is a useful website too: http://www.army-technology.com/projects/leflasys/
A bit of background
The Wiesel Armoured Weapons Carrier is a German light air-transportable armoured fighting vehicle, more specifically a lightly armoured weapons carrier. It is quite similar to historical scouting tankettes in size, form and function.
The Wiesel has been used in several of the Bundeswehr's missions abroad (UNOSOM II, IFOR, SFOR, KFOR, TFH, and ISAF)
The Wiesel 2 is a stretched version of the Wiesel 1, with a fifth road wheel. The engine was changed to a 1.9l Volkswagen in-line four-cylinder turbo diesel with direct injection and intercooler, giving 109 hp coupled to a ZF automatic transmission. Generally bigger, faster and stronger with advanced features for the protection of the crew such as enhanced armour, an air conditioning system, and NBC protection.
Wiesel 2 Light Air Defence System (leichtes Flugabwehr System – LeFlaSys)
Wiesel 2 Air Defence Command Post
Wiesel 2 Air Defence Reconnaissance and Fire Control Vehicle (RFCV): fitted with air defence radar
Wiesel 2 Air Defence Weapon Carrier (Ozelot): fitted with air defence missile launchers (two box launchers containing four ready-to-fire Stingers, or, alternatively, a (currently unknown) number of vertical launch cells with LFK NG missiles)
Wiesel 2 Ambulance
Wiesel 2 Engineering Scout: combat engineer reconnaissance
Wiesel 2 Command Post: battalion command post
Wiesel 2 Advanced Mortar System
Wiesel 2 Company C2/ JFSCT: Command and control for combined and joint fire
Wiesel 2 Lightweight Armoured Mortar: 120 mm automatic laying weapon system
Wiesel 2 Joint Fire Support Team: Reconnaissance Vehicle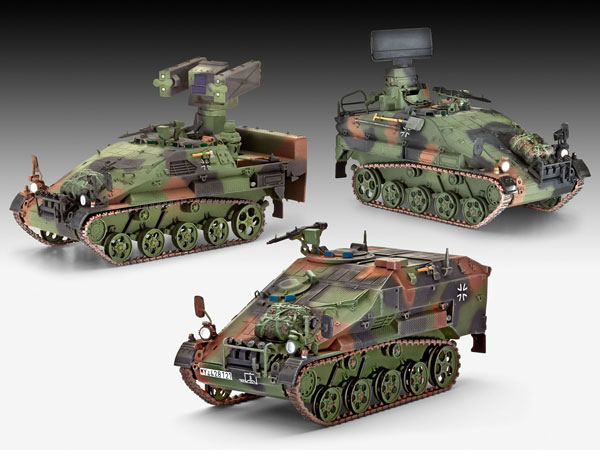 The Revell kits – Initial assessment
Moulding quality is to a high standard with fine levels of detail across the board. The attached images should speak for themselves and you can decide what you think, especially as armour is probably your area. So I offer a basic insight into this Revell package that's widely available and this will be good news to all of you that are interested in armour modelling in this scale.