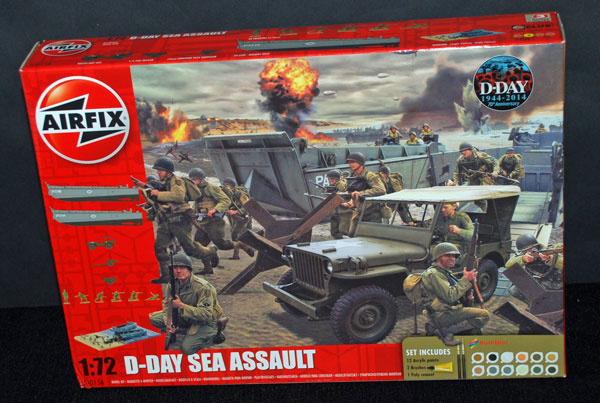 Injection moulded and vac-formed parts
Price around £16.99 GBP
Ref: A50156
Review by Geoff Coughlin (Sept 2014)
Background
It's always good to have accessories that help modellers to display their completed projects and here we have another one from WWII – around the time of D-Day.
While the first Allied soldiers landed in Normandy via parachute during the night of the 5th and 6th of June 1944, the vast majority of the liberating Allied troops would have to come via the sea, landing on Normandy's beaches under heavy fire and fighting their way inland.
The Allies had various different types of landing craft for getting men ashore. Some were very large like the Landing Ship Tank (LST), some much smaller like the small amphibious DUKW but it was the Higgins LCVP (Landing Craft, Vehicle, Personnel) which proved to be one of the most important types used. Employed to transport the majority of US Personnel, as well as many British troops when they were used by the Royal Navy, they were vital because they could very quickly offload men and small vehicles, such as Jeeps, while under fire.
Jeeps were vital because they offered the Allies mobility in the earliest hours of the campaign. The LCVPs were also able to return fire with their compliment of two .30 inch machine guns, helping to protect the troops that they were disembarking.
Overall D-day was a success, thanks in no small part to the work of boats like these and their crews.
We have already reviewed the Airfix D-Day Coastal Defence Fort plus other D-Day diorama sets, plus a number of resin buildings and accessories from the Airfix range so do check them out in the Armour Kits area of Here Now.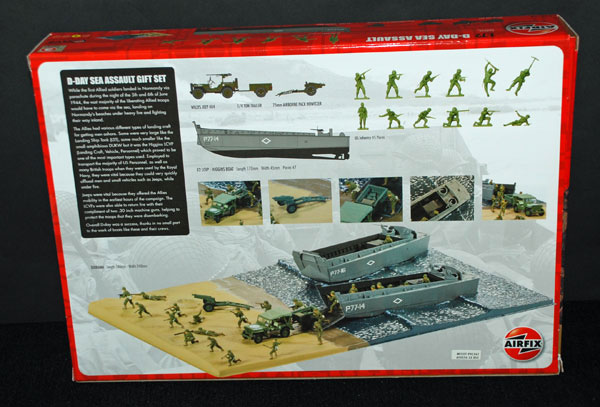 This is what you get in this set
• Higgins LCVP Landing Craft (X )2
• Willys Jeep 4X4
• 75mm Airborne Pack Howitzer
• 1/4 ton trailer
• Old US Infantry set (45 pieces)
Higgins LCVP Landing Craft
I've looked at the sprues and can't tell for sure whether this is a new-tool for the landing craft – certainly looks very presentable being well moulded and sufficient detail in this scale to satisfy most of you I'm sure. I remember the original release when I was young and boy did my mates and I have fun storming the beached with that using cotton thread to lower the ramp so that I could land my Sherman tank – great days…
Back to now and taking a look at the photos you should be pretty impressed with the textured deck, internal rib and ramp detail to highlight just a couple of things.
Usefully you get two LCVP Landing Craft in this set.