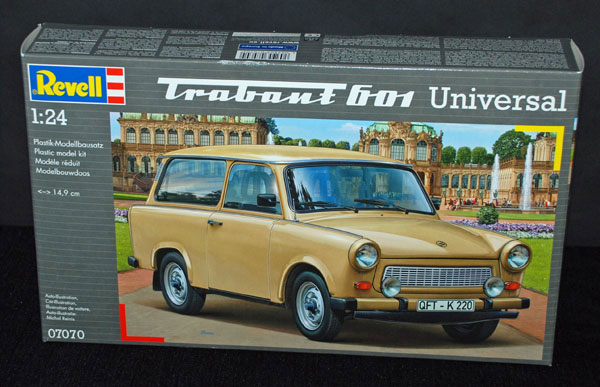 Kit Ref: 07070
Price around: £19.99 GBP (July 2014)
Review by Geoff Coughlin
Read the full build here
Our thanks to Revell for supplying our review sample. Revell model kits are available from all good toy and model retailers. For details visit www.revell.de/en, @RevellGermany or facebook.com/Revell
Here's an offer for you
OK, hands up – clearly this review isn't about an 'armoured' vehicle but, given that the subject represents the essence of the Cold War for me, spying, espionage, etc etc we just had to get hold of a sample and include it for you here.
Here's an offer for you… ☺ how would you like to build this kit for SMN – the usual style of build-up photos and some of your finished model? Yes – just drop me an e-mail to: geoff@scalemodellingnow.com thanks.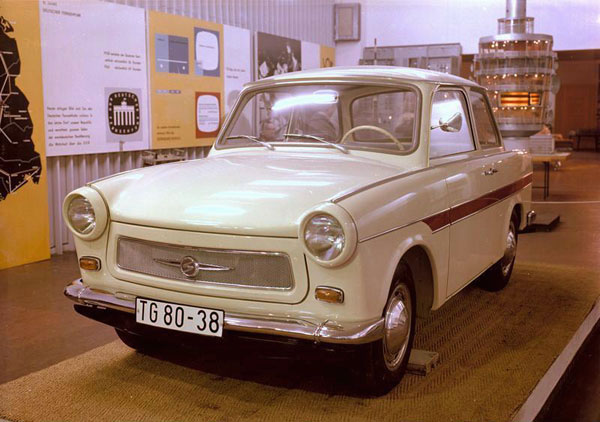 A little bit of background
The Trabant 601 (or Trabant P601 series) was a Trabant model produced by VEB Sachsenring in Zwickau, Sachsen. It was the third generation of the model, built for the longest production time, from 1963 to 1990. As a result, it is the best-known Trabant model and often referred to simply as "the Trabant" or "the Trabi". During this long production run, 2,818,547 Trabant 601s were produced overall and it was the most common vehicle in former East Germany.

The Revell kit
This Revell kit dates back to 2009 and when released then was always a good kit and the moulds have stood up well as you can see from looking at the photos that accompany this review.

The one-piece chassis is very well moulded and there aren't any blemishes on it- smooth plastic only that will be able to take the base undercoat and top coats of paint very well – blimey! I almost sound like I know how to build cars!!! (Not!).
The Trabant was a simple vehicle yet there seems to be plenty of detail across the board, from the underside to the interior and as the model is 1:24 scale much of this will be on view.
Dials are provided as decals on the decal sheet although they are slightly out of register on my sheet – only slightly so they can probably still be used with a little trimming.
The floor pan is moulded well with detail as are the seats for example that have realistic texture.
Usefully the wheels are separate plastic parts that are designed to fit inside the separate vinyl-rubber tyres – there's a useful video demo in your Techniques Bank showing how to weather this type of tyre.
Instructions and decals
This comprises the usual Revell folded sheet with exploded view diagrams that show where the parts are located – nothing fancy but pretty clear. Just Revell color mixes are show for the painting guide that's a bit disappointing.
The decal sheet has various number plates to cover multiple vehicles of countries that would have primarily used the type from the old Eastern Bloc.
In summary
A welcome re-release of what would have been a popular kit for all manner of reasons.
Geoff C.
Quick summary Star rating out of 5
| FEATURE | STAR RATING (out of five) |
| --- | --- |
| Quality of moulding | **** |
| Accuracy | *** |
| Level of details | *** |
| Instructions | *** |
| Decals | *** |
| Subject choice | **** |
| Overall | *** |