Ref: A0330
Price: 9.99 GBP (Jul 2012)
Review by Geoff Coughlin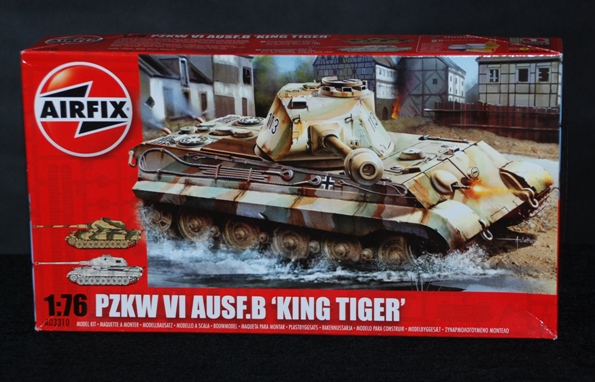 Our thanks to Airfix for supplying our review sample, get this kit here now at: www.airfix.com
Here's something to get you in the mood!
Brief background…
The Tiger II, which the Germans called the King Tiger, first saw action on the Eastern Front in May 1944, its first action on the Western Front was in August 1944. Weighing in at a staggering 68 tons with a 690 bhp engine, the Tiger II was a formidable weapon. It also used a vast amount of fuel which the Germans were finding very difficult to produce due to Allied bombing of fuel plants.
The kit moulding…
A new-tool model of any type in any scale is of interest and I guess because this is Airfix and it's an addition to the expanding range of new products not only from Airfix but Revell too it will be great interest to many of you. 1:76 scale may not be everyone's cup of tea but it's hard to argue against this release when it's clearly very popular.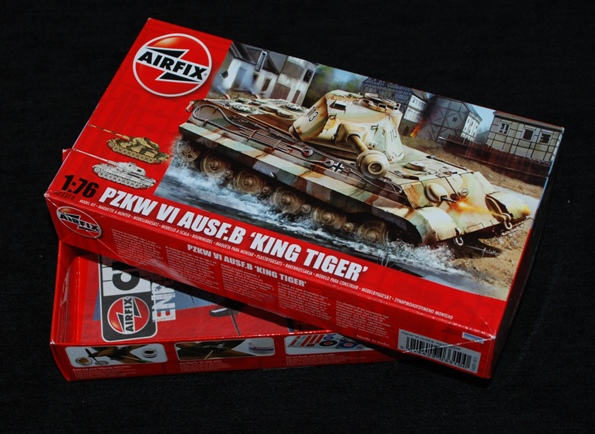 The whole package comes in a decent box and I for one find this really useful for holding parts when I now almost always have 2 models on the go on the GC workbench since starting SMN!
Main components…
OK, I have little knowledge of armour, let alone the King Tiger but I know a good model when I see one and so here are a few thoughts that highlight some of the features of this kit…
Hull and turret:
These look good, although you'll notice the large sprue gates that will need careful removal. This is something that seems quite common to new-tool Airfix kits and isn't such good news as it's easy to damage the part when separating from the sprue frame. Good quality side cutters are essential (check out your Techniques Bank for some good advice here as there are several entries to help if you're new or returning to the hobby). The hull detail is good though and again, care will be needed when painting the moulded fittings like tow rope, tools and so on. The turret is neat with open commander's hatch although as you'd expect, no interior detail is included. Airfix could consider adding a figure or two to these models as they give a much better idea of scale to the completed model. The hull and turret are 'clean' in that no zimmerit is moulded on but you can always add this yourself – very entertaining in 1:76 scale I'm sure!
Wheels:
I think that these look good although I've no idea as to their accuracy – you'll know better I'm sure but a glance at the attached video suggests those supplied are a good representation for the type.
Track links:
These are very soft and pliable with decent detail and look like they will be straightforward to mould and attach to your model. They look pretty fine to my eye and a reasonable way to go in manufacturing terms in this scale.
Instructions…
A painting guide is provided in colour towards the back of the instruction sheet and although Humbrol colour references are given, the colours are named and this will help you to match the colours from your own source to complete your model authentically. Mixes are also shown to help create the 'winter' scheme offered for the vehicle based in Hungary in 1945.
Decals…
A decal sheet is included with unit and vehicle markings and looking at the quality you're unlikely to have any problems putting onto a glossy surface; matting down later of course and/or following your usual weathering processes.
To conclude…
I am really impressed with what looks like a great little model. The fact is you are getting a great little model that's newly tooled, well detailed with no flash to clean off. 1:76 scale is still popular, thanks to the likes of Airfix and their range of AFVs, so this armour kit release is very welcome for that reason alone.
SMN Quick Summary rate out of 5
| FEATURE | STAR RATING (out of five) |
| --- | --- |
| Quality of moulding | **** |
| Accuracy | *** |
| Instructions | **** |
| Decals | **** |
| Subject choice | ***** |
| Overall | **** |
Recommended
Geoff C.