Review by: Neil Pepper (November 2011)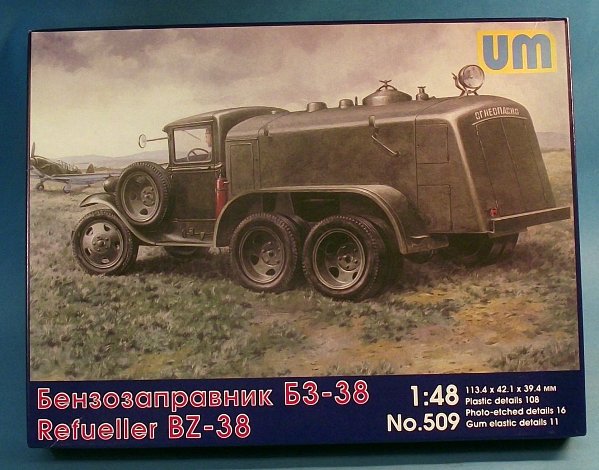 Manufacturing of the BZ-38 was launched in 1938. The vehicle was the basic refuelling tanker of the RKKA Air Force. To the standard cab and chassis was fitted a 1350 litre capacity tank for the aircraft fuel and, with a four cylinder 50 hp engine, this truck was widely used during WWII.
What's in the Box?
On opening the box you'll find:
Four very nicely moulded green spurs – the refueller's design is smooth and uncomplicated and the parts reflect this as you'll see from the Gallery Grid below
Ten rubber tyres – love them or hate them, they look ok and will be enhanced by rubbing with a medium grade sander
An etched brass fret that looks like it will add to your finished model
One clear plastic sheet for the windows
A nice set of decals – quality looks ok, they're in register with good colour depth
Plus the instruction sheet, which looks nice and simple to follow (handy for me, before someone else says it!).
Accuracy
I am unsure about this, but as it's straight from the box it looks good to me.
The Verdict
| FEATURE | STAR RATING (out of five) |
| --- | --- |
| Quality of moulding | **** |
| Accuracy | *** |
| Instructions | **** |
| Decals | *** |
| Subject choice | **** |
| Overall | *** |
Neil P.