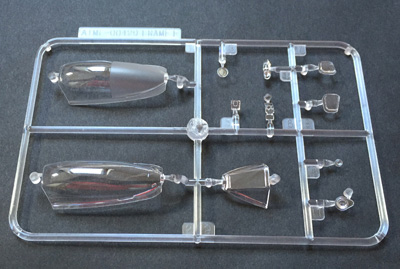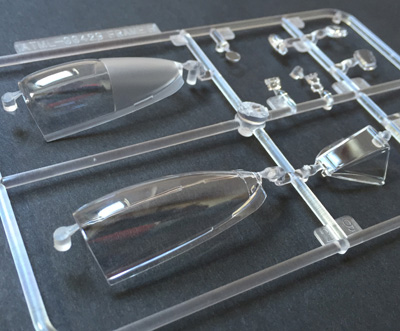 Clear parts
The canopy is helpfully split so front windscreen and rear sections are separate allowing you to pose your canopy open or closed. Crystal clear, blemish-free and well moulded without any distortion. The inclusion of both types of canopy fitted to the Meteor suggests that we'll see other versions in due course.
Instructions
The simple foldout instruction booklet is clear enough with references to paint colours; reference to exact colours and photos will help match your preferred paints to what's needed. There are full colour painting/decal guides included for each version supplied.
Decals
Decals for two different Gloster Meteor F.8s is included – both British machines:
Option A: No.111 Squadron, RAF North Weald, Essex, England 1954
Option B: No.85 Squadron, RAF Binbrook, Lincolnshire, England 1968
Full stencil data is included and a clear diagram showing where each tiny item goes. The different schemes are shown on a high quality colour fold-out sheet.
I particularly like the 'silver' machine as it will compliment my 1:48 Airfix Gloster Javelin you may have seen in the Airfix pages of Finished Now – here's a pic, just so you can see what I mean…
The decals are very well printed and look to be good quality – let's hope so. It's a bit of a shame that there isn't at least one option for an overseas operator – plenty of other countries used the F.8, but the purchase of another decal sheet will prove irresistible to many given the level of kit detail offered in the box.
Here's my summary
This is a good package with excellent levels of quality and detail across the whole kit. Looking at the options and diverse variety of options on offer, I think Airfix has broken new ground with this kit. I will be building this one in the near future and that will bring out the reality and how it all goes together and I for one am really looking forward to it.
I bought my kit from a well known retailer at a little under the recommended asking price and you can get this kit at less than Airfix is asking as always, if you shop around. As it stands this package is fairly priced for what you get in my view.
Geoff C.
SMN Quick summary Star rating out of 5
| FEATURE | STAR RATING (out of five) |
| --- | --- |
| Quality of moulding | **** |
| Level of detail | **** |
| Accuracy | **** |
| Instructions | *** |
| Decals | **** |
| Subject choice | ***** |
| Overall | **** |