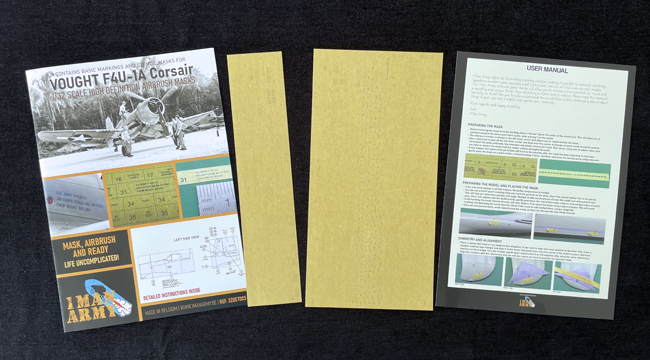 Availability and full information available at: www.1manarmy.be
Review with Geoff Coughlin (August 2021)
I was contacted by Sven at 1Manarmy and made aware of this new range of high quality airbrush painting masks that cover basic markings and stencils for a number of popular subjects.
I urge you to go and take a good look at the 1Manarmy website where you'll find plenty of useful information and some great FAQs and answers.
Take a look at my short video to see what's on offer in this set:
---
Vought F4U-1A Corsair (1:32 scale high definition airbrush masks) Set: 32DET005
---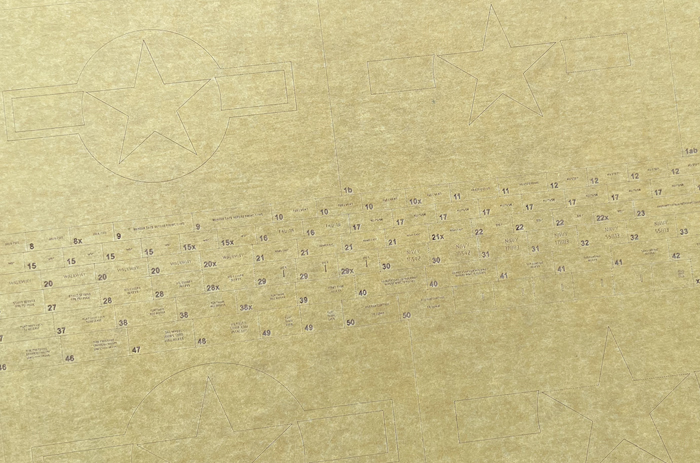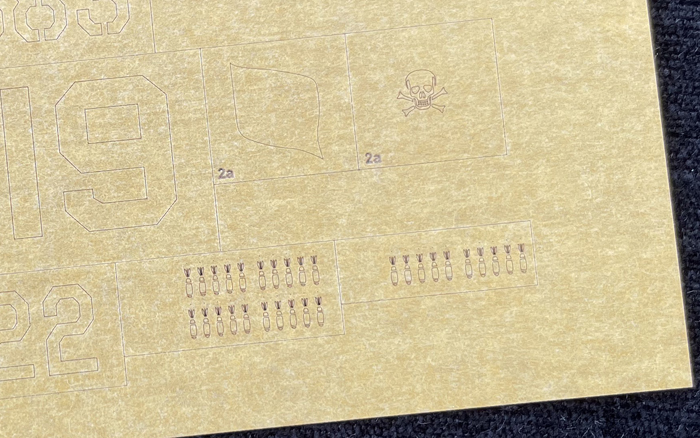 As you can see, the definition is superb and there's even a small non-sticky area at the corner of each mask that makes handling each mask with tweezers so much easier.
All the masks are individually numbered and are found easily on the instruction booklet included in each set, making placement very straightforward.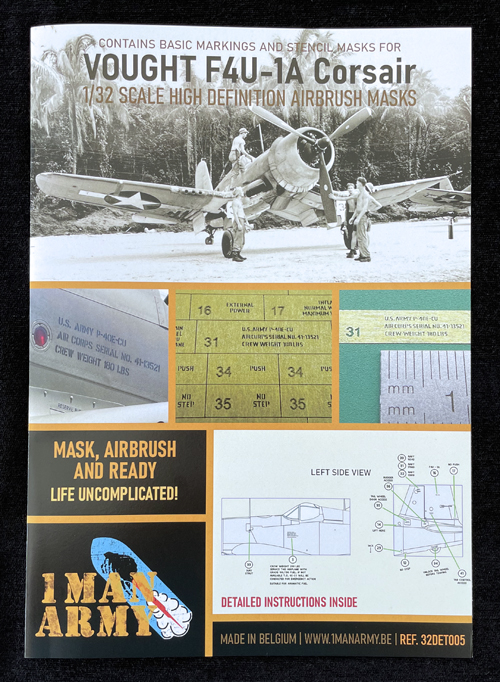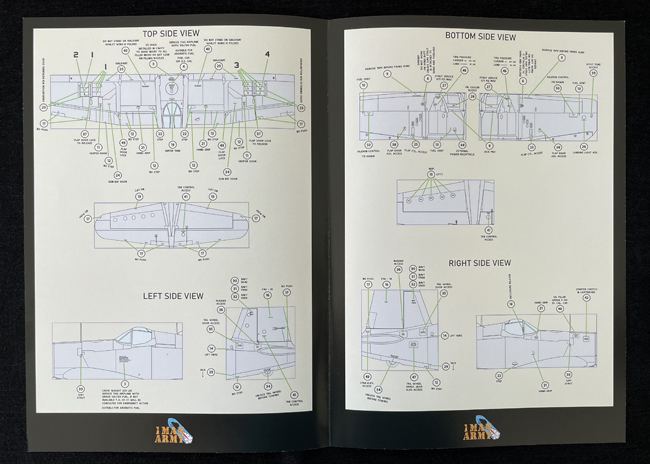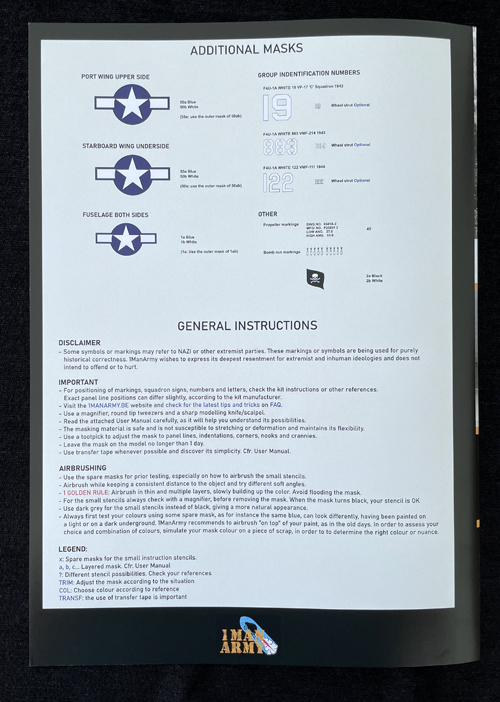 Instruction manual…
This is absolutely where you start before trying to use each mask as there is really important information, hints and advice that you just need to get fixed in your head and then, away you go! The Instruction Manual is freely available as a PDF download from the 1Manarmy website.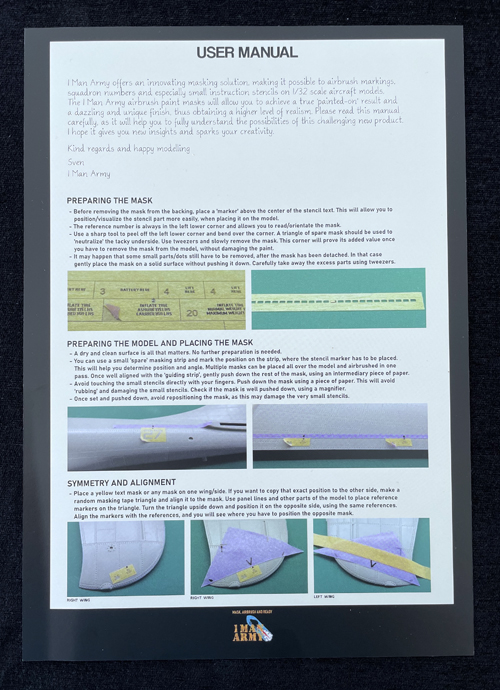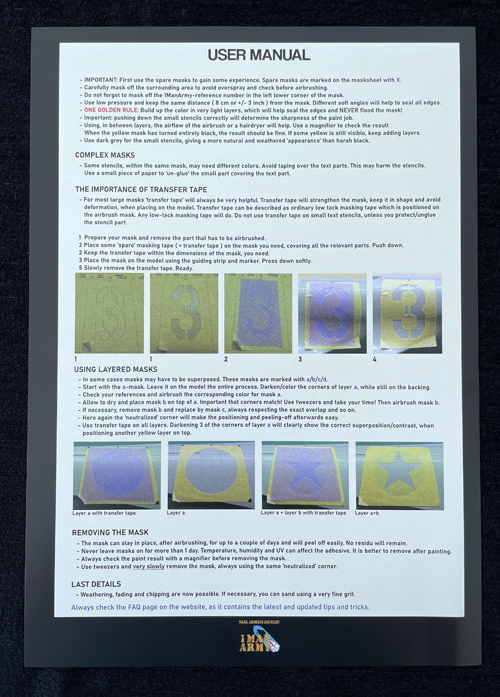 I read through the booklet and instructions in the pack and certainly feel ready to make a start – all I need is a suitable project!
Sven kindly sent another couple of sets, one for the hawker Hurricane Mk.II RAF 1941 and one for the Heinkel 219 'Uhu'.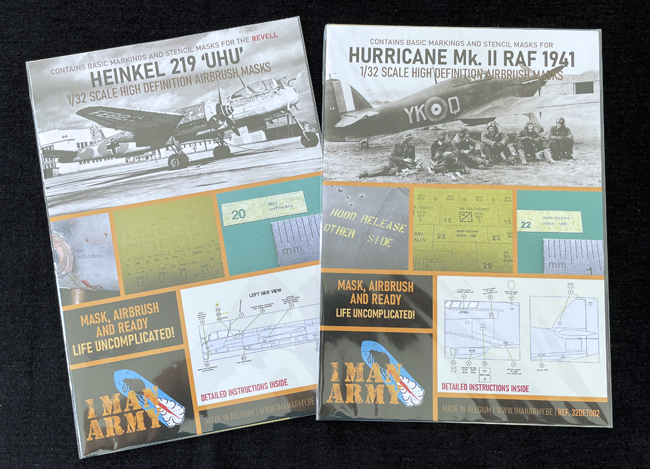 These masking sets look to be the highest quality and I can see no reason why they won't work very easily if you just follow the clear directions included in each pack.
I certainly rate these sets very highly mainly because they are so well produced in quality terms and also because they have very clear instructions, advice and tips – the complete package – what more do you need?
We'll certainly be trying them out as soon as we can and will add videos to SMN to help you.
Geoff C.