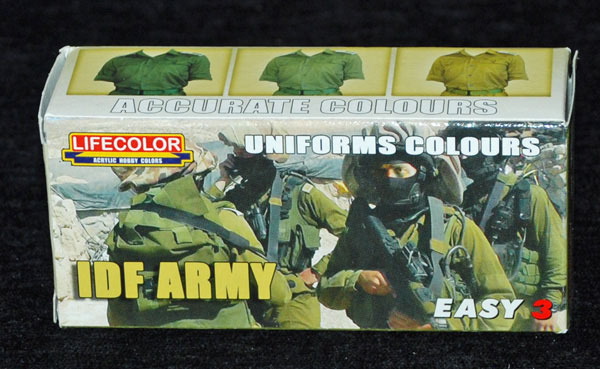 Ref: LC-MS10
Price around: £8.50 GBP (includes 3-bottle set, each 22ml)
Review by Geoff Coughlin (April 2014)
Our thanks to The Airbrush Company Ltd for supplying our review sample. Get this set here now.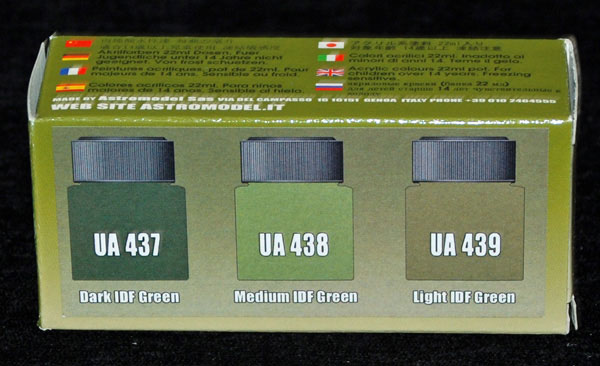 Water soluble acrylic colours for modelling and hobby. Lifecolor is excellent for paint brushing or airbrushing on plastic and resin. Getting the right combination of authentic colours for uniform and battledress can be difficult and so when this is made easy, getting hold of one of the sets from this 'Uniform Colours' range can be a good idea.
In this latest paint set from Lifecolor there are three paints:
UA 437 Dark IDF Green
UA 438 Medium IDF Green
UA 439 Light IDF Green
All you need now is to add your own imagination to these colours and your models will come to life right in front of you.
This new set is going to be really useful for armour modellers but isn't restricted to that area of the hobby, aircraft, Sci-Fi, auto and maritime modellers to mention a few can all benefit.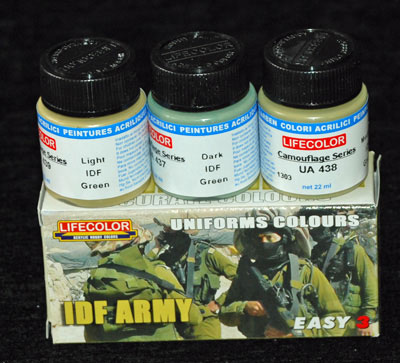 Using Lifecolor:
Clean surfaces to be painted
For airbrushing, dilute the colour to a milky consistency using water or Lifecolor Thinner.
Airbrush at very low pressures. (Iwata airbrushes give the excellent performance and atomisation at low pressures.)
Apply colour in thin coats with a brush or airbrush
Allow to dry completely between coats
Clean your airbrush with airbrush cleaner and flush through with water
Recommended
Geoff C.