Reference number: LC-XS09
22ml x 6
Price around £16.99 GBP
Review by Geoff Coughlin (Sep 2013)
Our thanks to The Airbrush Company Ltd for supplying our review sample. Get this excellent set here now at: www.airbrushes.com
Initial comments
You will see that we have reviewed many of the Lifecolor sets and pigments already in Here Now. We continue to use the paints in our builds when it is appropriate and so Build Now and Finished Now will contain model projects using Lifecolor as well as many other manufacturers' products too.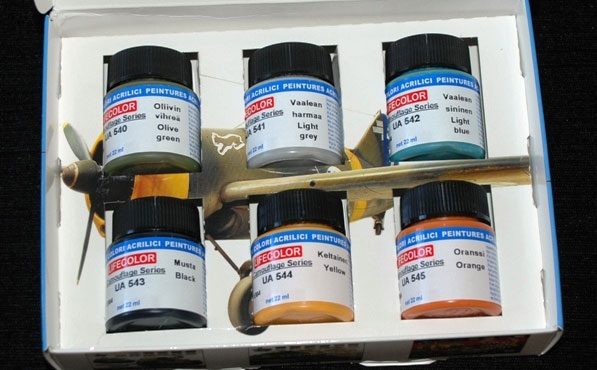 Water soluble acrylic colours for modelling and hobby. Lifecolor is excellent for paint brushing or airbrushing on plastic, resin, metal, vinyl, wood, cloth and ceramic.
This set of colours is dedicated to the Finnish Aircraft during the WWII; historical research by Raimo Heikkinen.
This set includes:
UA 540 Oliivin Vihreä : Finnish Olive Green
UA 541 Vaalean Harmaa : Finnish Light Grey
UA 542 Vaalean Sininen : Finnish Light Blue
UA 543 Musta : Finnish Black
UA 544 Keltainen : Finnish Yellow
UA 545 Oranssi : Finnish Orange
Quality
I like this paint range, as with a little Lifecolor thinner added they spray really nicely and give a smooth finish with good colour and a quick drying time. I find as with all acrylics the tip of the airbrush tends to clog but a paintbrush moistened with water applied every few minutes depending on conditions and pressure, cleans it and allows you to continue. I do leave my colours to dry for 24 hrs to be safe and it pays off but others do not do this and get good results.
Instructions
The instructions for use are as usual on the back of the box in 4 languages with some no nonsense advice.
Conclusions
If Finnish WWII aviation is your thing; get some and try it out and I'm sure you will not be disappointed with the results.
Highly recommended
Geoff C.