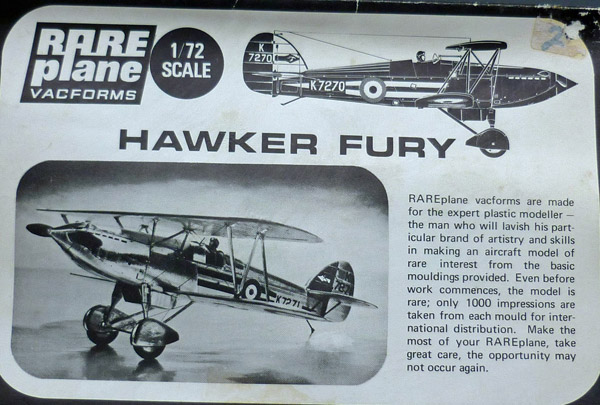 (Vac-form model kit)
Special Feature Article with Fred Martin
---
A note from Geoff C…
It's a real pleasure to be able to bring you this excellent build article from Fred M showing how he tackled the Rareplanes vac-form Hawker Fury kit. Vac-forms are certainly challenging and with some experience can be built by many modellers, it just takes plenty of practice, patience, care and some careful planning. The great thing is that you can often find some really interesting subjects that are only available in vac-form so they are well worth a look.
Thanks to Fred for a great job and sharing his knowledge of building vac-forms with us all.
Just before I hand over to Fred to tell his story of this build, here's a photo of how his Rareplanes Hawker Fury turned out and a little background to the type…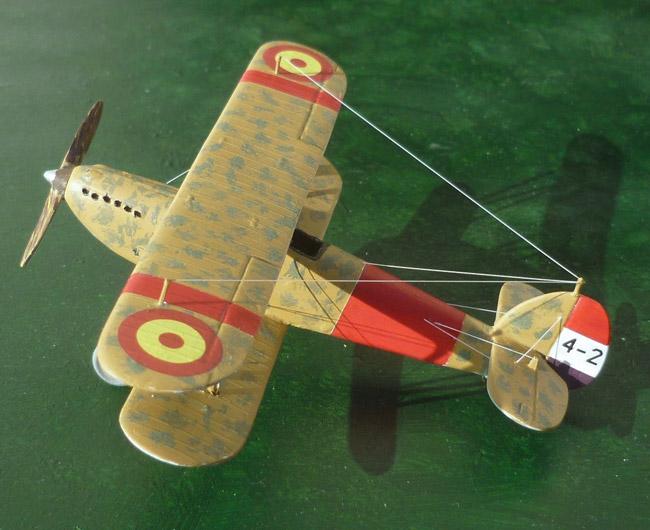 ---
The Hawker Fury was a British biplane fighter aircraft used by the Royal Air Force in the 1930s. It was a fast, agile aircraft, and was the first interceptor in RAF service capable of speed higher than 200 mph. It was the fighter counterpart to the Hawker Hart light bomber.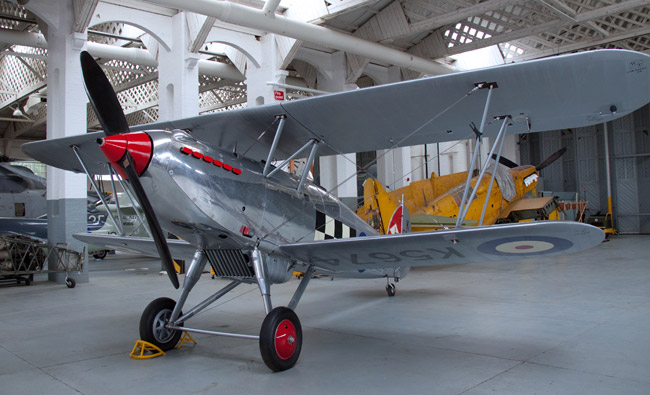 The Fury I entered squadron service with the RAF in May 1931, re-equipping No. 43 Squadron. Owing to finance cuts in the Great Depression, only relatively small numbers of Fury Is were ordered, the type equipping No. 1 and 25 squadrons. At the same time, the slower Bristol Bulldog equipped ten fighter squadrons. The Fury II entered service in 1936–1937, increasing total number of squadrons to six. Furies remained with RAF Fighter Command until January 1939, replaced primarily with Gloster Gladiators and other types, such as Hawker Hurricane. After their front line service ended, they continued in use as trainers.
The Fury was exported to several customers, being supplied with a variety of engines, including Kestrels, Hispano Suiza and Lorraine Petrel vee-type engines, Armstrong Siddeley Panther, Pratt & Whitney Hornet and Bristol Mercury radials.
Three Furies were ordered by Spain in 1935, it being intended to produce another 50 under licence. The Spanish variant had a cantilever undercarriage design with Dowty internally sprung wheels, similar to that used on the Gladiator and was powered by a 612 hp (457 kW) Hispano Suiza 12Xbr engine, reaching a speed of 234 mph (377 km/h). The three Furies were delivered without armament on 11 July 1936, just before the outbreak of the Spanish Civil War. They were taken into service by the Spanish Republican Air Force, being fitted with machine guns salvaged from crashed aircraft. One Fury made a forced landing behind enemy lines due to a lack of fuel and was repaired by the Nationalists, although it was not used operationally, while the Republicans used one of the Furies in the defence of Madrid until wrecked in a crash in November 1936.
Although withdrawn from RAF squadrons, the Fury was still used by some foreign air forces in the early 1940s; Yugoslav Furies saw action against Axis forces in the German invasion of 1941. On 6 April 1941, a squadron of Furies took off against the invading German Messerschmitt Bf 109Es and Messerschmitt Bf 110s. In the resulting air battle 10 Furies were destroyed, almost the entire squadron. The commanding officer of the 36 LG was Major Franjo Džal, who watched from the ground as his men were slaughtered in their obsolete biplanes. In an unequal battle against superior adversaries, five aircraft were destroyed while taking off and eight pilots killed. Two more Furies and Bücker Bü 131 were destroyed on the ground. Of the attacking German aircraft, five Bf-109s and two Bf-110s failed to return, though most were non-combat losses, at least one was lost when rammed by a Fury. The other squadron of Yugoslav Furies active at the time of the invasion strafed enemy tanks and ground forces, some being lost to ground fire and one being destroyed in a dogfight with a Fiat CR.42. The rest of the Yugoslav Furies were destroyed when they became unserviceable or at the time of Armistice on 15 April. Ex-RAF Furies were also used by the South African Air Force against the Italian forces in East Africa in 1941 and despite their obsolescence, destroyed two Caproni bombers as well as strafing many airfields, destroying fighters and bombers on the ground.
A total of 262 Furies were produced, of which 22 served in Persia, 3 in Portugal, at least 30 in South Africa, 3 in Spain, at least 30 in Yugoslavia and the remainder in the United Kingdom. (Source: Wikipedia)