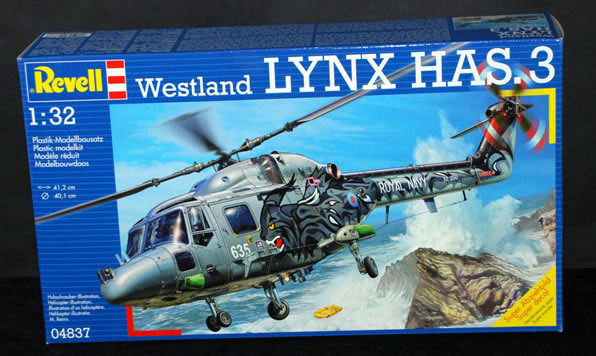 Review by James Vaitkevicius
From Geoff
At the time of writing (Sep 2013) this is SMN's third build project of the Revell 1:32 Westland Lynx:
Conversion from HAS.3 to HMA.8 by Malcolm Lintonauteis
Westland Sea Lynx Mk.88 by Andy Goodwin in that stunning 'Cat' scheme
Both are superb builds involving many different and varied techniques and challenges and ending successful builds that simply look great – check them out and you'll see what I mean!
This build by James V then is a pretty straightforward go at getting a decent model from the box, so over to you James… Oh, here's a quick sneak peek of James's completed model.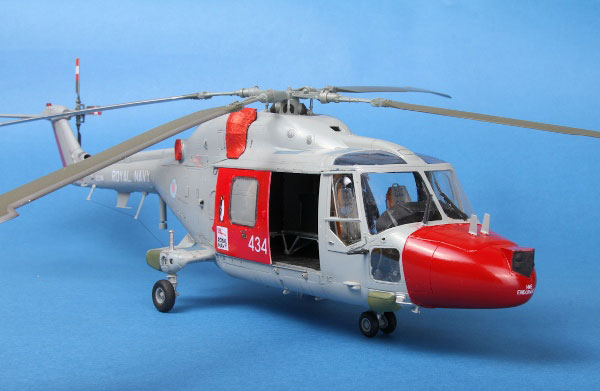 Introduction
It seems over the last year or so that we as a modelling community have been spoiled with some long overdue helicopter kits from the likes of Airfix, Italeri and Revell of Germany (RoG). Perhaps the most exciting release for me at the end of 2012 was the German variant of the Lynx, covered in a recent review by Andy Goodwin. When Geoff asked me to review the Royal Navy variant, I could hardly resist could I? It is rare to see a helicopter being released in 1:32 scale as over the years Academy have released a number of kits in 1:35 scale; perhaps this is a sign of things to come, and I for one, cannot wait!
Getting Started
The kit itself is a mixture of the previously released Mk.88 Lynx and newly moulded parts for the Royal Navy HAS.3 markings. These are easily identified with the German parts being moulded in white and the HAS.3 parts in light grey. This is a bit unusual in my mind, but I am sure that RoG know what they are doing. The kit also can be finished in two RN schemes, one being the famous Black Cat markings, and perhaps a little more special, the nicely coloured Red/Grey scheme from HMS Endurance in 2001. I have decided to complete mine in the Endurance scheme as this is a little more unusual than the Black Cat markings.