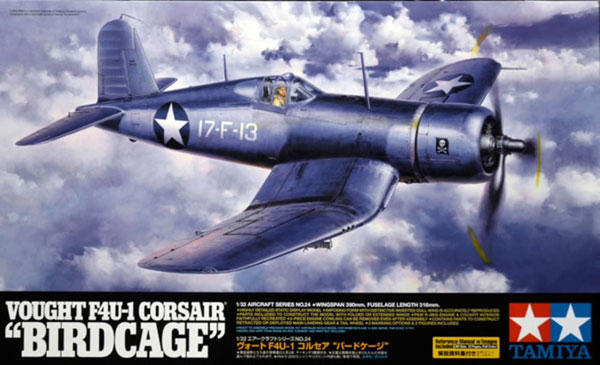 Review by Dave Coward
Background
The U.S. Navy received its first production F4U-1 on 31 July 1942, but getting it into service proved difficult. The framed "birdcage" style canopy provided inadequate visibility for deck taxiing. Even more seriously, the machine had a nasty tendency to "bounce" on touchdown, which could cause it to miss the arresting hook and slam into the crash barrier, or even go out of control. The long "hose nose" visibility problem and the enormous torque of the Double Wasp engine also created operational problems.
Marine Service
Carrier qualification trials on the escort carrier USS Sangamon, on 25 September 1942, caused the U.S. Navy to release the type to the United States Marine Corps. Early Navy pilots spoke disparagingly of the F4U as the "hog", "hosenose" or "bent-wing widow maker". After all, the U.S. Navy still had the Grumman F6F Hellcat, which did not have the performance of the F4U but was a far better deck landing aircraft. The Marines needed a better fighter than the F4F Wildcat. For them, it was not as important that the F4U could be recovered aboard a carrier, as they usually flew from land bases. Growing pains aside, Marine Corps squadrons readily took to the radical new fighter; the Corsair would always be more of a USMC fighter than a USN fighter. The type was declared "ready for combat" at the end of 1942, though only qualified to operate from land bases until carrier qualification issues were worked out.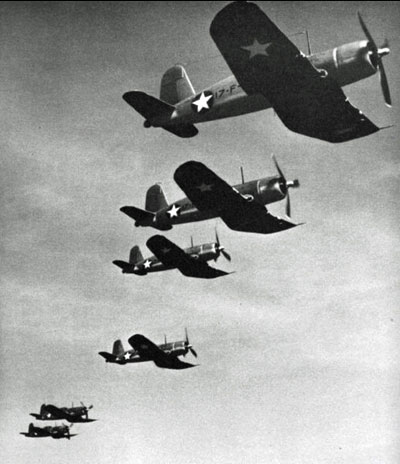 From February 1943 onward, the F4U operated from Guadalcanal and ultimately other bases in the Solomon Islands. A dozen USMC F4U-1s of VMF-124, commanded by Major William E. Gise, arrived at Henderson Field (code name "Cactus") on 12 February. The first recorded combat engagement was on 14 February 1943, when Corsairs of VMF-124 under Major Gise assisted P-40s and P-38s in escorting a formation of Consolidated B-24 Liberators on a raid against a Japanese aerodrome at Kahili. Japanese fighters contested the raid and the Americans got the worst of it, with four P-38s, two P-40s, two Corsairs and two Liberators lost. No more than four Japanese Zeros were destroyed. A Corsair was responsible for one of the kills, although this was due to a mid-air collision. The fiasco was referred to as the "Saint Valentine's Day Massacre". Although the Corsair's combat debut was not impressive, the Marines quickly learned how to make better use of the aircraft and started demonstrating its superiority over Japanese fighters. By May, the Corsair units were getting the upper hand, and VMF-124 had produced the first Corsair ace, Second Lieutenant Kenneth A. Walsh, who would rack up a total of 21 kills during the war.
I learned quickly that altitude was paramount. Whoever had altitude dictated the terms of the battle, and there was nothing a Zero pilot could do to change that — we had him. The F4U could outperform a Zero in every aspect except slow speed manoeuvrability and slow speed rate of climb. Therefore you avoided getting slow when combating a Zero. It took time but eventually we developed tactics and deployed them very effectively… There were times, however, that I tangled with a Zero at slow speed, one on one. In these instances I considered myself fortunate to survive a battle. Of my 21 victories, 17 were against Zeros, and I lost five aircraft in combat. I was shot down three times and I crashed one that ploughed into the line back at base and wiped out another F4U.
VMF-113 was activated on 1 January 1943 at Marine Corps Air Station El Toro as part of Marine Base Defence Air Group 41. They were soon given their full complement of 24 F4U Corsairs. On 26 March 1944, while escorting four B-25 bombers on a raid over Ponape, they recorded their first enemy kills, downing eight Japanese aircraft. In April of that year, VMF-113 was tasked with providing air support for the landings at Ujelang. Since the assault was unopposed, the squadron quickly returned to striking Japanese targets in the Marshall Islands for the remainder of 1944.
Corsairs were flown by the "Black Sheep" Squadron (VMF-214, led by Marine Major Gregory "Pappy" Boyington) in an area of the Solomon Islands called "The Slot". Boyington was credited with 22 kills in F4Us (of 28 total, including six in an AVG P-40, although his score with the AVG has been disputed). Other noted Corsair pilots of the period included VMF-124's Kenneth Walsh, James E. Swett, and Archie Donohue, VMF-215's Robert M. Hanson and Don Aldrich, and VF-17's Tommy Blackburn, Roger Hedrick, and Ira Kepford. Night fighter versions equipped Navy and Marine units afloat and ashore.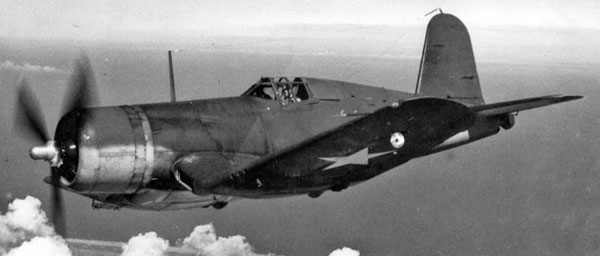 One particularly unusual kill was scored by Marine Lieutenant R. R. Klingman of VMF-312 (the "Checkerboards"), over Okinawa. Klingman was in pursuit of a Kawasaki Ki-45 Toryu ("Nick") twin-engine fighter at extremely high altitude when his guns jammed due to the gun lubrication thickening from the extreme cold. He flew up and chopped off the Ki-45's tail with the big propeller of the Corsair. Despite missing five inches (127 mm) off the end of his propeller blades, he managed to land safely after this aerial ramming attack. He was awarded the Navy Cross.
At war's end, Corsairs were ashore on Okinawa, combating the kamikaze, and also were flying from fleet and escort carriers. VMF-312, VMF-323, VMF-224, and a handful of others met with success in the Battle of Okinawa.
Navy Service
Despite the decision to issue the F4U to Marine Corps units, two Navy units, VF-12 (October 1942) and later VF-17 (April 1943) were equipped with the F4U. By April 1943, VF-12 had successfully completed deck landing qualification. However, VF-12 soon abandoned its aircraft to the Marines. VF-17 kept its Corsairs, but was removed from its carrier, USS Bunker Hill, due to perceived difficulties in supplying parts at sea. In November 1943, while operating as a shore-based unit in the Solomon Islands, VF-17 reinstalled the tail hooks so its F4Us could land and refuel while providing top cover over the task force participating in the carrier raid on Rabaul. The squadron's pilots landed, refuelled, and took off from their former home, Bunker Hill and the USS Essex on 11 November 1943.
Twelve USMC F4U-1s arrived at Henderson Field (Guadalcanal) on 12 February 1943. The U.S. Navy did not get into combat with the type until September 1943. The work done by the Royal Navy's FAA meant those models qualified the type for U.S. carrier operations first. The U.S. Navy finally accepted the F4U for shipboard operations in April 1944, after the longer oleo strut was fitted, which finally eliminated the tendency to bounce. The first Corsair unit to be based effectively on a carrier was the pioneer USMC squadron VMF-124, which joined Essex. They were accompanied by VMF-213. The increasing need for fighter protection against kamikaze attacks resulted in more Corsair units being moved to carriers.