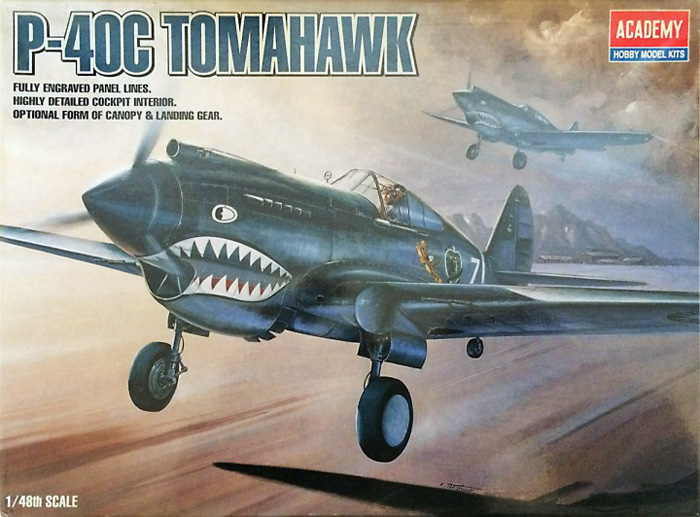 Short Feature Article by Gino Marcomini
A note from Geoff…
When I saw this impressive model by Gino I had to ask permission to feature it in SMN. This is just one of those heavily weathered models that just looks right to me – given the realities of where the type operated in WWII in the Russian armed services.
So, this is only a short feature article but the model, as Gino says, is very straightforward to build and so he focuses most of his words on how he created his finish.
What's interesting is that Gino has used several weathering techniques like the 'Hairspray' method and so on and you'll find HD video demos for these in your SMN Techniques Bank – Model Weathering & Finishing Techniques.
---
Here's a little bit about the P-40 in Russian service
The Soviet Voyenno-Vozdushnye Sily (VVS; "Military Air Forces") and Morskaya Aviatsiya (MA; "Naval Air Service") also referred to P-40s as "Tomahawks" and "Kittyhawks". In fact, the Curtiss P-40 Tomahawk / Kittyhawk was the first Allied fighter supplied to the USSR under the Lend-Lease agreement. The Soviet units received 247 P-40B/Cs (equivalent to the Tomahawk IIA/B in RAF service) and 2,178 P-40E, K, L, and N models between 1941 and 1944. The Tomahawks were shipped from Great Britain and directly from the US, many of them arriving incomplete, lacking machine guns and even the lower half of the engine cowling. In late September 1941, the first 48 P-40s were assembled and checked in USSR.
Test flights showed some manufacturing defects: generator and oil pump gears and generator shafts failed repeatedly, which led to emergency landings. The test report indicated that the Tomahawk was inferior to Soviet M-105P-powered production fighters in speed and rate of climb. However, it had good short field performance, horizontal manoeuvrability, range and endurance. Nevertheless, Tomahawks and Kittyhawks were used against the Germans. The 126th IAP fighting on the Western and Kalinin fronts were the first unit to receive the P-40. The regiment entered action on 12 October 1941. By 15 November 1941, that unit had shot down 17 German aircraft. However, Lt (SG) Smirnov noted that the P-40 armament was sufficient for strafing enemy lines but rather ineffective in aerial combat. Another pilot, S.G. Ridnyy (Hero of Soviet Union), remarked that he had to shoot half the ammunition at 50–100 meters (164–339 ft) to shoot down an enemy aircraft.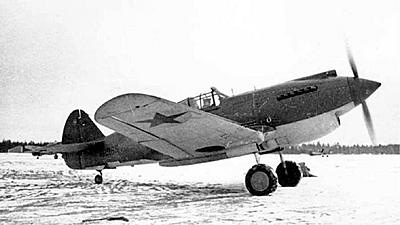 In January 1942, some 198 aircraft sorties were flown (334 flying hours) and 11 aerial engagements were conducted, in which five Bf 109s, one Ju 88, and one He 111 were downed. These statistics reveal a surprising fact: it turns out that the Tomahawk was fully capable of successful air combat with a Bf 109. The reports of pilots about the circumstances of the engagements confirm this fact. On 18 January 1942, Lieutenants S. V. Levin and I. P. Levsha (in pair) fought an engagement with seven Bf 109s and shot down two of them without loss. On 22 January, a flight of three aircraft led by Lieutenant E. E. Lozov engaged 13 enemy aircraft and shot down two Bf 109Es, again without loss. Altogether, in January, two Tomahawks were lost; one downed by German antiaircraft artillery and one lost to Messerschmitts.
The Soviets stripped down their P-40s significantly for combat, in many cases removing the wing guns altogether in P-40B/C types, for example. Soviet Air Force reports state that they liked the range and fuel capacity of the P-40, which were superior to most of the Soviet fighters, though they still preferred the P-39. Soviet pilot Nikolai G. Golodnikov recalled: "The cockpit was vast and high. At first it felt unpleasant to sit waist-high in glass, as the edge of the fuselage was almost at waist level. But the bullet-proof glass and armoured seat were strong and visibility was good. The radio was also good. It was powerful, reliable, but only on HF (high frequency). The American radios did not have hand microphones but throat microphones. These were good throat mikes: small, light and comfortable. The biggest complaint of some Soviet airmen was its poor climb rate and problems with maintenance, especially with burning out the engines. VVS pilots usually flew the P-40 at War Emergency Power settings while in combat, bringing the acceleration and speed performance closer to that of their German rivals, but could burn out engines in a matter of weeks. They also had difficulty with the more demanding requirements for fuel quality and oil purity of the Allison engines. A fair number of burnt out P-40s were re-engined with Soviet Klimov engines but these performed relatively poorly and were relegated to rear area use.
The P-40 saw the most front line use in Soviet hands in 1942 and early 1943. Deliveries over the Alaska-Siberia ALSIB ferry route began in October 1942. It was used in the northern sectors and played a significant role in the defence of Leningrad. The most numerically important types were P-40B/C, P-40E and P-40K/M. By the time the better P-40F and N types became available, production of superior Soviet fighters had increased sufficiently so that the P-40 was replaced in most Soviet Air Force units by the Lavochkin La-5 and various later Yakovlev types. In spring 1943, Lt D.I. Koval of the 45th IAP gained ace status on the North-Caucasian front, shooting down six German aircraft flying a P-40. Some Soviet P-40 squadrons had good combat records. While Soviet pilots became aces on the P-40, not as many as on the P-39 Airacobra, which was the most numerous Lend Lease fighter used by the Soviet Union. However Soviet commanders considered the Kittyhawk to significantly outclass the Hurricane, although it was "not in the same league as the Yak-1.
The Academy kit
The Academy P-40C is a good kit. Of course it needs some corrections and upgrades here and there but even if built out of the box could become a good item in your collection (not to mention that it is very cheap).