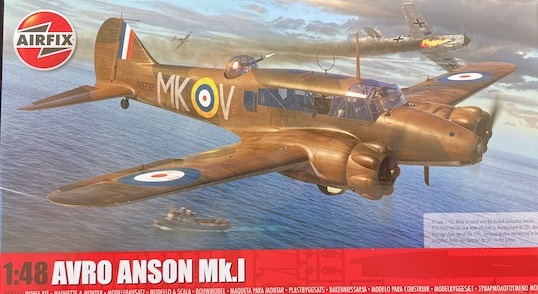 Feature Article with Dave Coward
Background
When Airfix released this kit I was both very surprised and very pleased as it was one of those really interesting and unusual subjects that I never thought would be released by a mainstream manufacturer like Airfix. The Anson was never one of those 'Star aircraft' that everyone instantly recognises but it had a long career that started in 1935 with an initial role as a Maritime Patrol Aircraft (MPA) but it is better known in its role as a trainer that was responsible for training many thousands of aircrew throughout WWII and after right up until 1968. It served with multiple airforces in multiple theatres ranging from Europe to North America to the Far East and Australia. The kit covers the roles of both MPA and trainer and gives options for British, Canadian and Australian aircraft. A video in-box browse can be found in SMN by Geoff that gives loads more information about what is in the box and all the options.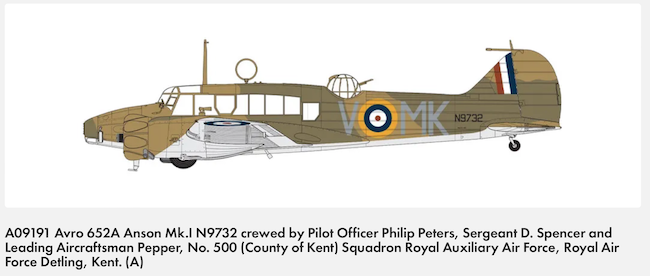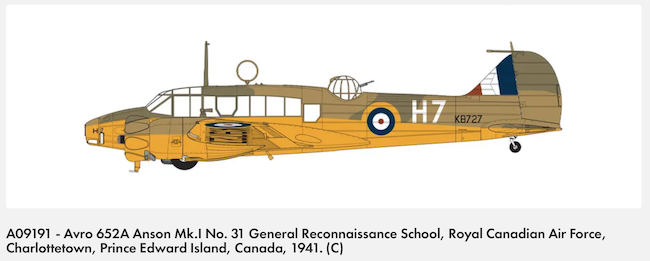 Before we get started, here's a look at how it all turned out…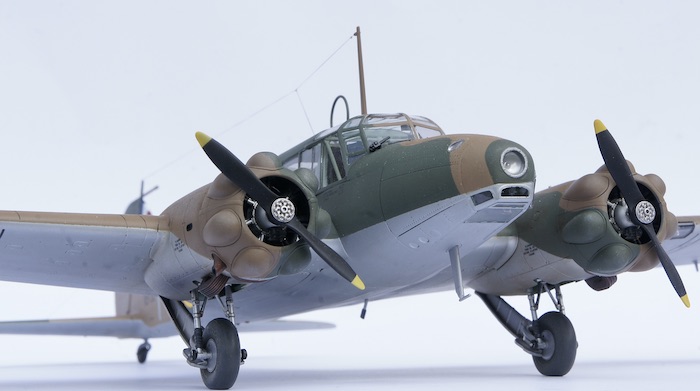 Also…
Rob Ruscoe has completed a build too so you may want to look at that as well.
---
From Airfix…
Although not generally regarded as one of the most fashionable British aircraft to see service during the Second World War, the Avro Anson was nevertheless one of the most important aircraft not only of the inter-war years, but also during WWII itself and is deserving of more recognition than it usually receives. An aircraft which began its development in 1933 as a high speed, long range, modern mail-carrying charter aircraft, the Avro 652 was still in development when the British Air Ministry issued a requirement for a twin engined, general reconnaissance and multi-role aircraft capable of performing a variety of roles for both the Royal Air force and the Royal Navy.
The Avro team felt that their new aircraft would be perfect for the role and later entered it in an official evaluation programme with the competitor de Havilland DH89M, the military version of their biplane Dragon Rapide. The Avro design was found to possess greater range and endurance and whilst not without a few areas which would require some design modifications, an initial order for 174 militarised aircraft was placed. The Avro 652 would be given the name Anson after an Eighteenth Century British Admiral of the fleet, a development which did not please everyone at the Air Ministry, but as the aircraft was intended to undertake maritime patrols, the name did seem rather appropriate.
Highlighting the importance of the Avro Anson as a British aircraft type, when it entered service with No.48 Squadron at RAF Manston in March 1936, it became the first monoplane type to achieve squadron service status, but was also the first RAF aircraft to feature a retractable undercarriage. At this time, the advanced Anson quickly began to attract attention from several other countries and in order to capitalise on this interest, some aircraft were diverted from existing RAF orders to fulfil these requirements, with full production forcing Avro to open new manufacturing facilities in the North West of England. The RAF Anson Mk.I was equipped with a fixed forward firing .303 machine gun operated by the pilot and a single Lewis gun mounted in the manually traversed dorsal turret. It could also be equipped with a modest bomb load, something which was required by submarine hunting aircraft operated by Coastal Command and whilst there were no reports of an Anson sinking a U-Boat, their presence would keep these feared hunters submerged.
During the Dunkirk evacuations, Ansons used to cover the operation came under attack by Messerschmitt Bf 109 fighters, which had real difficulty engaging the slow flying British aircraft. Consistently overshooting the Ansons, they came in the sights of the aircraft's forward firing gun and astonishingly, two of the Luftwaffe fighters were shot down and a third was badly damaged, with all the Ansons escaping from the engagement unscathed.
Despite the fact that the RAF entered the Second World War with 26 squadrons equipped with Avro Ansons, they were basically obsolete as a fighting machine and particularly for the ones assigned to Bomber Command, they were quickly withdrawn to secondary training roles, a task for which the 'Faithful Annie' was particularly well suited. As part of the Empire Air Training Scheme, many thousands of aircrew destined for service with Bomber Command were trained both in the UK and overseas, including those destined to serve in the Avro Lancaster, the mighty bomber which was produced in some of the same factories previously used to produce Ansons.
With just under 11,000 Ansons eventually produced, the final RAF example was only withdrawn from service as a station communications aircraft in 1968.
---