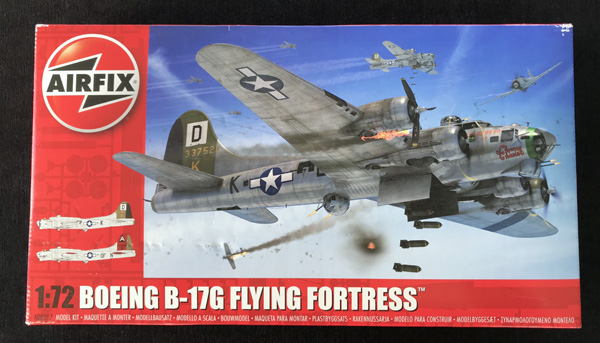 Short Feature Article with Manuel Magrinho
---
A note from Geoff C…
You may remember that when the re-tooled B-17G came out from Airfix in 2016 I just had to build it. You'll find that full build that contains multiple HD videos demos in the usual place: Aircraft-Finished Now-Airfix.
In addition, there is a full in-box review here.
So over to you Manuel for your story on this most interesting project…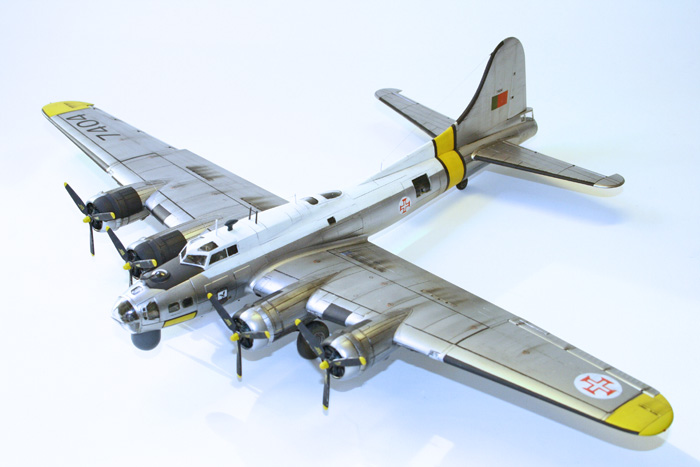 ---
History
The B-17G was the final version of the Flying Fortress, incorporating all changes made to its predecessor, the B-17F. Many B-17Gs were converted for other missions such as cargo hauling, engine testing and reconnaissance. Initially designated SB-17G, a number of B-17Gs were also converted for search-and-rescue duties and weather missions, later to be re-designated B-17H.
B-17s were still used in the Pacific later in the war, however, mainly in the search and rescue role. A number of B-17Gs, re-designated B-17Hs and later SB-17Gs, were used in the Pacific during the final year of the war to carry and drop lifeboats to stranded bomber crews who had been shot down or crashed at sea. These aircraft were nicknamed Dumbos and remained in service for many years after the end of World War II.
Work on using B-17s to carry airborne lifeboats had begun in 1943, but they entered service in the European theatre only in February 1945. About 130 B-17s were converted to the air-sea rescue role, at first designated B-17H and later SB-17G. For this role, a large radome for an S-band AN/APS-20 search radar was fitted underneath the fuselage and additional internal fuel tanks were added for longer range.
By early 1950s the USA sold four SB-17 to Portugal to be used in the Azores archipelago in the SaR role. They soon became relegate to weather missions as the UH-19 proved more efficient.
The challenge…
One of the Portuguese pilots that flew those mission (both on the SB-17 as on the UH-19) was Commander Peixoto Rodrigues. His sons gave me the grateful honour of build their father aircraft, providing me a lot of photographs and even his flight logbook.
The challenge was immense, and failure was not an option, I had to build a nice model: Alea jacta est
Having decided on the scale (1:72), it remains to choose a suitable kit. My option went to the (then) new Airfix. The kit as a new tool and seemed well engineered. Sure, it was a simple G, not an SB, but I would do all the scratch and modifications needed.
As we decided to build the plane that the Commander Peixoto Rodrigues flew on the 3rd of January, 1954 from Lajes, Azores to Sal, Cape Verde, plate number had to be 7404 (from his logbook).