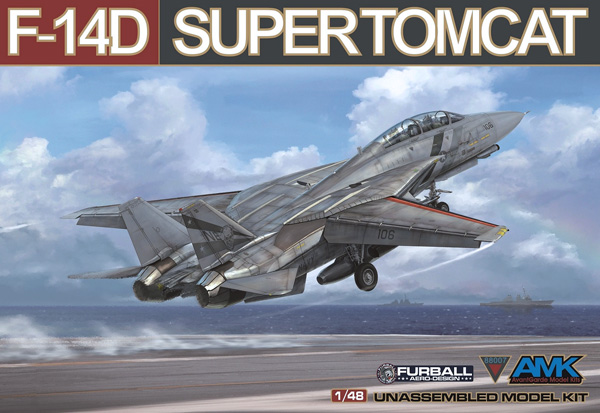 Full Review with Dave Coward
---
A note from Geoff C…
Really pleased that Dave C has now finished this project – I know that many of you, including me will want a close look at what AMK has to offer with their Grumman F-14D Tomcat release, especially given the stunning F-14A Tomcats that we have already featured several times in SMN.
Here's a look at how it all turned out with Dave's F-14D…



Now how sexy is that scheme!
Over to you Dave for your story on this one…
---
Background
There's an old saying that you wait for hours for a bus and then several turn up at the same time and this the case here, just replace buses for F-14!!
AMK announced their intention to produce a new-tool F-14D several years ago, well before Tamiya had even revealed theirs. This kit was highly anticipated as a new tool F-14 was badly needed but AMK's production time line continued to slip to the extent that Tamiya not only stole the show with its exceptional F-14A but its second releases of the D model was over a year before AMK finally managed to get their kit on the market. This was a real hit for AMK as Tamiya appeared to have stolen a large part of their anticipated market but they continued with the project and finally released the kit in August 2019.
I was initially going to buy the kit when it was first announced but then got my F-14 'fix' with the Tamiya release so I decided not to bother with the AMK kit but when one turned up for sale second hand at a very good price it was too much of a bargain to step away from, and it would be nice to compare it to Tamiya's kit.
Some initial observations about the kit when compared to the Tamiya kit are:
The option for flaps and slats on the wings
The position of the wings is fixed – you need to choose one of three positions early on in the build – the wings do not sweep like the Tamiya kit
Canopy detail is better with the A/C ducting along the canopy rims
The nose cone is separate and one piece – no need to worry about awkward ghost seams
Surface detail is nice but not quite as refined as the Tamiya kit
Clear parts for the Nav and positioning lights on the wing tips, tails and fuselage
Different options for the intake rams – Tamiya's are fixed in the up position.
There is a PE sheet but it's not that great.
I have previously made AMK's Fouga Magister which is a nice kit but their MiG-31 Foxhound was one of the best kits I have made so I had high hopes for this F-14.
On opening the box, you will find it packed to the top with plastic and sub boxes. Unpacking the box reveals 21 larger sprues and two fuselage halves (upper and lower sections), plus another 30 smaller sprues of weapons and other stores, a Photo-Etch (PE) sheet, three decal sheets and the instruction booklet.
An initial look at the parts is very promising with nice detail and no flash to be seen. The slide moulded front fuselage and weapons are especially novel and quite impressive. Talking of the weapons… AMK produced a separate weapon set but there is no need to purchase this as the kit contains the full range of weapons that the D could carry. These are :
4 x AIM-54 Phoenix
4 x GBU-31 JDAM
4 x GBU-38 JDAM
4 x GBU-16 PAVEWAY II
4 x GBU-12 PAVEWAY II
1 x LANTIRN targeting pod
1 x TARPS Tactical Airborne Reconnaissance Pod System
4 x AIM-9 Sidewinder
4 x AIM-7 Sparrow.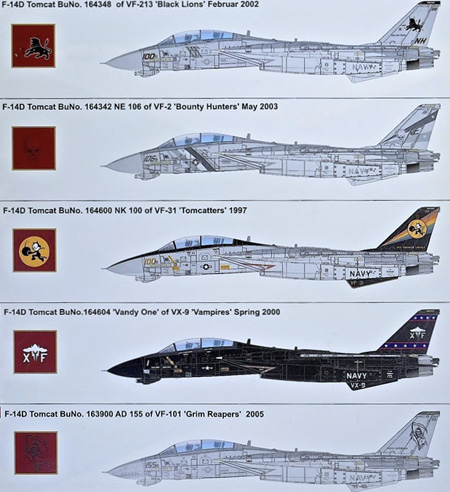 The decals are designed by Furball Aero Designs and come on three sheets, two covering the aircraft major markings and one covering the stencilling and weapons. They look to be well produced and are all in register so I hold out high hopes for these. The kit decal options are:
BuNo.164348 of VF-213 Black Lions, Feb 2002
BuNo.164342 NE 106 of VF-2 Bounty Hunters, May 2003
BuNo.164600 NK 100 of VF-31 Tomcatters, 1997
BuNo.164604 Vandy One of VX-9 Vampires, Spring 2000
BuNo.163900 AD 155 of VF-101 Grim Reapers, 2005.
References used
DACO F-14
Detail and Scale US Navy F-14 Tomcats Parts 1 & 2
Lots of other Tomcat books – I have too many to list!!
The internet.
Aftermarket Extras
I planned to use as little aftermarket as possible on this project but the items I deemed necessary were:
Eduard Seatbelts – The kit PE ones are very basic
Master Pitot Tube – not any more detailed than the kit part but a lot more robust
Some weapons from the spares box just to make the load out a bit different.