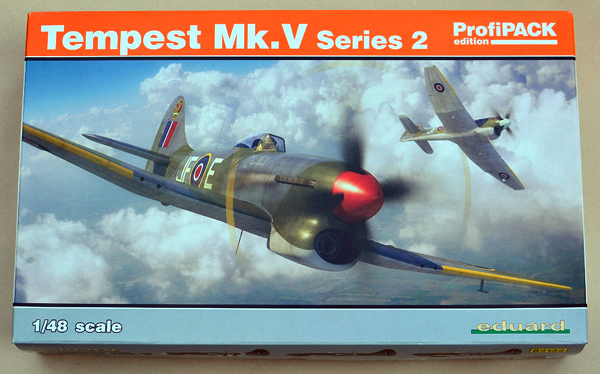 Feature Article with Stuart Mackay
A note from Geoff C…
Here's a quick look at how Stuart's project came out – nice, isn't it!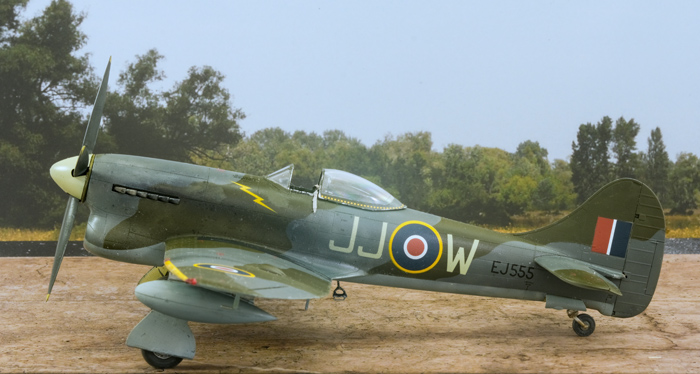 Over to you Stuart…
---
I have been in contact with Chris Thomas (probably the number one Typhoon & Tempest expert and author of many books on these aircraft) about Tempest colours, schemes and variations thereof.
Chris had asked me for some high definition scans of various Tempest photographs that my Father had flown towards the end of WW2 and in particular. He had asked for the 174 Squadron JJ-W EJ555 seen on the Here Now article I had written about this kit, (which also features in one of his Tempest books), so I thought let's have a go at modelling this aircraft as an alternative to the schemes in the box. These, incidentally, Chris had done for eduard and his colour 3 views are the ones in the kit instructions.
My chosen aircraft is pretty much the standard late war 2TAF day fighter scheme with the sky tail band painted over in the field; a Sky spinner, yellow 174 Sqn lightning flash and the name "Bet" on the starboard engine lower access cover.
Following the clear Eduard instructions, the first steps before closing up the fuselage are building the cockpit interior and nose radiator assembly.
The cockpit is a minor work of art in its design and manufacturing engineering and compared to the original issue from 20 years ago, shows how far eduard have developed, it is highly detailed, and the layout is correct.
Being the Profipack version of the kit, it comes with a photo-etch (PE) fret which contains the seat belts, a multi-layer instrument panel, which is stunning and also the cockpit side panels for the ancillary controls and levers, all beautifully executed. However extreme care is required when cutting out and gluing in place (I used Revell clear glue), otherwise the carpet monster has an early lunch!